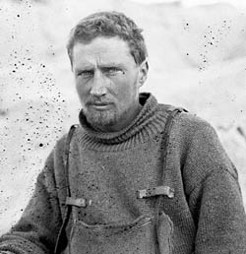 Frank Leslie Stillwell (23) - Mawson 1911-1914 Geologist
Single, a graduate in Science of Melbourne University, Victoria. A member of the Main Base Party (Adélie Land) he acted as Geologist. F. L. Stillwell was leader of two sledging parties who did detail work for about sixty miles along the coast eastward of Winter Quarters.
From Appendix 1, Mawson - Heart of the Antarctic
Frank Stillwell went on to become an eminent geologist later biography
Landmarks named after Frank Leslie Stillwell
Feature Name: Stillwell Island
Feature Type: island
Latitude: 6655S
Longitude: 14348E
Description: A small, steep rocky island, 0.25 mi in diameter, which is the largest member of the Way Archipelago. It lies at the W side of the entrance to Watt Bay, 1.5 mi NE of Garnet Point. Discovered by the AAE (1911-14) under Douglas Mawson.