Memories of Antarctica
If you have anything to add please use the email address below.
Once wedded to Nature there is no divorce - separate her you may and hide yourself amongst the flesh-pots of London, but the wild will keep calling and calling forever in your ears. You cannot escape the "little voices". - Frank Wild
---
The sound of 130+ sledge dogs all howling at the same time on their spans on the North East Glacier behind Stonington Island base.
- Drummy Small
1. Skiing on the ice cap at 3 am with the whole Adelaide Range painted pink by alpenglow.

2. Rowing a dinghy out across a perfectly calm Bellingshausen Sea, immediately after finishing a night on met duty and trying to photograph Adelie penguins "porpoising"
- Bryan Rorke - 1961-64 - Base T Adelaide
Maintenance Supervisor Williams Field, Engine Overhaul McMurdo, I am the first an only submarine sailor to be re-enlisted by a astronaut, USAF Col. Scott who was there to visit the geographic South Pole and I requested to go on the same flight and he re-enlisted me there. I never did receive my Cruse Book and would any like very much FORTY YEARS after the fact.
- S.A.Casselle Jr. - W/O 69/70- McMurdo/South Pole
Attached to CBU201-Navy Seabees-finished installing de-saltation unit at the Nuke Plant to finally have running water at MacTown.-Ran the heat tape on the water lines to keep them from freezing. Would love to go back there one more time to see all the changes. We were housed in canvas Jamesway huts-- very warm. The most majestic place I've ever seen.
- Mike Liso - 1966-67- McMurdo



I worked for public works. As an equipment operator I did many jobs like clearing roads, Cleaning out ice from drainage culverts, Projects with heavy equipment and just enjoying the beauty of the ice caves. I loved Antarctica. I will never forget being there and one of the few who has walked on her ice and lived with out bugs for a few months. My duty was cut short due to illness. Sept 84 to March 85. CAN DO
- EO1 DE Crook EO1 - 1984/1985- McMurdo



I really enjoyed my tours to Antarctica. I guess I can consider my self an old explorer. Admiral was with us in 55-56. Wintering is an experience that only one who has done can understand what was like. I have many stories that I don't possibly have to write in this space.

- Howard Crofoot - 1955-56 1956-57 wintered 1964 Hallett station- McMurdo- Little America 5 - Hallett station




Cold as a motha hubba...Hated it at first, then Loved it and all of the cold adventures...from winfly, fuelling the c-130's, 141's...working hard, playing hard...falling in Love in Christchurch...to my crazy last days there on the ice...on my back, recovering from the fire at the ice runway...would love to make contact and thank everyone involved in helping me from the ice to N.Z. to Hawaii to the burn center at Brook Army medical center...Can't thank you folks enough for saving my life...619 715-5048..in Cali, Enjoying Life
- Don Samuels - 1984-1986 - NSFA/Fuels



I was just 19 years old for my first tour to McMurdo.After the summer at Byrd Station 72-73, I was working in the radio room back in McMurdo when the radioman from the USCGC Staten Island came in with their return itinerary to Seattle. At 20 I was full of pee and vinegar and no question seemed too terrifying. I asked if I could return to Seattle on the Staten Island as an auxiliary radioman. Chief Brown, he say, "You know what's the matter with you Hirn?" "No Chief, what's the matter with me?" says I. "You want to have your cake and eat it too." was his reply "Is there anything wrong with that Chief." I queried. "Not a damned thing." he spoke. He signed my request, called the ship and after a dash to pick up my medical materials, mail, laundry and my pay check, one hour later was standing on the deck of the Staten Island with someone handing me an envelope with Dramamine in it and the lines were cast off.
- David J. Hirn - Door County Wisconsin, USA



Wintering - had a wonderful time. A dental chair which sat outside for 2 years was install into my room. the convoy chef was saved after exposure to hypothermia. Longest duration of convoy out side station. Maximum visit to novo.
- Dr. Ghanshyam Singh 2002-2003 - Maitri, India



As an 18 year old being in a place with a girl behind every tree was exciting. As a Seabee at least I wasn't getting shot at.
- Ed Tarker - 1967, 1968- McMurdo, Williams Field




PH2 IN VXE-6 Photo. I was photomate in VXE-6 in DF 71 AND 72. Will never forget the experience of a lifetime, flying all over the continent as a Navy photographer
and now literally an OLD Antarctic Explorer. Crewmates were all terrific guys. First landed on Columbus Day 1970. Felt like the explorer.
Flew all over the continent shooting pix for Deep Freeze yearbooks and official Navy photos of NSF and Navy personnel at work and play. Closest thing to being the National Geographic photographer for me. Memories of last time Byrd Station was open and good old HMC Bud. Also covering flight with admiral to exchange American and Russian scientists at Vostok Station. Asked for a glass of water and was given "Stoli" instead slept soundly all the way back to Willie Field. Experienced the best that unique continent had to offer and proudly lived to "show and tell" about it.

- Joe Urciuoli ' Lassiter Joe' - Op. D-F '71 & '72 - VXE-6 Photo Lab



So many memories, so many friends. Cookouts with the Kiwis when it got up to 45 degrees. Walking around the world in 24 steps. Meeting the Incoming planes with my room-mate Cpt Thomson. Stealing the cheeze from the Kiwis on the NZ c130's I miss it all. Would go back in a sec!
- James Smith USA - Army Det



Met some of the Hardest working , Fun loving , Incredible people on the Face of the planet...it was an Honor to have gone to the Bottom of the World....''stay Warm...Stay Strong''
- Eddie Sepeda- McMurdo



This was a special place and time in my life.It allowed me the time to renew myself - I loved the time there, especially during win-fly. I was fortunate to get to the South Pole once as well. I would love to go back and visit one day. Perhaps the greatest thing about being there was meeting my future wife - we have been together ever since - Jeannie Beckman
- Glen Jenewein- McMurdo Station



Truly loved my time there. So many great memories. Pulling equipment out of cravasses, building a new Ice Pier, the people, and one of the best was exploring Ice Caves in Erebus Tongue Glacier, SAR, to find one that was safe and set up safety lines for summer tours. Awesome!! - Bob Horneij (UT1) - 1990 W/O, McMurdo Station



Want to go back. I miss the peace and the many good memories.
- Gene Lostroh - Mac. Town, '87-88,'88-89 W/O



Fuelling Huts and help to supply and maintain the water storage for drinking and showers at Williams field.I providing live entertainment with professional musicians from Davisville RI, home base of the Sea Bee's pop music group called the Frigid Penguins. POP group Formed at McMurdo Station for the memorable Las Vegas night in the Hilo Hanger, what a night to remember.
- Steven Murray - 1971 Winfly Summer support - Williams Field



So many memories! I'll never forget winfly 85, the old Erebus club and Acey Deucy, opening Byrd Sfc Camp 87, and nearly getting popped on a piss test after South Pole opened in 89.
- Jennifer Stanberry- McMurdo, NBY, UPB, NZ-Ch 85-90



So many good memories from The Ice, but most memorable was a helo trip to a large iceberg at the ice edge to tend to some divers...during a break, we hiked to a smaller iceberg nearby, and scaled to the top where we found a fine place to strip down and soak up some sun!!! It felt great!
- Ed Matheson - 1989-92 Summer- McMurdo and remote camps



Building Ice pier in -120 windchill in the middle of winter and mid winter air drop.
- Robert Wiles- McMurdo 989/1990 Winter over



One of my happiest memories is joining the Lake Vanda Swim Club, during the '76-'77 summer support season. It was a very "cool" experience.

-
Jack Bazydlo- McMurdo 1975-1978
After all these years the best time of my life was the five winters on the ice. Tried to return but my health wont allow it. Miss it very much.
- Gene Starks- McMurdo : w/o 86, 87, 88, 90, 91




Climbing up the USARP Flag pole in a blizzard to borrow their flag. Summer 1966 at McMurdo.
- Jim Butler- McMurdo, Byrd and Palmer, 1966/67 & 1967/68



Was On the Ice during the Cuban Crisis, October,1962.A very scary time for us, especially since many had recently seen the film, "On the Beach." Regardless, an experience of a lifetime. Better yet, "It was nice on the Ice, but it was Peachy in Chi Chi!"
- Bob "Willy" Williams, PN3 (Summer, 1962/63)96-97 w/o last U.S. Navy to Winter-over at McMurdo.



I was the last CPO to be selected and initiated on the ice. Operation Deep Freeze 96-97, the last w/o, was by far the best duty station in the Navy. Please keep in touch, Newby, Patti, Johnny
- Craig A. Mclain - "MAC" - Of the Famous Mac and Newby Show HMC (SW/FMF)



I was one of 3 helicopter pilots assigned to the USCGC Northwind. Did Ice Recon, cargo and people hauling. We flew Sir Raymond Priestly (English Geologist) out to Cape Royds to see Shackleton's hut. We were able to go inside, but there was a sense of reverence we didn't touch anything, and just wrote our names dates and outfit on a piece of paper and stuck it on a nail on the wall. I took over a 100 photos of the trip.
- John C. Burritt, LT USNR - 1958 - 1959 - Deep Freeze IV



Loved it, would like to go back to where life was simpler.
-
Bob Lawyer, McMurdo & Pole



Being there the first time,,, You seem to dislike it at the time,,, But once you are gone, You seem to realize how good it was, Adventurous, The good of people and a simple way of living...I should be back this year, but do to work, I had to bypass....But it really gets into your blood,, I miss a lot of you
- Mark Cardis, McMurdo, 2007 2008




Watching and photographing a Fur Seal giving birth to twins at Schlieper Bay.
-
Bob Bell, South Georgia, 1979



Replacing the Union flag with the Saltire on Saint Andrew's day and feeding the base haggis neeps and tatties (Sunday cook) on Burns night. Not too impressed! We also had a Scottish night on board the Brannie. The classic fids tartan shirts were made into kilts. You can imagine the different sporrans that were on show!
- Dave Burke, Faraday 1981-1984



Walking away from the base on a clear morning, towards Mt. Erebus. Took 2 cans of sprite, a couple of candy bars and a camera. Took a great self portrait with Erebus in the background, about 3 miles from the base. No sound. No civilization to be seen for miles. Still, quiet. A certain "zen" feeling was attached to that moment.
- Rodney "TJ" Petrin Jr. 1981 - 1986 McMurdo Station



Midwinter 1970.Wordie hut holiday from main base. After clearing snow from inside door, having a brew and thinking back to all the other guys years before who were probably doing the same! wonderful experience.
- Mike Hinchliffe, Argentine Islands / Signy



Winter 1972, doing a 3-day trip around Signy - arriving at Cummings, via Foca and Jebsen late in the afternoon, in the mank. The hut then was no more than a dry-stone wall with a metal roof. The door was only a board, and everything inside was buried in snow. We dug out the sleeping bags and primus and had a brew of nutty-bar, dried onions and peas and then tried to sleep. It was -29F and we lay there in the snow, in the dark, with the hoods of the green Everest sleeping bags drawn so tight that only one nostril was exposed for air. I've never felt so bloody cold as that night in a snow drift with the wind blowing through the dry-stone wall. Getting out for a pee and looking at the amphitheatre of black cliffs and snow all around, lit up by the moon, the masses of bergs out in the bay, the utter lifeless winter silence, and feeling that terrific sense of good 'ents', knowing that this is one of those memories that will last for ever.
- Tim Hooker, Signy



Lowering the Union Flag on the point next to the tide gauge, watching the Ukrainians raise their yellow and blue flag then taking the Tepco across to Wordie and raising the Union Flag. Flying out in a Lynx to Endurance with Base F/Argentine Islands/Faraday - disappearing into the clouds - all very moving. 'Summer Jolly' on Barff Peninsula - a weeks freedom from the radio comms! During the night (At the old Barff Hut) you could hear the rumble of house-sized pieces of ice breaking off the snout of the Nordenskjold Glacier at the head of East Cumberland Bay! Several minutes later - the wave generated by the ice washed up on the beach. So many other wonderful memories of South G - I miss it so much!
- Jon Barker, 1972-74 South G (Base M)1974/77.



As an EDH on the Bransfield, I still look back with humble pride and such a glow in my heart with all the memories of the time we had, and friends I made among the crew and the FIDS. Such as the day we where along side Haley bay, or near by. It was early morning when the Ice shelf gave way and slammed into the side of the ship buckling the port side. We spend about 2 days clearing away the Ice from the deck. We steamed out with 20-30 degree list to port There is more to this story. Very close call!!
- David Lawson Crew, EDH (Bransfield)1973.



Driving the doo through winter Christmas cakes at Mirounga at midnight to sample the poddies in Lake 2.Sitting in the tent over the hole cut in the ice, pumping up water and listening to the hiss of the Tilley lamp - alone at midnight in the middle of nowhere, somewhere in the Antarctic, on a frozen lake, under the black silhouette of Robin, and the stars gently illuminating Coronation Island. And all was completely silent, frozen in time, and so bloody cold, and so utterly utterly wonderful. Thanks for letting me do that sample, Chris.
- Tim Hooker



4th. Dec 1967 Deception Island. Violent tremors suddenly cease. Outside seeing column of ash rise above Chilean Base PAC. Sulphur in the air.
- Robin Chambers



Of being in a place that was so new to people, together with knowing that there was "NO BACKDOOR" Life was real and wonderful.
- John Sutherland



Taking the Jesters sledging on smooth sea iceout to Neptune's Bellows on Deception Island on a rare brilliant white sunny day, and peaking out onto the ice-strewn Bransfield Strait, August, 1964.
- Michael Warr



The roaring silence, deafening, a dark WINFLY evening, at Hut Point watching the southern lights dance over the Royal Society Mountain Range. My own breathing seemed like violation of the pure silence of that astonishing, wonder filled place.
- Deena Petersen



Christmas day 1977 at South Georgia. I scored an Hat-trick as we (Bransfield) beat the base 3-2 ! They hadn't lost in 18 matches!! those were the days
- Tony Wegner



The first iceberg I saw and the last iceberg I saw. Like going through some kind of doorway that you know exists, but you don't know where it is until you're there on the way down and until long after you've passed through on the way back.
- Paul Ward



The rumble of avalanches, the whales blowing in Penola straights, the grinding of the ice. That was Faraday, what memories.
- Dick Hide.



Standing atop Mt. Liotard, Adelaide Island. 2nd June 1970, Sun just visible as a pillar, pastel shades all around, and CRAMPS in both legs at the same time!
- Robin Chambers



Christmas 1984, doing night watch at Signy base and watching a young female elephant seal playing in the shallow water between the end of the jetty and an old iron tank left in the shallows, a relic of the old whaling station. Peaceful and quiet, everyone else in bed, a rare clear and calm night, the whole scene lit by the pinkish light from the sun, drifting just above the horizon, at 2am in the morning.
- Ian Johnson


Antarctica Cruising Guide

USA |

UK


Free world delivery

Lonely Planet travel guide Antarctica

USA |

UK


Free world delivery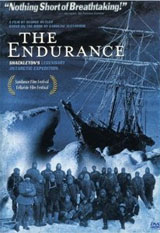 The Endurance - Shackleton's Legendary Expedition
Dramatization with original footage

DVD |

DVD