Antarctica Videos 2
Short Videos
Presented for your delectation, edification and amusement, a series of selected videos on the subject of Antarctica chosen from those available from the multitudes to be found on the internet and elsewhere. Some are short, some are long, some are readily found, some are distinctly scarcer.
Short Videos - Under 10 mins
There are dozens of videos on YouTube and other video sharing sites about Antarctica, they are mainly of short clips taken by tourists, or a series of still photos made into a video, this is generally set to a "haunting" soundtrack. Here are a few of the better representatives, though I suggest you see those on the Long videos page as I think they give a far better idea of what it is really like.

Vangelis - Antarctica. With footage from the niche classic Koreyoshi Kurahara movie starring Ken Takakura "Antarctica" - 1983. The movie is based on the story of a 1957 Japanese Antarctic expedition and how an abandoned dog team survive alone.
Movie on VHS Vangelis soundtrack
4 mins

TRIBUTE Antarctica Time Lapse: A Year On Ice. A time-lapse film made at the US bases of McMurdo Sound and the geographic South Pole.
3 mins 49 secs

Highlights from Antarctica. A tourists film made of short video clips edited together in a very logical and professional way. Stands out as being a better example than most. The usual "ethereal" soundtrack.
6 mins 33secs

Vangelis - Life of Antarctica. Whether you are a fan of Vangelis or not, the music is atmospheric and fits well with images of Antarctica. Despite the title, this is not of Antarctic wildlife, but scenes of snow and ice.
5 mins 15 secs

McMurdo Station. Film taken in and around the largest station in Antarctica (by a long way), more of a small town/large village than a base in the typical Antarctic manner. An assortment of clips that give an idea of the atmosphere of the place.
5 mins 14 secs

Lonely Planet travel guide Antarctica

USA |

UK


Free world delivery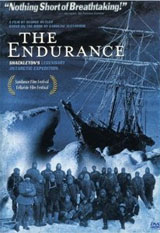 The Endurance - Shackleton's Legendary Expedition
Dramatization with original footage

DVD |

DVD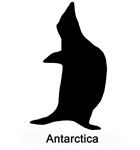 Cool Antarctica Store - Pictures, Shirts, Calendars, Cards etc.