---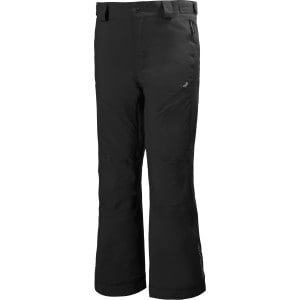 Helly Hansen Legend Pant - Girls'


$109.95



When snow accumulates outside your bedroom windowsill, it's time to slip on the Helly Hansen Girls' Legend Pant, grab your sled, and head for the tubing hill. This insulated pant features water- and wind-proof protection, so you stay plenty comfortable as you fly down the hill, off of a small jump, and through a plume of snow. more...




---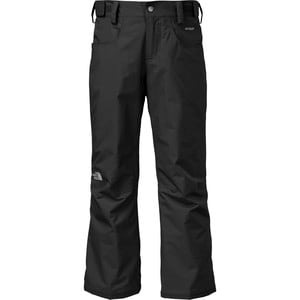 The North Face Freedom Insulated Pant - Girls'


$109.95



Equip her with The North Face Girls' Freedom Insulated Pants and keep her from getting cold and wet on chairlift rides with friends or her first spin through the park. Thanks to these trusty pants, with their Heatseeker insulation and waterproof, breathable HyVent fabric, she'll stay cozy on chilly days and protected from snow when the skies open up. A partial elastic waistband with snap-front closure ensures a good fit, and articulated knees and gripper elastic gaiters offer ski-specific perfor more...




---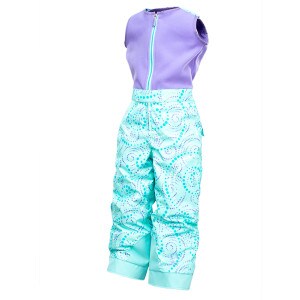 Spyder Bitsy Tart Pant - Toddler Girls'


$109.95



She may itsy bitsy, but she needs big protection when you strap a pair of skis to her legs and let her tear down the mountain or plop her in a sled in front of you. The Spyder Toddler Girls' Bitsy Tart Pant is made with a stretch polyester fabric so your little girl can move, and the Spylon+ DWR finish will keep her dry when she yardsales. 3M Thinsulate Insulation keeps her legs nice and warm, while a soft brushed micro fleece vest provides an extra bit of comfort for her upper half. Inner snow more...




---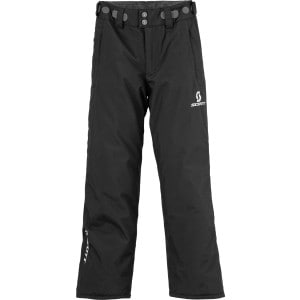 Scott Slope Pant - Girls'


On sale - now $59.98




- was

$119.95



Let her rip all day in the weather-defying, bone-warming Scott Girls' Slope Pant. Yummy Microloft insulation keeps her comfy all day while gaiters keep the snow and wet from soaking her shred-ready feet. Your young ski diva will hit the hill with a splash of bold color and super style. more...




---
Spyder Vixen Pant - Girls'


$119.95



The Spyder Girls' Vixen Pant has a look worthy of the the stage, and the technical prowess to keep your little skier warm and dry after a full day of skiing. The Xt. L laminate boasts a 10k waterproof rating, and if that wasn't enough Spyder added their Spylon+ DWR coating and taped all the critical seams to keep any moisture from creeping in on snowy days. She'll be stoked on the faux inner waistband that gives the illusion of a low slung pant, and you'll like the Great Lengths cuffs that can b more...




---
The North Face Free Course Triclimate Pant - Girls'


$119.95



The North Face Girls' Free Course Triclimate Pant has a versatile three-in-one design to keep your little skier or snowboarder cozy on the slopes. Its waterproof breathable HyVent 2L outer pant works to fend off snowstorms in the mountains. The North Face made the removable fleece liner out of Polartec Classic Micro for lightweight warmth that's comfy enough for bedtime and that adds an extra dose of warmth for the slopes when you snap it into the shell. When your girl's growth spurt happens, th more...




---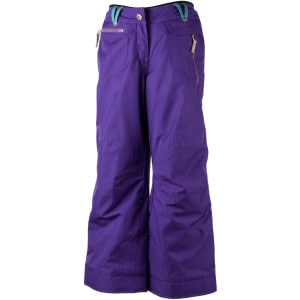 Obermeyer Twilight Pant - Girls'


On sale - now $68.45




- was

$124.45



When you're out in the snow as much as your are, the weather-resistant, insulated, and stylie Obermeyer Girls' Twilight Pant only makes sense. Shoveling the driveway and then hitting the slopes, you're out in the snow from morning 'til night, and the waterproof, breathable HydroBlock and DuraGuard DWR keep you nice and dry. The lofty Permaloft insulation keeps you cozy-warm when the temps drop, and features like the taped critical seams, water-defying powder cuffs, windguard, and stormflap have more...




---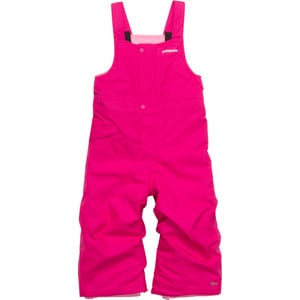 Patagonia Snow Pile Bib - Toddler Girls'


$129



Watch her happily make her first snow angel wearing the fully protective Toddler Girls' Snow Pile Bib by Patagonia. Its fully taped H2No Performance Standard shell provides high-quality waterproof breathable protection, and Thermogreen insulation uses partially-recycled polyester to keep your daughter warm even if she somehow gets her bibs wet. Internal gaiters keep snow out of her boots, and the bib enhances her coverage. The Grow-fit pant legs extend an additional two inches so she can wear th more...




---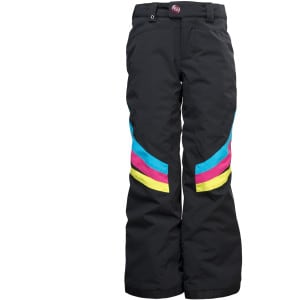 Spyder Thrill Athletic-Fit Pant - Girls'


$129.95



You haven't even finished your morning coffee and your girl is already wearing her Spyder Thrill Athletic-Fit Girls' Pant, jumping up and down by the front door and jabbering a million miles an hour. She's ready to get out on the hill, and you can't blame her for being psyched to rock the Thrill's stretch polyester fabric, Xt. L waterproof and breathable membrane, and Thinsulate insulation as she cruises down groomers, explores the trees, and gobbles down pizza at lunchtime. The Thrill's warm an more...




---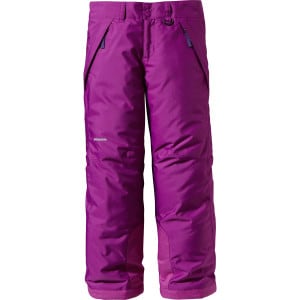 Patagonia Insulated Snowbelle Pant - Girls'


On sale - now $81.95




- was

$149



You have all been cooped up for days because of a record-breaking blizzard. Throw your snow princess in Patagonia Girls' Insulated Snowbelle Pant and enjoy a respite from the kiddie-storm. Lightweight Thermogreen insulation keeps your little miss warm, and the H2No shell keeps the outside of her pants dry. more...




---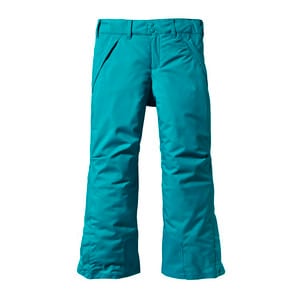 Patagonia Snowbelle Insulated Pant - Girls'


$149



You have all been cooped up for days because of a record-breaking blizzard; time to throw your snow princess into the Patagonia Snowbelle Insulated Girls' Pant and enjoy a respite from the kiddie-storm. Lightweight, recycled Thermogreen insulation keeps your little miss warm without feeling bulky, and the H2No waterproof and breathable membrane keeps her dry and comfortable from her first snow angel to her last ski lap. There's also a DWR coating on the polyester fabric to repel water, and fully more...




---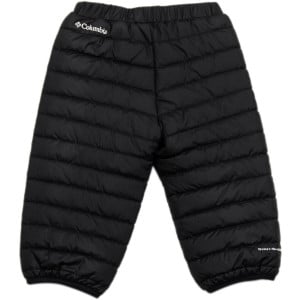 Columbia Double Trouble Pant - Toddler Girls'


$39.95



Stop your little girl's shaky, shivering knees this winter with the Columbia Toddler Girls' Double Trouble Pant. An Omni-Shield DWR coating resists light snow flurries when she's playing outside, and the plush polyester lining feels soft and cozy next to her skin. Microtemp XF II insulation keeps her toasty warm when she's playing on the playground in winter, and you can reverse the pant from solid to print for twice the pairing options. more...




---
Columbia Starchaser Peak II Pant - Girls'


On sale - now $24.98




- was

$49.95



The most enthusiastic go-till-you-can't-stand-up outdoors people on the planet aren't mountaineers, and they're not lumberjacks, they're kids. And since kids are pretty much growing all the time, they need pants that keep up with them. Columbia appreciates this fact more than most, so it gave the Girls' Starchaser Peak II Pant outgrown cuffs to keep up with constant growth. Just lengthen the pants by a full two inches when the pants start to look like capris. These insulated snow-stoppers featur more...




---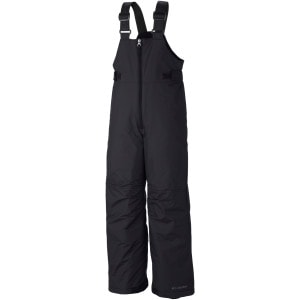 Columbia Snowslope II Bib Pant - Toddler Girls'


$49.95



Your little girl just learned how to walk and you're eager to throw her on a pair skis as soon as possible, but you might want to find out how she copes in the snow first. So strap her up in the Columbia Toddler Girls' Snowslope II Bib Pant so she can experience the beauties of winter without getting cold and wet. Its Omni-Shield fabric repels water and dries quickly so your little princess will stay dry from her first step in the snow until her final ski flop of the day. Slimtech insulation war more...




---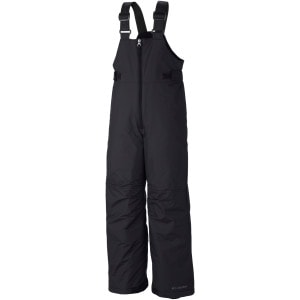 Columbia Snowslope II Bib Pant - Girls'


$54.95



When your daughter was two, she only had time for pink and dollies. Now that's she a bit older, she's turned into a raging snow monster, shredding and ripping tricks like nobody's business. You can't protect her from the rough-and-tumble world of competitive snowboarding, but you can keep her warm and dry in the Columbia Girls' Snowslope II Bib Pant. This insulated bib pant rises up in front and adjusts in back so your snow-breathing lady-dragon gets a perfect fitting pant, every time she puts t more...




---
Patagonia Puff-Ball Reversible Pant - Toddler Girls'


$69



Patagonia knows kids naturally get dirty, which is why it made the Toddler Girls' Puff-Ball Reversible Pant. With a bright print on one side and a quilted solid color on the other, the Puff Ball makes it easy to look presentable on a chilly day at the playground or running errands. After all, who has time to wash after each 'oops' moment? more...




---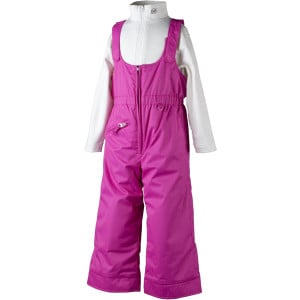 Obermeyer Snoverall Bib - Toddler Girls'


On sale - now $42.23




- was

$84.45



Your little girl plays in the snow from the first fall all the way to the final melt, so be sure she stays dry, warm, and comfortable in the Obermeyer Toddler Girls' Snoverall Bib. A HydroBlock X laminate keeps her dry even if it's flurrying, and 100g Permaloft Needlepunch insulation keeps her warm and comfortable. Both the smooth, soft fabric used in the black style and the recyclable materials in the other styles have a DuroGuard DWR coating to shed snow off her lap when she tries to bury hers more...




---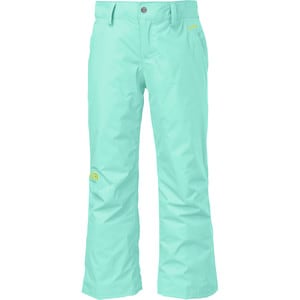 The North Face Derby Insulated Pant - Girls'


$89.95



EZ Grow cuffs on The North Face Girls' Derby Insulated Pant add an extra 2in of length, keeping her warm and dry for multiple seasons. Waterproof and breathable HyVent 2L face fabric combines with the warmth of Heatseeker insulation to make the Derby absolutely functional for the slopes or the sledding hill. With a modern fit and utilitarian style, the Derby has features like reinforced ankle cuffs, gaiters with gripper elastic, articulated knees, and a half-elastic waistband for supreme functio more...




---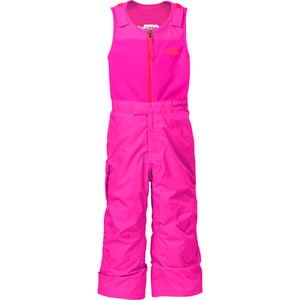 The North Face Insulated Bib Pant - Toddler Girls'


$98.95



Whether your toddler loves flying down the mountain at mach speeds behind her ski instructor, sledding with the family, or helping her older sister make snow forts, The North Face Toddler Girls' Insulated Bib Pant is into it. This bib has a weatherproof pant with light synthetic insulation for leg warmth and a soft, fleecy top for allover warmth and coziness. Two layers of waterproof, breathable HyVent keep her legs dry and comfy. And when she hits that growth spurt, grow cuffs let you extend th more...




---
Burton Sweetart Pant - Girls'


On sale - now $49.98




- was

$99.95



The Burton Girls' Sweetart Pant delivers plenty of bang for the buck, so you don't have to break the bank to get a solid snowboard pant. This waterproof and insulated pant is chock-full of sweet technical features like a waistband that can be internally adjusted, articulated knees for freedom of movement, leg lifts to prevents scuffing in rough parking lots, plenty of pockets and a ticket O-ring. And the relaxed, room-to-grow fit ensures these pants will last for more than one winter season. more...




---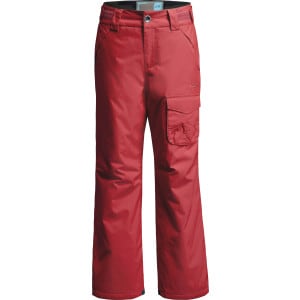 Orage Tassara Insulated Pant - Girls'


On sale - now $49.98




- was

$99.95



Other than size, not being allowed to eat cake for breakfast, and believing in the Tooth Fairy, very little distinguishes kids from adults. When winter rolls around, grown-ups and kids alike enjoy being dry, warm, and super stylish. The Orage Girls' Tassara Insulated Pant will make you wish were a kid again, with its Prime 10 membrane, taped critical seams, cozy insulation, and stellar style. There is some solace in knowing your daughter gets to wear them--but when she asks for a pair in each co more...




---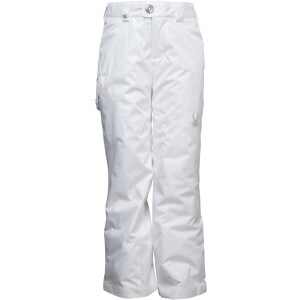 Spyder Mimi Pant - Girls'


$99.95



The Spyder Girls' Mimi Pant has all the features to keep your little ski gal warm and dry while she's out running amuck on the mountain. Spyder used both Xt 5k and Spylon+ DWR treatments to help keep moisture out from chairlift drips and snowball fights. 3M Thinsulate insulation helps her legs stay warm on long chairlift rides. Meanwhile, taped critical seems keep water from seeping in through more vulnerable areas. Inner snow gaiters with gripper elastic and cuff anchors keep the powder out. more...