---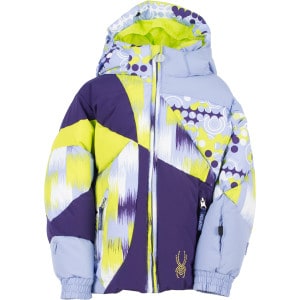 Spyder Bitsy Duffy Puff Jacket - Toddler Girls'


On sale - now $80.97




- was

$134.95



Drop your little one off in ski school knowing she's well insulated and comfortable in the Spyder Toddler Girls' Bitsy Duffy Puff Jacket. Packed with ThermaWeb insulation throughout, this little show-stopper of a jacket features a 10K-rated Xt. L laminate, Spylon+ DWR treatment, and taped critical seams that keep her well-protected from lightly falling snowflakes or melting icicles. Its smooth internal nylon taffeta lining also makes it super easy to layer underneath, while the Duffy Puff's baff more...




---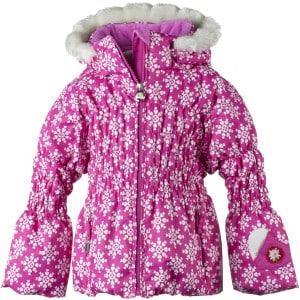 Obermeyer Sheer Bliss Jacket - Toddler Girls'


On sale - now $89.67




- was

$149.45



Whether your little princess likes to go sledding or set up outdoor fashion shows with her friends, the Obermeyer Toddler Girls' Sheer Bliss Jacket is for her. The pretty platinum colorway features a gorgeous Luminex Sparkle Flakes shell that shines her way to the center stage, and a PU coating offers a bit of weather protection in light snow showers. The hot pink colorway utilizes a HydroBlock X laminate to protect her from snowfall while she helps you pull the sled back up the hill, and Oberme more...




---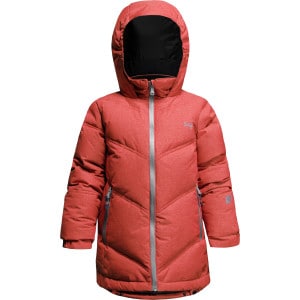 Orage Cozy Down Jacket - Toddler Girls'


On sale - now $89.97




- was

$149.95



Why your sweet little princess loves professional football remains one of the eight wonders of the world. If your partner manages to convince you and her that a November day at Lambeau Field is a good idea, bundle your little package of sunshine in the Orage Toddler Girls' Cozy Down Jacket and hope they decide to come home long before kick-off. This down-filled puffy coat keeps toddlers and little girls warm and dry whether it snows steadily through halftime or whether they never actually made i more...




---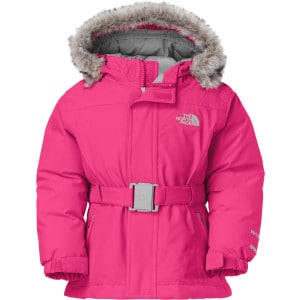 The North Face Greenland Jacket - Toddler Girls'


On sale - now $103.97




- was

$159.95



Sometimes grocery store runs feel like epic Arctic expeditions, so bundle up your little honey bear in The North Face Toddler Girls' Greenland Jacket and insulate her with warmth-preserving down. On the outside, the HyVent 2L shell and its fully taped seams block out the falling snow and sled-ride crashes. On the inside, the 550-fill down holds in her tiny body's heat better than any other insulator out there. more...




---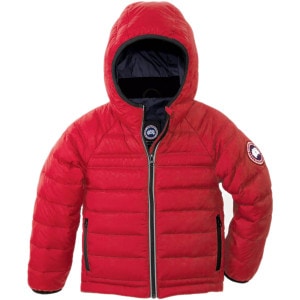 Canada Goose Bobcat Down Jacket - Toddler Girls'


$294.95



Stop your girl's shivers with the Canada Goose Toddler Girls' Bobcat Down Jacket. Stuffed with 625-fill down insulation, this puffy warms her little bones with toasty softness. And since down has a high warmth-to-weight ratio, your girl stays toasty without feeling weighed down by a heavy jacket. A nylon ripstop shell wraps this insulation up with surprising durability, and a DWR coating helps keep her dry when the snow starts to fall. When she doesn't want to wear it during a walk, you can comp more...




---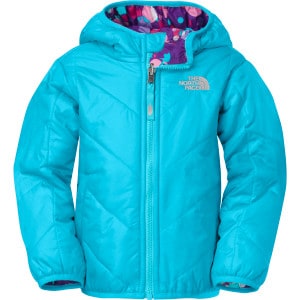 The North Face Perrito Reversible Jacket - Toddler Girls'


On sale - now $51.97




- was

$79.95



She might not bite the mailman or howl at the moon, or maybe she does .... Either way, get your little girl a winter coat that's as durable as a dog's fur coat--The North Face Toddler Girls' Perrito Reversible Jacket. It's nylon taffeta body fabric handles all the wear-and-tear activities that a ferocious toddler throws at it. The reversible side's plush fabric is as soft and cute as a puppy. The 120g Heatseeker Aero insulation makes the jacket warm despite its lightweight appeal, and it's also more...




---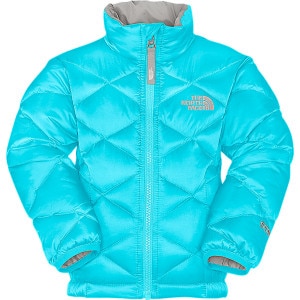 The North Face Aconcagua Down Jacket - Toddler Girls'


On sale - now $58.47




- was

$89.95



The North Face Toddler Girls' Aconcagua Down Jacket provides your little lady with toasty warmth, and it looks cute to boot. The crisscross stitching holds the goose feather insulation in place. The kid-friendly EZ Zip zipper can be inserted at an angle, which makes it easier for you to get her geared up quickly and helps her eventually learn to do it herself. more...




---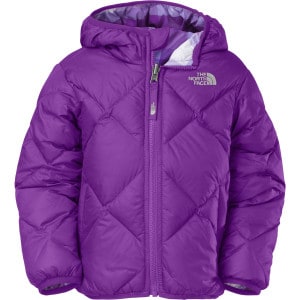 The North Face Moondoggy Reversible Down Jacket - Toddler Girls'


On sale - now $64.32




- was

$98.95



The North Face Toddler Girls' Moondoggy Reversible Down Jacket keeps your little lady well-equipped against the winter weather. One side has a durable nylon taffeta shell that handles all the wear-and-tear situations that toddlers tend to cause. The other side has a quilted polyester face that's plush and comfortable. And both sides have a DWR coating to resist light rainshowers and spilled water bottles. The North Face stuffed its Moondoggy with 550-fill down insulation to warm her little body more...




---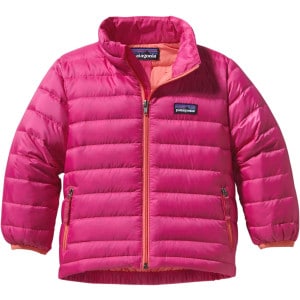 Patagonia Down Sweater - Toddler Girls'


$99



Your little princess is bound to keep her cuteness all winter long, but only if you wrap her torso in the Patagonia Toddler Girls' Down Sweater. With the same smooth, water-resistant shell and quality goose down filling as the incredibly popular adult version, the toddler Down Sweater is sure to help keep a smile beaming as bright as the snow. When temps really dip and wet snow starts to fall, simply zip another jacket or fleece over the Down Sweater and she'll be ready to get back out there for more...