---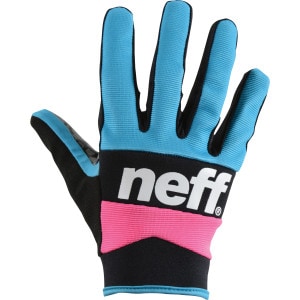 Neff Ripper Pipe Glove


On sale - now $20.97




- was

$34.95



There's no worse feeling than missing a tweaked-out grab because your hand slipped. Skin is sooo 2012. The Neff Men's Ripper Pipe Glove sports a synthetic leather palm with no-slip grip silicon print so you'll never miss another opportunity to grab some board. The pre-curve finger geometry, paired with a PU-coated, ribbed spandex chassis, makes this lightweight glove as flexible and dexterous as your own two hands. more...




---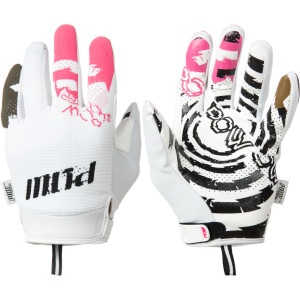 Pow Gloves Shocker Glove


On sale - now $10.49




- was

$34.95



If shock-and-awe is a big part of your outlandish personality, then you're the man ... for the Pow Shocker Glove. Given the uniquely colored tips of a few choice fingers, you may not wait around to hear about such technical features as the durable yet stretchy nylon outer, tight neoprene cuff, and super-durable shell. But you can bet that the on-snow action you get when wearing the Shocker is almost as good as the off-snow. more...




---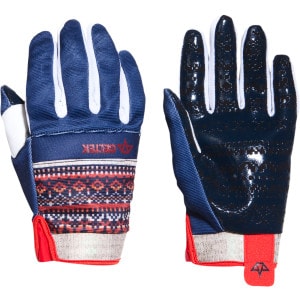 Celtek Misty Glove


On sale - now $23.97




- was

$39.95



Want to keep your hands warm on the slopes, but don't want to lose dexterity in the bulk of a mitten? Slip on the Celtek Misty Glove. The DWR-treated ripstop nylon fabric repels water during your all-day pipe sessions, and the microsuede palm lets you keep a solid grip on your board. The neoprene slip-on cuff keeps this glove in place when you jump over kickers and fly off table tops, and the dexterity enhanced fit ensures this glove fits like--well, a glove. And with the Dustin Ortiz artwork, y more...




---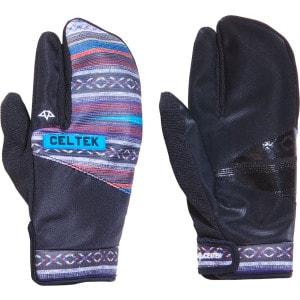 Celtek Trippin Pipe Glove


On sale - now $23.97




- was

$39.95



A water-resistant, trigger style park glove that keeps in the warmth? Welcome to the Celtek Trippin Pipe Glove. The ripstop nylon fabric repels water, and the polyurethane palm gives you extra grip, whether you're pulling off a Method Air on the halfpipe or snagging a post-ride beer with your friends. The neoprene cuff gives this glove a comfortable fit so you you won't trip over it when it slips off your hand. The trigger style makes easier for you strap in and adjust your bindings. And with ar more...




---
Neff Chameleon Pipe Glove


On sale - now $23.97




- was

$39.95



Whether you hands want to blend in, sun themselves on the beach, pet a puppy, or raise Old Glory, the Neff Men's Chameleon Pipe Gloves are for them. The PU-coated stretch polyester twill will resist water intrusion and won't hinder your natural movement. With the synthetic leather palm, you'll never miss a chance to grab some board again. The Chameleon doesn't exactly blend in, but with such crazy designs, why would you want it to? more...




---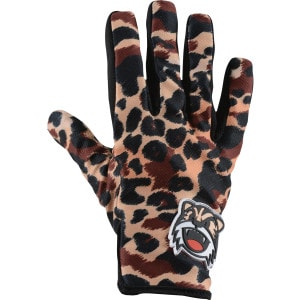 Neff Pipe Glove - Women's


On sale - now $23.97




- was

$39.95



The Neff Women's Pipe Glove uses a combination of fabrics to maximize your skills in the park. Stretch polyester twill and the gloves natural finger cure provide the flexibility your hands need for their ultimate range of movement. To prevent water entrance, Neff includes a PU-coating and a hook-and-loop undercuff closure that fits snugly out of the way. Slippage be gone; the synthetic leather palm contains a silicone anti-slip grip for the ultimate hold. Its brushed lining features an anti-micr more...




---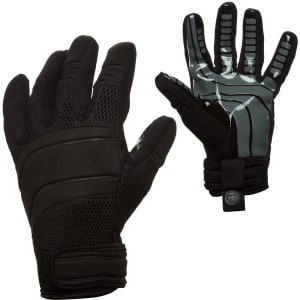 Neff Rover Pipe Glove


On sale - now $23.97




- was

$39.95



The sun is out and the pipe is cut; you just need the Neff Rover Glove to help you hold your grabs while you boost way above the lip. Its neoprene and mesh construction with water-resistant lining helps protect your hands from the sloppy wet while allowing your palms to breathe. A mega-grip silicon print on the palm ensures you hold your grabs and helps you keep a firm grip on your ninja sticks. Oh ... and it offers your fingers warm comfort on cool days. more...




---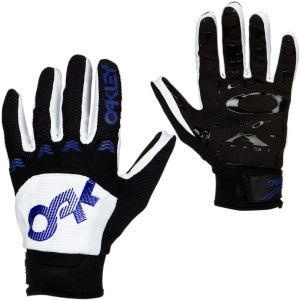 Oakley Heritage Pipe Glove


On sale - now $23.1




- was

$42



Show up to a spring park session or hike the pipe with the locals in those over-insulated gauntlet gloves and see how well you're received. OR you can get the low-profile Oakley Heritage Pipe Glove and at least pretend to fit in. more...




---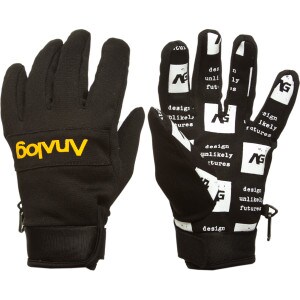 Analog Avatar Glove


On sale - now $26.97




- was

$44.95



The Analog Avatar Glove is your new go-to for warm-weather laps. Features a durable, water-resistant poly exterior and a silicon palm print for seriously sticky grabs. more...




---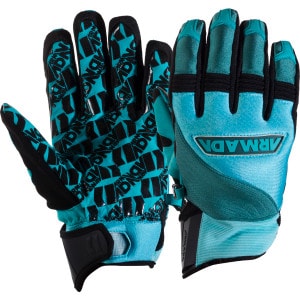 Armada Throttle Pipe Glove


On sale - now $33.71




- was

$44.95



Some days you're on point, others not so much but, either way, the Armada Throttle Pipe Gloves always pull through for you. more...




---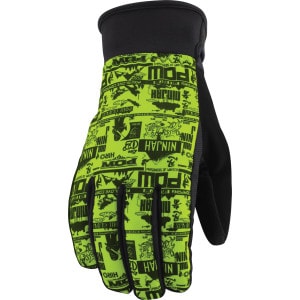 Pow Gloves Ninjah Glove


On sale - now $22.48




- was

$44.95



When the buds call, and it's time for fest of shred, pull on your Pow Gloves Ninjah Glove, and you'll be the last man standing. This glove features a weather-resistant, durable nylon shell plus a waterproof Hipora insert and water-resistant Amara palm for full-hand coverage to keep you nice and dry. Cozy 3M Thinsulate insulation gives your man hands warmth when the weather's nasty and cold. A premium anti-pill microfleece lining feels oh-so-good against your skin, plus it manages moisture and ad more...




---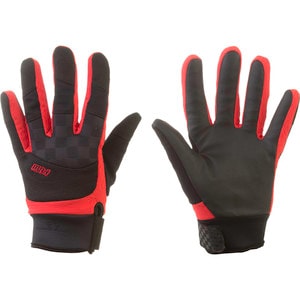 Pow Gloves Zerow Glove


On sale - now $20.23




- was

$44.95



With plenty of flexibility and and just enough insulation for lapping the park, the POW Gloves Zerow will be your right (and left) hand man this season. Tough, stretchy corded nylon and neoprene shell has a durable water repellent coating that sheds water like a duck's back, and the waterproof polyurethane palm gives your hand a layer of armor suitable for a rhino. more...




---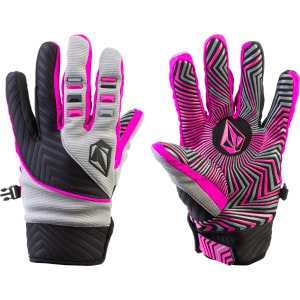 Volcom Atlantic Pipe Glove


On sale - now $26.97




- was

$44.95



Spring signifies the end of the ski season with melting halfpipes, icy landings, and the Volcom Atlantic Pipe Glove. Even though wet weather is the least of your worries once the spring ski season rolls around, this glove has a waterproof insert to help keep your hand dry in case you biff off a rail right into whatever snow is left. The V-Science Stay-Dry shell blends nylon with neoprene in order to protect your hands from all the rail-grinding madness, but it's also breathable so your glove isn more...




---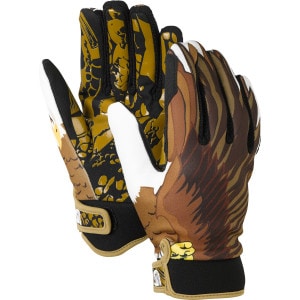 Burton Spectre Glove - Men's


On sale - now $26.97




- was

$44.95



There's nothing wrong with using the Burton Men's Spectre Glove to take out the trash on a chilly morning, practice curling, or get after a little speed-walking. Well, speed-walking isn't very cool, but most other chilly-weather activities are OK to do in the Spectre glove. Ideally, though, you should be throwing a big, nasty, corked-out seven and cranking a grab hard enough to flex your board... more...




---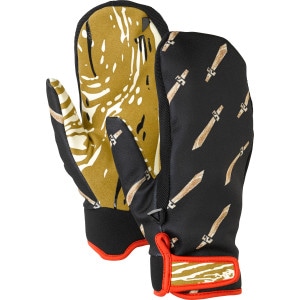 Burton Spectre Mitten - Men's


On sale - now $22.48




- was

$44.95



So what if it's fifty degrees outside, you don't want to be the only kid in the park without mittens, do you? That's why Burton created the Spectre Mitten at the Burton team's request, a thin, low-profile mitten with a super grippy palm that you can rock when the temperatures get to well above freezing, and still give your fingers all that mitteny-freedom you love. more...




---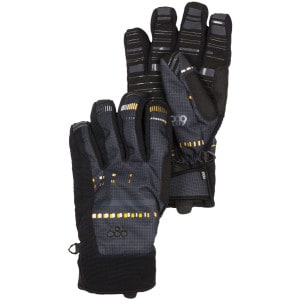 686 Echo Pipe Glove - Men's


On sale - now $27




- was

$45



With a lot of manufacturers cranking out poorly designed gardening gloves and calling them 'pipe' gloves, it's nice to see a pipe glove with integrity from a manufacturer with the same. With 15K-rated waterproofing and a tough suede palm, the 686 Echo Pipe Glove is the real deal. Don't throw away your old gloves, though--Mom might want you to help her weed the garden this spring. The Echo's main body fabric is tried-and-true polyester. 686 then adds a 600mm DWR and an Infidry-15 membrane for all more...




---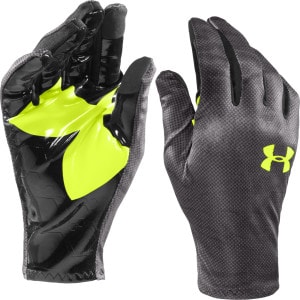 Under Armour Super Softshell Pipe Glove


On sale - now $29.97




- was

$49.95



Under Armour calls it a Pipe Glove, but the Super Softshell would be useful for any type of spring riding or backcountry touring. The glove's extreme breathability makes it ideal for warm weather or highly aerobic activity. The water-resistant silicone DWR, while not enough protection for a full-blown snowball fight, will protect your hand from light snow. The Ax Suede synthetic leather palm is tough enough to handle abuse, and the silicone print adds grip. Under Armour even added touchscreen-co more...




---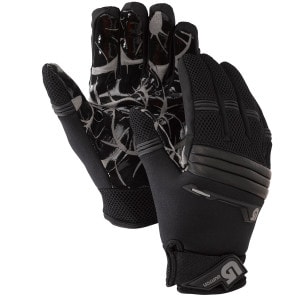 Burton Pipe Glove - Men's


On sale - now $29.97




- was

$49.95



The Burton Pipe Gloves are designed to deliver maximum grip for methods, roastbeefs, crails, or whatever your favorite grab happens to be. The super low-pro design and water-resistant finish make these a great choice for park or cruiser laps in milder temperatures. more...




---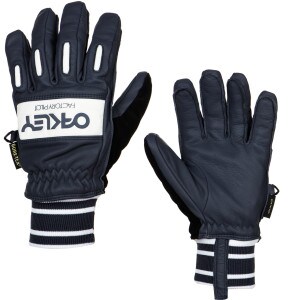 Oakley Factory Winter Glove


On sale - now $49.5




- was

$90



Bust out the Factory Winter Glove when you want to cover your fingers with handwear that's more moto-inspired than your massive mittens. A tough leather shell protects your hands, insulation fends off the cold, a Gore-Tex membrane keeps everything dry, and the stretch cuffs seal the whole deal off at your wrists. Unless it's nuking beyond belief, this is the choice of Oakley's winter pro team. more...