---
Pow Gloves Assault Gore-Tex Glove - Men's


On sale - now $65.97




- was

$109.95



The Assault Gore-Tex Glove from Pow is a technically styled and constructed first-line of defense in winter conditions. The premium leather and DWR-coated nylon shell is supple and durable while the Gore-Tex insert and Primaloft insulation are sure to keep you dry and warm. Features like the heater/vent pocket that enables you to stash some extra warmth on really cold days and the nose and goggle wipe that keep boogers at bay set the Assault apart as top-tier protection for your paws. more...




---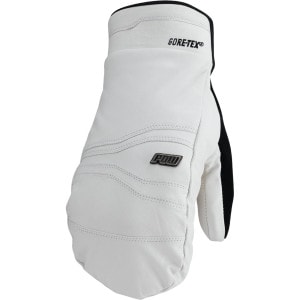 Pow Gloves Stealth GTX Mitten - Men's


$109.95



Your fingers are warmer when they aren't separated. The Pow Stealth Mittens let your fingers chill together for maximum warmth. Pow Gloves also insulated these mitts with 100g PrimaLoft One for even more warmth and used a goatskin leather with Gore-Tex waterproofing for total dryness. more...




---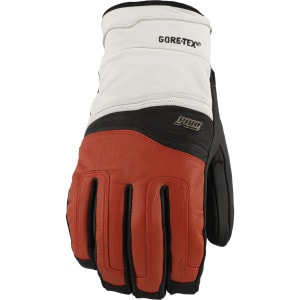 Pow Gloves Stealth GTX Glove - Men's


$109.95



When the resort is covered in gapers competing in an 'Oblivious Moron' contest, the Pow Stealth Glove provides versatile, low low-profile hand protection for mid-winter rope-ducking missions. The Stealth's goatskin leather shell resists damage well and breaks in over time to improve the fit the longer you wear them. The waterproof/breathable Gore-Tex insert keeps your hands dry as you help yourself to illicit face shots, and the super-warm PrimaLoft One insulation ensures warmth while you hide f more...




---
Quiksilver Pike Glove


On sale - now $60.5




- was

$110



The Quiksilver Pike Glove brings high-tech materials and quality leather construction together in a cold-stopping mashup that will make your hands happy. Plus, the removable mitten liner gives you two ways to wear these gloves depending on the weather you're getting and the look you want. more...




---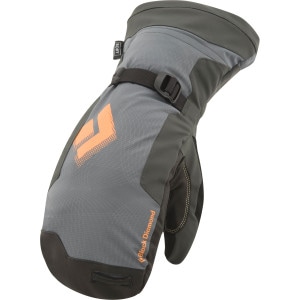 Black Diamond Mercury Mitten - Men's


$114.95



Built to be tough and supremely versatile, the Black Diamond Mercury Mitten features a waterproof breathable membrane and PrimaLoft insulation to slay cold, soggy weather. more...




---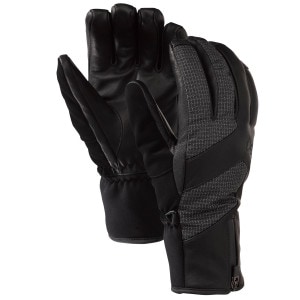 Burton AK Guide Glove - Men's


$114.95



The Burton Men's AK Guide Gloves protect your hands during big-mountain hucks and hairy resort storms. Waterproof breathable Gore-Tex shells send crappy weather packing, while Primaloft insulation packs warmth around your paws. Neoprene stretch panels and Burton's Pistol Grip pre-curved fit increase dexterity for strapping in, opening your backcountry pack, or adjusting your goggles or helmet. more...




---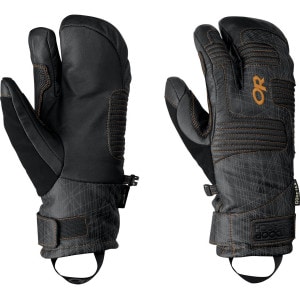 Outdoor Research Point 'N Chute 3-Finger Glove - Men's


$118.95



We all know that mittens are warmer than gloves, but they lack the advantage of being able to use your fingers separately. The Outdoor Research Point 'N Chute 3-Finger Glove might be the perfect compromise. By freeing your index finger, the Point 'N Chute provides the warmth of a mitten with the dexterity of a glove. Full leather construction makes the Point 'N Chute as tough as a cow, and the Gore-Tex membrane is guaranteed waterproof breathable. more...




---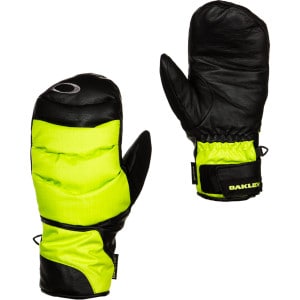 Oakley The 72 Mitten


$120



When the mercury takes a serious dive, mittens work better. The Oakley 72 Mitten is made for super-cold riding when keeping your fingers attached is a priority. This Gore-Tex mitten with Thinsulate insulation is nearly impervious to cold so you can get out every day of the season without the perpetual cold-hand that you always dread. more...




---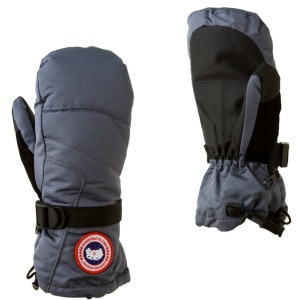 Canada Goose Down Mitten - Men's


$124.95



Whether you're hitting the slopes on a frigid day or postholing your way toward a frozen summit, the Canada Goose Down Mittens protects your hands from the harsh, wet cold. A Hipora waterproof breathable insert backs up the tough nylon shell, and high-quality goose down keeps winter's icy grip at bay. The gauntlet cinch cord and webbing cinch strap seal out cold air and snow while the grippy palm helps you hang on to your poles or axe. more...




---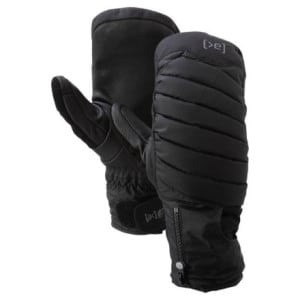 Burton AK Oven Mitten - Men's


On sale - now $71.45




- was

$129.9



Face it bro; you're not invulnerable to cold fingers. You're smart, so you choose to wear the Burton Men's AK Oven Mitten on those days when it's not safe to whip it out for a leak break in the trees. The low-profile design makes sliding the cuff of your jacket over the mitten easier than unzipping your fly. more...




---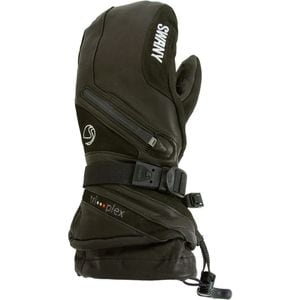 Swany X-Cell II Mitten - Men's


$134.95



The Swany X-Cell II Mittens keep your hands warm and feeling great in cold, wet conditions, so you can rock run after run without ever getting chilled digits. The leather construction and bomber-jacket style would be at home in a dog fight. more...




---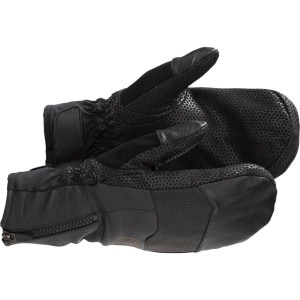 Burton AK Yeti Mitten - Men's


$139.95



Engineered with unlimited dexterity and harsh, unpredictable weather in mind, the Burton AK Yeti Mitten equips your hands with the technology needed to stay dry while conquering the steeps of AK. more...




---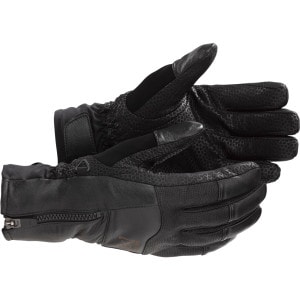 Burton AK Yeti Glove - Men's


$139.95



You don't go to Alaska without having the best gear you can get, and gloves should not be an exception. The Burton AK Yeti Snowboard Glove combines waterproof breathable Gore-Tex with premium leather for unmatched grip and breathability, and a fleece lining with Gore X-Trafit keeps your hands cozy. more...




---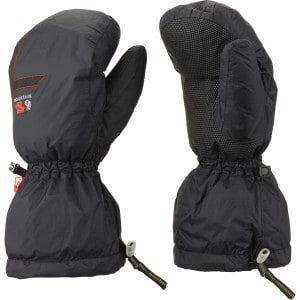 Mountain Hardwear Nilas Down Mitten - Men's


On sale - now $111.96




- was

$159.95



Snow-blasted summits offer no mercy to fingers and the climbers attached to them; cover those digits with the Mountain Hardwear Nilas Down Mitten and gain a strategic advantage over the punishing environment. This tough mitt's high quality 800-fill down and an OutDry membrane provide protection from the coldest, wettest conditions, because the weather changes much faster than you can downclimb. more...




---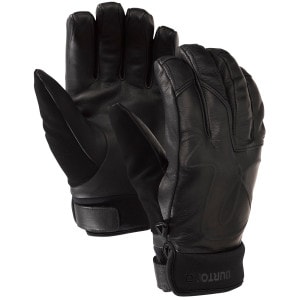 Burton Mix Master Glove - Men's


On sale - now $93.45




- was

$169.9



Thanks to built-in, wireless audio controls on the back of the left glove, Burton's Mix Master Glove solves the age-old problem of frozen fingers while adjusting your tunes. Plug the included module into your iPhone or iPod, and you can skip or repeat tracks, adjust volume, and stop or start your music without taking off your gloves or fiddling with zippers. more...




---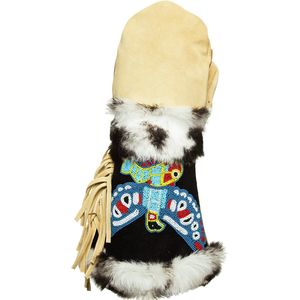 Astis Erling Mitten


$194.95



Wild and free like the wide-open spaces of the North, the Astis Erling Mitten spreads its hand-sewn beadwork across its silicone-injected suede gauntlet to declare its proud soul. And silicone-injected suede leather fends off rain and snow, while the Polartec high-loft insulation and fur around the cuff and wrist add cozy warmth. When you're this warm, dry, and comfortable, your spirit soars. more...




---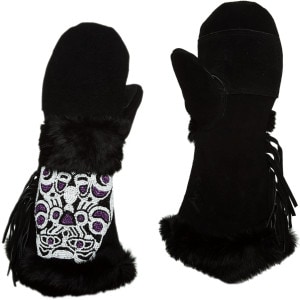 Astis Marquette Mitten


$194.95



Featuring a Haida style bear in hand crafted bead work, the Astis Marquette Mitten embodies the bespoke craftsmanship, durability, and functionality prized by cold weather explorers of the past. Made from burly suede leather with Polartec Thermal Pro liners, these mittens are intended not just as a fashion statement, but for performance in waist-deep powder for many winters to come. more...




---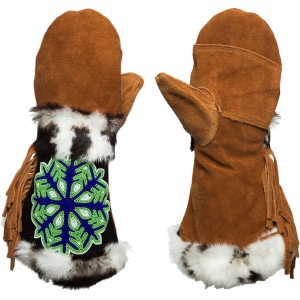 Astis Messner Mitten


$194.95



Celebrate the legacy of Reinhold Messner, mountaineer extraordinaire, and your own love of the snowy outdoors with the Astis Messner Mitten. With beautifully hand-sewn beadwork honoring your beloved flakes flanked by cozy, real-fur trim, there are few better ways to express your undying appreciation. Suede leather injected with silicone protects against the elements, and Polartec high-loft insulation keeps your hands cozy-warm, so you can play all day in that stuff you love. more...




---
Astis Pike Mitten


$194.95



The Rocky Mountain state of Colorado is honored on the Astis Pike Mitten, adorned in hand-beaded art and real fur trim. Suede leather fringe adds to its cowboy style, and it's injected with silicone for protection against the elements. Lined with Polartec high-loft fleece the Pike not only looks hardcore-hot but keeps those hands toasty-warm. Yeehaw! more...




---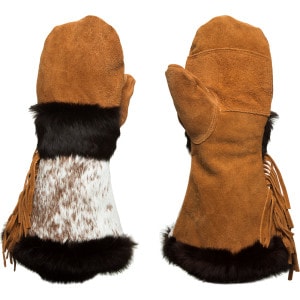 Astis Tenzing Mitten


$194.95



Named after the famed Nepali Sherpa who shared the summit of Everest with Sir Edmund Hillary, the Astis Tenzing Mitten blends timeless appeal with uncompromising functionality. While perfectly suited and styled for chilly nights out on the town, these mittens are made from hand-stitched suede leather, speckled cowhide, and Polartec Thermal Pro liners to provide the high level of performance required by hard charging skiers and winter sports enthusiasts alike. more...




---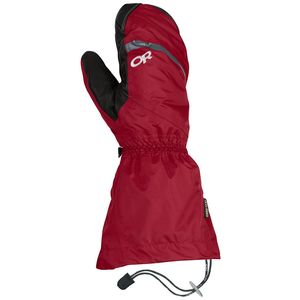 Outdoor Research Alti Mitten - Men's


$198.95



When the temperature outside is so brutal that your pee crystallizes before it hits the ground, the time has come to bust out your Outdoor Research Men's Alti Mitten and its Gore-Tex shell. Constructed for high-alpine mountaineering, arctic expeditions, and other pursuits into the frigid kryosphere, the Alti Mitten blends waterproof Gore-Tex membrane with a removable PrimaLoft-insulated liner to provide digit-saving protection from the ungodly cold elements. more...




---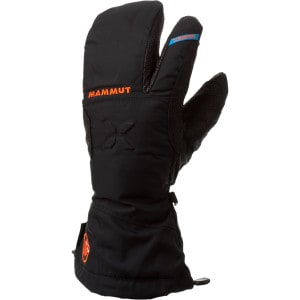 Mammut Eigerjoch Glove


$199.95



Built to perform in some of the toughest alpine conditions imaginable, the Mammut Eigerjoch Glove features an innovative X-trafit Gore-Tex insert, Pittard leather shell, and 450-fill goose down insulation on the back of the hand. The three-fingered design provides critical dexterity between the thumb and forefinger plus the unmatchable warmth of a mitten for the rest of the hand. An additional 60g Primaloft insulation and a warm fleece lining round out this expedition-worthy glove. more...




---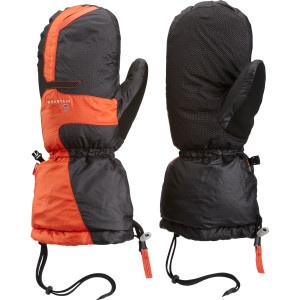 Mountain Hardwear Absolute Zero Mitten


On sale - now $139.96




- was

$199.95



When the temps are in the single digits, protect your fingers from frostbite with the Mountain Hardwear Men's Absolute Zero Mitten. The OutDry membrane supplies waterproof and breathable protection while the lofty 800-fill goose down keeps your fingers warm and toasty in the harshest weather imaginable. more...




---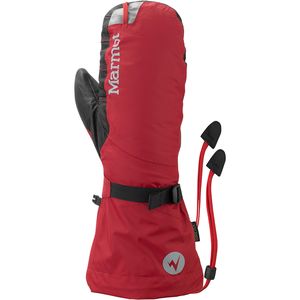 Marmot 8000 Meter Mitten


$274.95



The Marmot 8000 Meter Mitten. Hopefully the name gives you some indication of how far you can push into nasty weather while wearing this mountaineering-style mitt. Multiple varieties of Gore-Tex fabric and membrane technology protect your hand from wet conditions, wind, and sweat, while high-loft, 700-fill goose down insulation fends off thermometer-crushing cold. Slide your hand inside this gauntlet-style mitt, wrap the leather-reinforced palm around your ice tool, and charge up a tricky alpine more...




---
DAKINE Crossfire Glove - Men's


$29.95



Flash the Dakine Men's Crossfire Glove as you throw it down at the park. Part of the Dakine Method series of low-profile, performance-fit gloves, the Crossfire features a tough nylon shell with a DWR finish that repels water. The glove's precurved box finger construction makes it easy to execute a grab, and the durable Clarino synthetic palm won't shed when you get it right. A waterproof neoprene cuff seals out spring slush. more...




---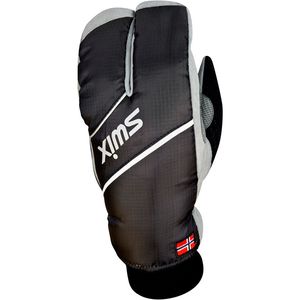 Swix Split Mitt - Men's


$35.95



For ultra frigid sessions, rely on the Swix Men's Split Mitt for solid warmth, comfort, and dexterity. more...




---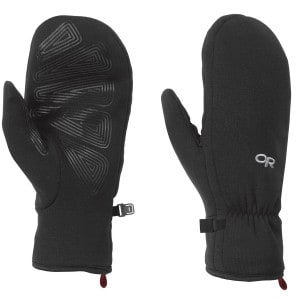 Outdoor Research PL 400 Mittens - Men's


$36.95



For winter work or play, pull on the Outdoor Research PL 400 Mittens. The PL 400 mittens provide wind-resistant warmth with a 300-weight smooth fleece exterior and a 100-weight fleece interior. MirrorSeam and MotionWrap construction minimize seams, and a rugged silicone grip means abrasion resistance and better grip on the snowblower in even the most frigid temps. more...




---
Burton Profile Glove - Men's


On sale - now $21.95




- was

$39.9



Dont sleep on the dry, breathable comfort of the Burton Mens Profile Gloveswe suggest tossing these insulated gloves on your hands and heading out to enjoy some face shots instead. Durable two-layer Ultrashell fabric and the Toughgrip synthetic palms protect your hands through seasons of buckling, grabbing, shoveling, and towing. more...




---
DAKINE Scout Glove


On sale - now $24.72




- was

$44.95



The DAKINE Scout Glove keeps warmth and comfort locked in all-season long. From first snowfall to spring slush, the Scout allows for customizatiable warmth thanks to the included removable stretch-fleece liner. And as far as staying dry goes, the PU membrane is certified waterproof and windproof to keep you going all day without getting soaked. more...




---
DAKINE Scout Short Glove


On sale - now $20.23




- was

$44.95



You may have dropped out before reaching Tenderfoot, but with the Dakine Scout Short Glove, you'll feel like a winter wilderness master. The DWR-coated shell fabric and waterproof membrane protect you from the wettest spring slush while the stretchy fleece liner and high-loft synthetic insulation keep your paws cozy from first run to last. more...




---
Celtek Echo Glove


On sale - now $27.47




- was

$49.95



Your bro just stomped a heavy new trick on the big booter and you got the shot on your smartphone without even taking your gloves off thanks to the Celtek Echo Snowboard Glove. X-Static fingertips are touchscreen-compatible so you don't look like a fool fiddling with your gloves when you're trying to get that cute liftie's number. more...




---
Celtek Faded Glove


On sale - now $27.47




- was

$49.95



Wet hands are cold hands. Keep that from happening with the Celtek Faded Snowboard Glove. The 15K-rated StormDry membrane prevents moisture from coming in, so your fingers stay dry and happy park lap after park lap. more...




---
DAKINE Frontier Glove


On sale - now $29.97




- was

$49.95



The DAKINE Frontier glove hooks up toasty warmth with the reliable waterproofing of a Gore-Tex liner for less than the price of a day ticket at most mountains. High-loft synthetic lining cranks up the heat, while the gauntlet-style cuff prevents snow from creeping up your sleeves. more...




---
DAKINE Mustang Glove


On sale - now $27.47




- was

$49.95



The DAKINE Mustang Glove might be non-insulated, but it's surprisingly warm thanks to a plush fit that feels like a second skin. The treated leather exterior repels water to avoid soaking, and a micro-fleece lining gives you enough warmth for park laps in moderate to mild conditions. more...




---
686 Static Pipe Glove - Men's


On sale - now $25




- was

$50



Sure, the 686 Static Pipe Glove has the profile and close fit of a pipe glove, but it's not here to tell you where you can and can't ridethere's ski patrol for that. more...




---
DC Mizu 13 Glove


On sale - now $27.5




- was

$50



Nobody likes sweaty palms. Not only are they annoying, but they become dangerous while you're riding because all that moisture makes your hands super cold. DC Mizu 13 Gloves are made with a super-breathable polyester fabric that pulls that moisture away from your skin to eliminate the clamminess. It also comes with a handy nose wipe so you can chase away the boogs before you head into the bar for apres-ride. more...




---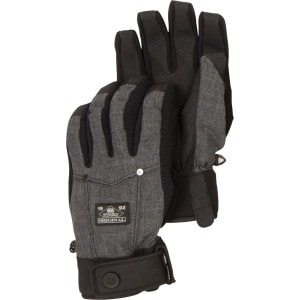 686 Transit Insulated Glove - Men's


On sale - now $25




- was

$50



The 686 Transit Insulated Glove features an Infidry membrane and synthetic insulation to keep your mitts cozy on cold, wet days, and the denim-style fabric gives it a classic American look. So next time you're in the Alps, everyone will know what your true colors are. more...




---
Burton Approach Under Glove - Men's


On sale - now $30.2




- was

$54.9



You spent a chilly morning hand-dragging in blower pow. Now the sun has come out and your hands are getting all sweaty. Just take the removable fleece liner out of the Burton Men's Approach Under Glove and keep on slaying. more...




---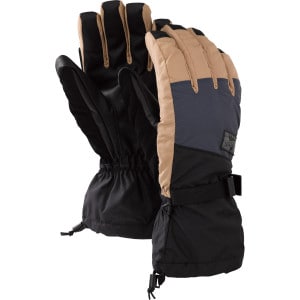 Burton Approach Glove - Men's


On sale - now $30.2




- was

$54.9



Winter rolls in strong like a freight train every year, so put on the Burton Approach Glove and ride in the worst of it. The removable fleece liner adds mega versatility for winter and spring riding. more...




---
Celtek Blunt Glove


On sale - now $32.97




- was

$59.95



When Bode Merrill and Aaron Biittner takes to the streets to lay down some hammers, they slip on the Celtek Blunt Snowboard Glove and get to work. The durable leather palm grips tightly, whether it's the handle of the bungee or your board as you launch off the lip, and the 20K-rated Hipora insert keeps you dry during long sessions. more...




---
Ride Buckaroo Glove


On sale - now $32.97




- was

$59.95



The Ride Buckaroo Glove brings your hooves the warmth of a mitt with all the dexterity of a park glovenow, that's udderly awesome. The Buckaroo is crammed with 170g polyester insulation which provides the warmth to warm your hide in winter's worst, while pre-curved fingers and a flex panel across the knuckles won't makes it easy to ratchet bindings and throw shakas. more...




---
686 Smarty Command Insualted Glove - Men's


On sale - now $30




- was

$60



Slide your hands into the 686 Smarty Command Insulated Glove and let the high-tech fabrics and infiDry laminate shield you from heavy snow and sub-freezing conditions. These no-nonsense gloves mix straightforward style with smart Smarty design that, like the Smarty jackets, includes a cozy removable liner glove so you get focused weather protection and versatile function. more...




---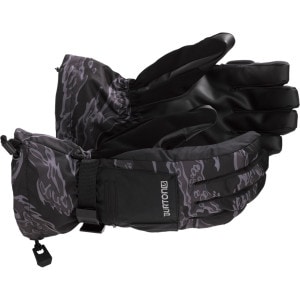 Burton Baker Glove - Men's


On sale - now $35.7




- was

$64.9



Don't be that guy who makes everyone head to the mid-mountain cafe during an epic day because your hands are freezing. The Burton Baker Glove features 3-in-1 waterproof breathable protection that works in any weather. The DryRide Ultrashell 2-layer fabric and DryRide Insane Membrane 2.0 work together to block out wind and snow while wicking away sweat so your hands stay dry and warm. Plus it features a removable liner you can rock solo when its really warm, or combine it with the shell so you ca more...




---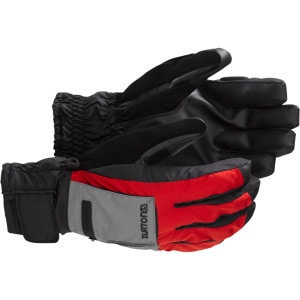 Burton Baker Under Glove - Men's


On sale - now $45.43




- was

$64.9



The Burton Baker Under Glove doesn't mess around when it comes to keeping hands warm. DryRide Ultrashell 2-layer fabric and DryRide Insane Membrane 2.0 deliver serious waterproofing and moisture-wicking to keep things dry, and the Thermacore insulation and removable DryRide Ultrawick liner offer plenty of warmth. And if that's not enough, a pocket on the back of the hand fits disposable hand warmers in the event of spit-freezes-before-it-hits-the-ground temperatures. more...




---
DAKINE Bronco Glove - Men's


On sale - now $35.72




- was

$64.95



Cram your chilly paw into the DAKINE Bronco Glove, and you'll completely forget that it's January. The Gore-Tex insert keeps your hand dry without any sweaty clamminess, while killer styling from Wolfgang Nyvelt keeps you looking good, even while you crash and burn in the pipe. more...




---
DAKINE Pantera Glove


On sale - now $35.72




- was

$64.95



With a waterproof/breathable membrane, toasty fleece lining, and a removable pipe-glove liner, the DAKINE Pantera Glove keeps you ready for any weather you'll encounter all season. Run the whole package together for super-cold days, wear the removable pipe-glove liner for spring park laps, and just the outer waterproof, fleece-lined outer shell when you need something in-between. more...




---
DAKINE Titan Short Glove - Men's


On sale - now $38.97




- was

$64.95



You already use the cuff of your jacket to keep snow out of your glove, so why mess with a guantlet? Featuring a waterproof breathable Gore-Tex membrane, the DAKINE Men's Titan Glove agrees with you, and it's ready to bring serious weather protection to the party. more...




---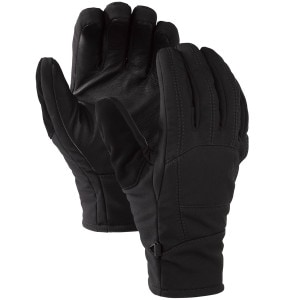 Burton AK Tech Glove - Men's


$64.95



The Burton Men's AK Tech Gloves' ultra-low profile design won't get in the way whether you're doing laps in the park or riding choppers in Alaska. These gloves' DWR-coated softshell outers fight off moisture and keep your hands from overheating while you build up a massive hit. more...




---
686 Satellite Insulated Glove - Men's


On sale - now $35.75




- was

$65



Whether you're orbiting around the resort or making a freeride-fueled jettison down backcountry chutes and open pow fields, the 686 Satellite Insulated Glove brings you the warmth and waterproofing to keep your snow-slashing sessions astronomically fun. more...




---
Burton Gore-Tex Glove - Men's


On sale - now $41.94




- was

$69.9



If the Burton Gore-Tex Glove could talk, it wouldn't say much. While other talking gloves might spout off about bells, whistles, graphics, and other hullabaloo, the Gore-Tex Glove would keep it short and sweet, only saying, 'relax, I got this' when you're riding a lift into a dark high-elevation cloud. Or perhaps it might only give you a nod to reassure you that your digits will be safe and warm, even when it looks like you're about to tomahawk down a pillow line. Yup, this Burton Gore-Tex more...




---
Burton Gore-Tex Under Glove - Men's


On sale - now $41.94




- was

$69.9



Throw on the Burton Mens Gore-Tex Under Glove when the weather gets downright nasty. Burton stuffed this burly glove with Thermacore insulation to keep your nose-pickers toasty on the gnarliest days, and the DryRide Ultrashell combined with the Gore-Tex insert ensures that nothing short of a monsoon finds a way to soak your paws. more...




---
Ride Stellar Glove


On sale - now $41.97




- was

$69.95



The Ride Stellar Glove helps you keep your tough-as-nails appearance, even though you're afraid of spiders. A waterproof, breathable Hipora insert keeps your hands wicked dry while you send it down untouched pow runs, and its high-pile fleece wicks moisture away and keeps you comfy. Pre-curved finger construction with flex knuckle panels allow you to easily grab your board mid-air and wow the ladies. more...




---
DAKINE Sabre Glove


On sale - now $37.48




- was

$74.95



The DAKINE Sabre Glove combines fresh low-profile styling with enough storm-proofing to keep your hands toasty warm all winter. more...




---
Neff Fuse Glove - Men's


On sale - now $41.22




- was

$74.95



Midwinter warmth with the profile of a pipe gloveThe Neff Fuse Glove is stuffed full of toasty Primaloft insulation and backed with a HiPora insert to keep your hands dry all season long. more...




---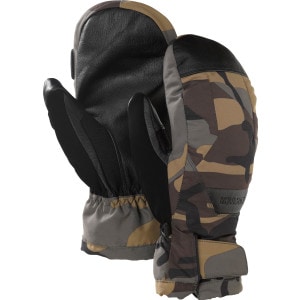 Burton Gore-Tex Leather Mitt - Men's


$74.95



For riders who live in frigid climates or get cold easily, Burton's Gore-Tex Leather Mitt combines the guaranteed water-blocking power of Gore-Tex with the warmth boost that makes mittens so great. Thermacore insulation and a brushed microfiber lining offer mid-winter warmth, while the Gnar Guard leather palm resists damage from board edges, tree branches, or encroaching ski poles. more...




---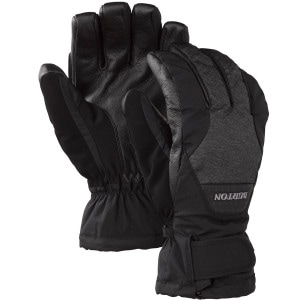 Burton Gore-Tex Leather Glove - Men's


$74.95



Burton's Gore-Tex Leather Glove packs a ton of performance into a value-loaded package. Thanks to a Gore-Tex waterproof/breathable insert, Thermacore insulation, and a durable, grippy leather palm, you'll stay protected from the elements all season long. more...




---
Burton Support Glove - Men's


On sale - now $43.95




- was

$79.9



The names says it all. The Burton Support Glove not only insulates your hands with toasty warmth, but also features a low-profile and removable support shank to protect your wrist during a nasty fall. It's kind of like a bodyguard just for your handsbecause how else will you be able to exchange high-fives at the end of the day if your wrist is shattered? more...




---
CandyGrind Freestyle Glove


On sale - now $31.98




- was

$79.95



Candygrind put together an easy formula for the Freestyle Glove. It's made out of leather for durability, it has a Hipora insert for waterproofing and breathability, and a microfleece lining to warm up cold fingers and dry off sweaty palms. The result is a simple, yet functional glove that will keep your fingers happy all season. more...




---
Celtek Aviator Snowboard Glove


On sale - now $43.97




- was

$79.95



From pow to park, the Celtek Aviator Snowboard Glove flies anywhere. Featuring an OutDry waterproof membrane to keep moisture out and a durable leather shell to help you hold your grabs, the Aviator is the go-to glove for riders as diverse as Justin Bennee and Bjorn Leines. more...




---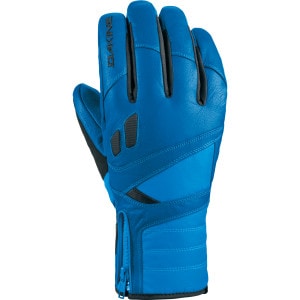 DAKINE Cobra Glove - Men's


$79.95



Slip your paws into the Dakine Men's Cobra Glove before you head out to tackle the next big winter storm. With a Weathershield leather shell and Gore-Tex insert, this glove keeps your mitts high-and-dry while you slay the deeps. Thermaloft insulation dials in all-day warmth, the mid-weight fleece lining offers killer comfort, and the hook-and-loop closure keeps snow out. more...




---
DAKINE Raptor Glove


On sale - now $46.72




- was

$84.95



The low-profile DAKINE Raptor Glove not only offers reliable weather protection thanks to a Gore-Tex insert and PrimaLoft insulation, it also features specially treated leather that lets you use your phone's touchscreen without ever exposing your fingers to the elements. more...




---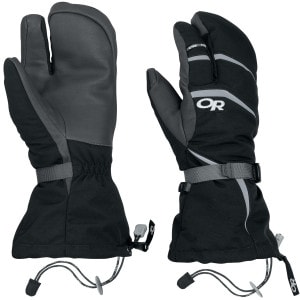 Outdoor Research Highcamp 3-Finger Glove - Men's


$84.95



The Outdoor Research Men's Highcamp 3-Finger Glove strikes a compromise between mittens and gloves for super-cold situations. Like a mitten, the Highcamp lets your fingers warm each other. It also allows you to use your hands like a glove. more...




---
686 Focus Leather Glove


On sale - now $53.97




- was

$89.95



The 686 Focus Leather Glove offers the grip, durability, and continuously improving fit that only leather gloves can provide. A water-repellent exterior coating and waterproof/breathable Infidry insert keep your digits dry, while the brushed tricot lining and synthetic insulation deliver season-long warmth. Genuine cowhide leather shells break in with use to give you a great fit for seasons to come. more...




---
CandyGrind CG Glove


On sale - now $35.98




- was

$89.95



From park laps to pow days, the Candygrind CG Glove works for every day of the season. It has a durable leather shell and Hipora insert to keep your hands dry in snowy conditions and reinforced fingertips so that it lasts all winter without getting holes. more...




---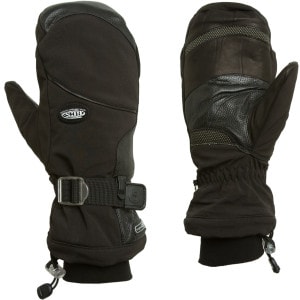 Grandoe GCS Primo Elite Mitten - Men's


$89.95



Join the exclusive group of snow-shredders who enjoy the benefits of climate-controlling mittens. The Grandoe Men's GCS Primo Elite Mitten's waterproof breathable Dri-Gard insert keeps wet snow away from your hands, and the removable fleece liner means you're ready for both chilly mornings and warm, slushy afternoons. more...




---
Burton Gondy Leather Glove - Men's


On sale - now $56.94




- was

$94.9



Gondolas are great for many reasons besides getting you up the hill quickly. The Burton Gondy Leather Glove and its Thermacore insulation let you bring that warm, enclosed feeling with you as you venture out into remote zones of the mountains in pursuit of powder. And when you have to change up your tunes or check to see how many people liked your most recent post, Touchtec palms can operate on touchscreens so your fingertips don't freeze. more...




---
Volcom Crail VBJ Glove


On sale - now $52.22




- was

$94.95



Equip your hands with the technology to get rad and not worry about what the weather is up to with the Volcom Crail VBJ Glove. And if you get these, you're pretty much obligated to bust out some seatbelt crails at least three times a dayjust keep that in mind. more...




---
Celtek Lira Glove


On sale - now $59.97




- was

$99.95



Trying to meet up with your friends at the mountain via phone can be a finger-chilling exercise. But with the Celtek Lira Snowboard Glove, you don't have to take off your glove to use your smartphone. TouchTec touchscreen-friendly leather lets you use all ten fingers to work your device so you and technology don't have to be apart for a second. more...




---
Rome Hoss Glove


On sale - now $54.97




- was

$99.95



The Rome Hoss Glove delivers ranch-hand styling with next-level tech that you won't find in a hardware store. more...