---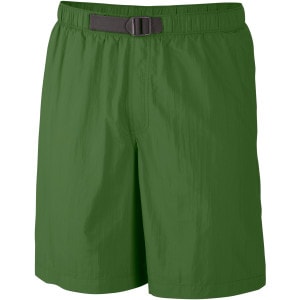 Columbia Whidbey II Water Shorts - Men's


$24.95



Lightweight textured nylon poplin gives the Columbia Men's Whidbey II Water Short quick-dry convenience so you're not paddling down the river in soggy shorts. The Whidbey II also offers UPF 50-rated sun protection when you're sitting in the cockpit of a kayak and includes an interior mesh brief and a zip-closed back pocket to keep your valuables safe. more...




---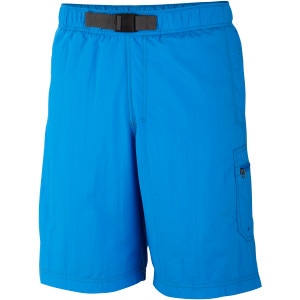 Columbia Palmerston Peak Short - Men's


$29.95



A road-trip through Yellowstone wouldn't be complete without throwing yourself off the rocks and into the Firehole River. The rolling water is just warm enough to be comfortable and just cool enough to be refreshing. The Columbia Palmerston Peak Shorts have the quick-drying fabric, straightforward style, and adventure-ready function you need. more...




---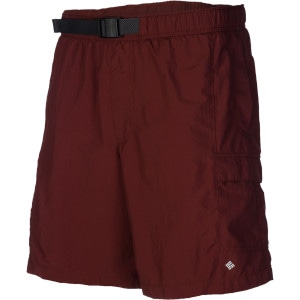 Columbia Snake River II Water Short - Men's


$34.95



Ideal for any activity that involves waterfrom kayaking to jumping off a tire swingthe Columbia Men's Snake River II Water Short provides lightweight, quick-drying comfort. An interior mesh brief gives support without weighing you down, and Omni-Shade provides UPF 50 protection, so you can prolong your fun in the sun. An exterior adjustable waistband fits whether you're lean and mean in the morning or just threw back a six-pack. more...




---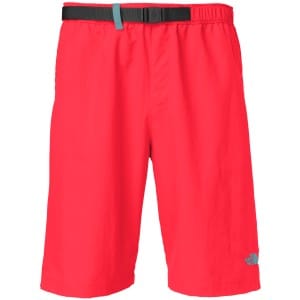 The North Face Class V Belted Water Short - Men's


$34.95



The North Face Men's Class V Belted Water Shorts have an integrated belt to keep your drawers on when you kayak through rougher rapids. A QuickDry treatment gives the 50+ UPF-rated nylon shell increased moisture management as well as a faster dry time, and the mesh liner ensures maximum breathability. The relaxed fit is wider in the thigh to enhance mobility, and the elastic waist ensures a snug fit. One zippered rear pocket secures your wallet when you stop by the store on the way home. more...




---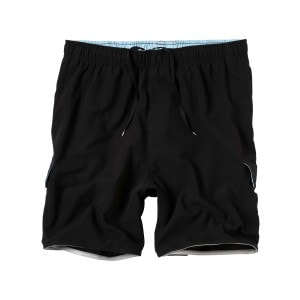 Quiksilver Waterman Balance 4 Swim Trunk - Men's


$39.5



Balance 4 Swim Trunk - Men's more...




---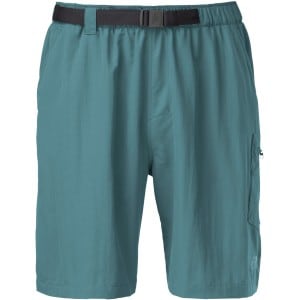 The North Face Class V Cargo Trunk - Men's


$44.95



The North Face Men's Class V Cargo Trunk is for the water-lovers from kayakers to boaters. A QuickDry treatment gives the 50+ UPF-rated nylon shell increased moisture management as well as a faster dry time, and the mesh liner ensures maximum breathability for your comfort. The relaxed fit is wider in the thigh to enhance mobility, and the elastic waist utilizes an integrated belt for a snug fit. Two zippered pockets (one cargo and the other at the rear) secure your valuables. more...




---
Kavu River Short - Men's


On sale - now $33.57




- was

$47.95



Once the river spits you out at the mouth of its winding canyon, you'll be full of beer and sporting a wicked tan line since the sturdy Kavu River Short won't have left your body for the entire trip. more...




---
Patagonia Baggies Lights Short - Men's


$49



The Patagonia Baggies Lights Men's Shorts are down for whatever--hiking, slacklining, mowing down fish tacos, or just straight chillin'. They've got a sleek fit so the babes can see how those squats you've been doing are paying off, and are made of 50D ripstop polyester that won't get shredded to death if you take them on some impromptu adventures. Of course, they're equally happy to kick back on Tuolumne down days with a book and a beer, and the UPF 40 rating means your thighs won't even get su more...




---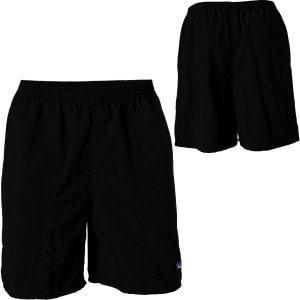 Patagonia Baggies Short - Men's


$49



A Patagonia classic, the Men's Baggies Shorts are at home in the water, on the trail, and anywhere in between. A DWR coated nylon body lined with comfortable mesh dries quickly and breathes well. The elastic waistband with internal drawcord gives you a casual fit with the ability to tighten when the going gets a little more serious. Patagonia designers have integrated a snap back pocket to secure valuables when you get to bushwhacking. more...




---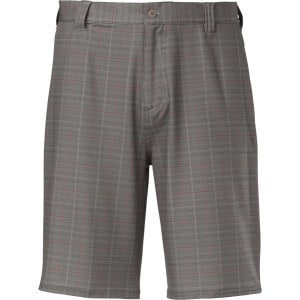 The North Face Pura Vida Walkshort -Men's


$49.95



Live your life to its fullest in The North Face Men's Pura Vida Walkshorts. The hydrophobic QuickDry treatment excels dry time and moisture management for hiking in the heat, swimming in the lake, and everything in between. The North Face made these shorts out of polyester and elastane for a four-way stretch that remains comfortable in warm weather, and the hex dobby backer quickens dry time even more while simultaneously reducing chafing on longer hikes. An active fit slims the Pura Vida down t more...




---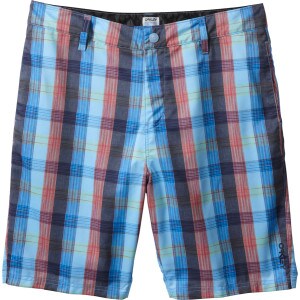 Oakley Jig Short - Men's


$50



The Oakley Men's Jig Short is equally suited for lazy days at the beach and late-night festivities at your favorite watering hole. This hybrid short features a polyester construction for fast-drying performance when you leave the water. more...




---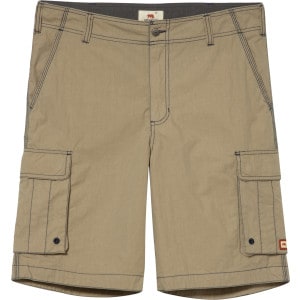 Dakota Grizzly Grayson Short - Men's


$53.95



It's impossible to have too much storage when you're hiking, so Dakota Grizzly designed the cotton and nylon Grayson Men's Shorts with cargo pockets to help you hold all your gear in the great outdoors. more...




---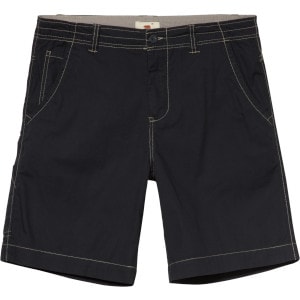 Dakota Grizzly Jordy Short - Men's


$53.95



Whether you're jumping on a plane to Central America or hiking your local trails, the Dakota Grizzly Jordy Shorts will get the job done. more...




---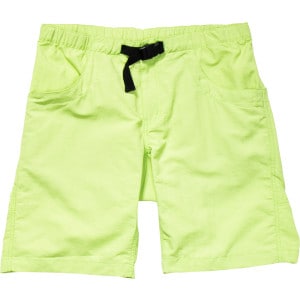 Kavu Big Eddy Short - Men's


$54.95



Paddling has a tendency to wreck your shorts. Rather than trashing your trunks at the end of every adventure, snag the Kavu Big Eddy Shorts. DWR-coated nylon resist sand, salt, sun, and mildew and can handle more than a handful of float trips. These river shorts dry quickly at the take-out and look presentable in town. Kavu designed them with an elastic waistband that won't dig into your gut. more...




---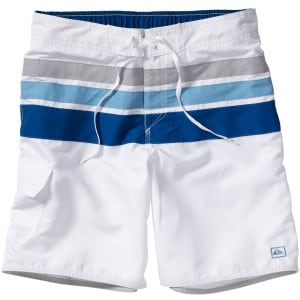 Quiksilver Waterman Strapped Water Short - Men's


$55



Designed to take you from underwater to the rest of your day with missing a beat, the Quiksilver Strapped Water Shorts are part board short and part walk short. Quiksilver gave these shorts traditional nautical stripes to make intentions completely clear. Two hand pockets and a thigh pocket provide ample storage for anything you may have to carry along, and the traditional drawcord closure provide a perfect fit every time. more...




---
Patagonia Baggies Naturals Short - Men's


$59



Reach for the Patagonia Men's Baggies Natural Short when it's your turn to head out on a latte run. The organic blend of materials makes it hard to get too upset over having to leave the cozy confines of your bed in search of caffeine, and the 7-inch inseam hits the sweet spot for shorts, not too long and not too short. With pockets in front and back, you've no excuse for failing to pay for that extra-large fancy-schmancy coffee your roommate ordered. more...




---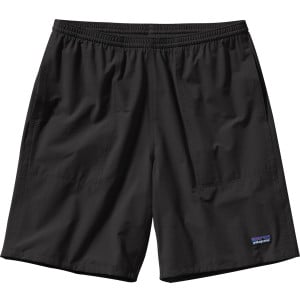 Patagonia Baggies Stretch Short - Men's


$59



Ready to wrestle pebbles, get down on some day hikes, or just kick back in the sun, the Patagonia Baggies Stretch Men's Shorts are as cool as the other side of the pillow. Made with Stretch Wavefarer fabric to give you full-on leg freedom no matter your activity of choice, the Baggies also offer a DWR coating and 40 UPF protection so you don't end up with thighs that are more tan than the rest of your body. Seriously, no one ever looked good with reverse tan lines. more...




---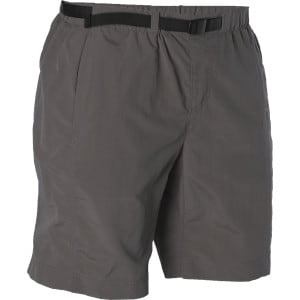 Patagonia Gi III Water Short - Men's


$59



Thanks to the quick-drying polyester and DWR coating, the Patagonia GI III Water Short offers dials in the comfort whether you're swimming laps or taking a dip in the middle of a through-hike. UPF-50-rated sun protection keeps your skin shielded from the sun's harsh rays, and a non-corrosive pocket zipper stands up to saltwater. more...




---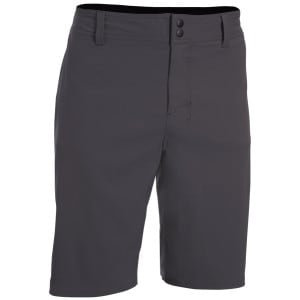 Under Armour Tustin Short - Men's


$59.95



Made for land or sea, the Under Armour Men's Tustin Short fuses casual style with fast-drying performance. The short's HeatGear fabric wicks moisture away from your body, and the Storm DWR treatment facilitates fast drying after you've dipped in the ocean. The rigid waistband and internal drawcord prevent these shorts from falling off when you're kicking around the pool. In addition, the secure hook-and-loop back pocket gives you a safe place for your keys and cash when you hit the beach. more...




---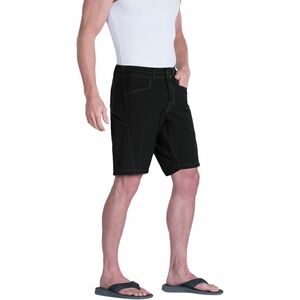 KUHL Mutiny River Short - Men's


$64.95



The Kuhl Men's Mutiny River Short is the type of swimsuit you want on long river trips as well as any watery occasion. Its nylon shell has a 3D texture that lifts the fabric from your skin in order to reduce chafing and quicken dry time, and a DWR coating further helps it to dry quickly. The rear and sides of the short have a bit of spandex to ensure uninhibited mobility. Kuhl also added some soft microfiber at the waist for comfort, flat felt RashGuard inseams to further reduce chafing, and two more...




---
Outdoor Research Backcountry Board Short - Men's


$64.95



Maybe you're snorkeling through Belize's barrier reefs or SUPing along the Lake Tahoe shoreline. Either way, the Outdoor Research Men's Backcountry Board Shorts have you covered. These polyester board shorts are lightweight, breathable, and quick drying for all-day wear--both in and out of the water. Ultra-durable for the long journey ahead, these board shorts are ideal for long-distance thru hikers, backpackers, and minimalist adventurers who need one pair of shorts for swimming, water sports, more...




---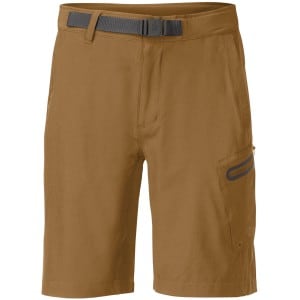 The North Face Apex Washoe Short - Men's


$64.95



After a particularly rough kayak spill or rope-swing maneuver, you never know when you might pop up from the depths of the water ... sans shorts. Invest in The North Face Men's Apex Washoe Short. Thanks to its web belt and buckle, this short stays in place when you get bucked from your whitewater raft, get pummeled by a wave, or enter the water from a swing at a short-tearing-off angle. And thanks to its Apex Aerobic material, this short handles both stiff offshore breezes and hot mid-summer day more...




---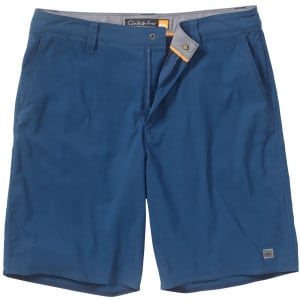 Quiksilver Waterman Beachwalk Short - Men's


$65



The Quiksilver Waterman Men's Beachwalk Shorts fit in whether you're strolling along the shore or hitting a few balls (ok, playing bumper cars with the golf carts). These classic shorts feature a clean, single-color design for timeless appeal and slight stretch for enhanced flexibility. more...




---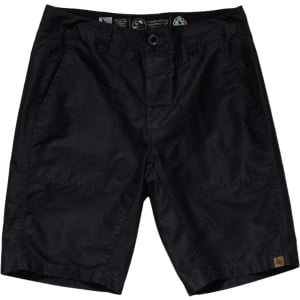 Hippy Tree Surplus Hybrid Short - Men's


$65.95



Hippy Tree wants you to feel right at home on your river trips, which is why the fully submersible Men's Surplus Hybrid Shorts feel just like your casual shorts. A cotton and recycled polyester blend helps the Surplus Hybrid dry quickly to keep you comfortable on the raft, and the gusseted crotch ensures a full range of motion for swimming. All the pockets feature a mesh lining to drain water. more...




---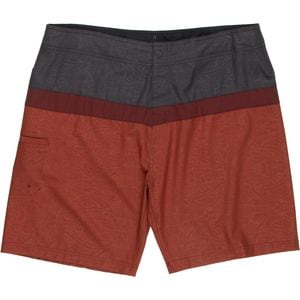 prAna Montericco Water Short - Men's


$68.95



The Prana Men's Montericco Water Short thrives on land and water so you can explore tropical islands and boardwalks without having to change your outfit. Nylon and polyester work together to dry quickly and provide UPF-rated sun protection, while a bit of spandex offers a four-way stretch for surfing and swimming. Prana also added a side snap pocket for your wallet and keys; just don't forget about them before you charge into the ocean. more...




---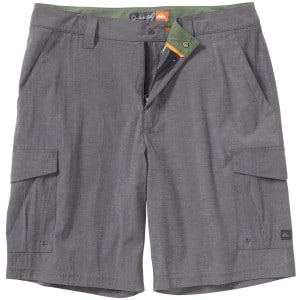 Quiksilver Waterman D Street Short - Men's


$69.5



Switching shorts is for cats who don't know what they're doing--pull on the Quiksilver D Street Men's Shorts before you leave the house, and you'll be set for catching waves, skating bowls, or just grabbing lunch. The D Street's polyester/cotton/spandex blend is ready to do it all, and the cargo pockets stash whatever you need to get through the day. more...




---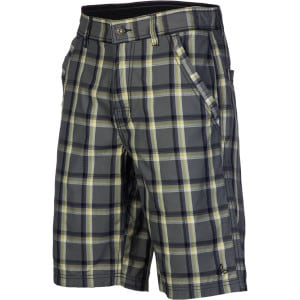 prAna Winder Water Short - Men's


$69.95



No matter where you roam, if there's a body of water you're in it; prAna made the Men's Winder Water Short just for you. Lightweight and packable, this plaid performance-oriented short dries quickly, protects against the harmful sun with UPF, and resists abrasion. And with walk-short style and wrinkle-resistance, it's ready to go wherever whenever you please. more...




---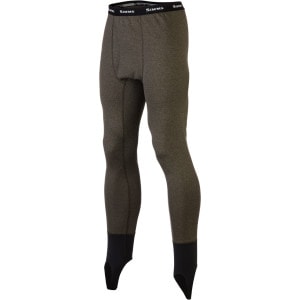 Simms Rivertek Bottom - Men's


On sale - now $48.97




- was

$69.95



For all-day comfort in your waders, it doesn't get any better than the Simms Men's Rivertek Bottom. The four-way stretch polyester fabric manages moisture, controls odor, and boasts flat seam construction for chafe-free next-to-skin comfort. Plus, the built-in stirrups prevent the cuffs from riding up when getting in or out of your waders. more...




---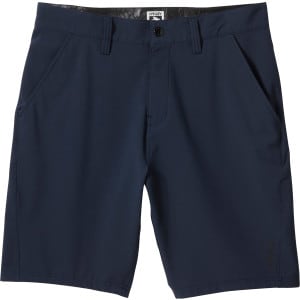 Oakley Ultralight Short - Men's


$70



Part of Oakley's Jupiter collection, the Oakley Men's Ultralight Short lives for lazy days at the beach and sun-soaked afternoons on the front porch. This hybrid short can be used for swimming thanks to its quick-drying O Stretch Ripstop fabric with movement-enhancing four-way stretch. more...




---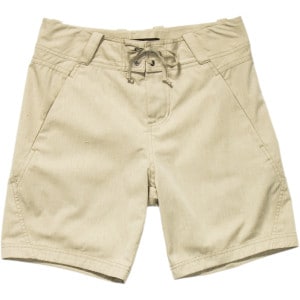 NAU Aqueous Short - Men's


$79.95



Sometimes they day's dry, sometimes it's wet, and sometimes it's both, which is why Nau designed the Aqueous Men's Short to handle everything you throw at it. The organic cotton/recycled polyester fabric is cool and comfortable, with a DWR coating to help it dry quickly, and a board-short style drawstring waist to keep them in place when you're swimming. more...




---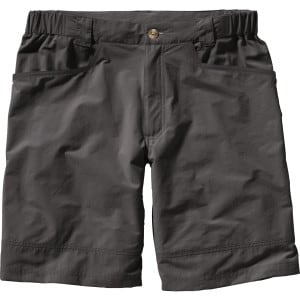 Patagonia Technical Sunshade Short - Men's


$89



Designed specifically to pole flat skiffs in hot weather--rule number one is always don't spook the fish--the Patagonia Technical Sunshade Men's Shorts are made of wicking, quick-drying nylon taslan and have a DWR coating to keep you dry when you're battling legendary monsters. They also have a 50 UPF rating, and a reinforced front so the sharks don't take bites out of your thighs. Human thighs are sharks' chicken wings. more...