---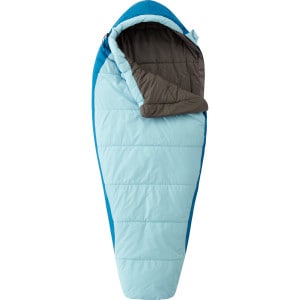 Mountain Hardwear Mountain Goat Adjustable Sleeping Bag: 20 Degree Thermal Q


$114.95



Your little billy goat seems to grow overnight, like magic, so too does the Mountain Hardwear Mountain Goat Adjustable 20 Degree Thermal Q Sleeping Bag, with drawcord-adjustable length for enduring use. After all, a too-large bag loses its warming abilities to empty space, so size does matter. With a comfortable mummy design that gives movable space but efficient close-fitting warmth, face gasket, and draft tube, this bag will lull your high-energy kid to sleep in all but the dead-of-winter mont more...




---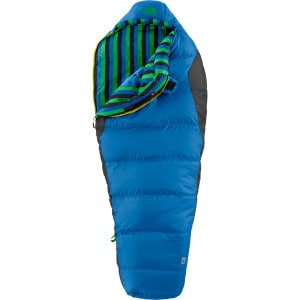 The North Face Aleutian 3S Sleeping Bag: 20 Degree Down - Kids'


On sale - now $143.16




- was

$178.95



C'mon Mom and Dad, don't let Junior freeze in his big-box bag while you are snug and warm in your fancy sleeping bags. Outfit him or her with The North Face Kids' Aleutian 3S Sleeping Bag so he can truly enjoy his first experiences in the great outdoors. The Aleutian's mummy shape and quality down insulation ensures a comfortable night in the tent, which means a restful night for all. more...




---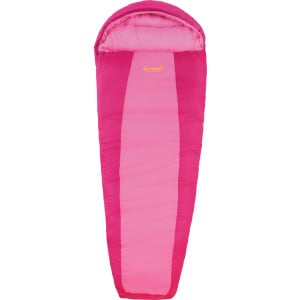 Eureka Lady Bug Sleeping Bag: 30 Degree Synthetic - Girls'


$39.99



Get your little princess stoked for the family's summer camping trips to national parks by getting her the pretty-in-pink Eureka Girls' Lady Bug 30 Degree Synthetic Sleeping Bag. This mummy style bag is stuffed with Therma Shield filling, so she'll stay cozy in temperatures down to 30F. The 190T polyester taffeta cover and lining are soft to the touch, yet durable. An insulated draft tube will ensure she stays warm, and the pocket on the inside is good for her to keep her favorite toys, a flashl more...




---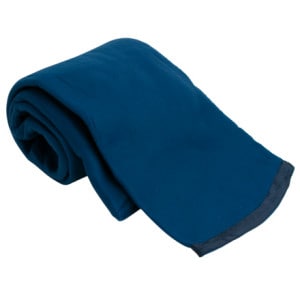 Cocoon Fleece KidBag: 60 Degree Synthetic


On sale - now $35.96




- was

$44.95



Kids need sleeping bags too. Use the 60-degree rated Cocoon Fleece KidBag alone in warm weather, as a liner in chilly weather, or a travel blanket indoors. The soft microfleece material helps the KidBag keep your child comfortable all night, and it wicks moisture in humid conditions. more...




---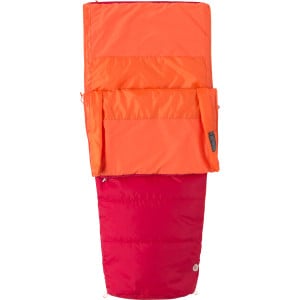 Marmot Mavericks 40 Semi Rec Sleeping Bag: 40 Degree Synthetic - Kids'


On sale - now $44.82




- was

$68.95



Your kid is too old for that cartoon character-decorated cotton bag but is not quite ready to rock a six-foot mummy bag either. The Marmot Kids' 40 Degree Synthetic Mavericks 40 Semi Rec Sleeping Bag fills the gap between a sleepover sack and the grown-up bag. It's perfect for good-weather camping or sleepovers with the friends. The snagless draft tube stops heat from leaking out, and he or she can open and close the zipper without getting it caught on the baffle. Two-way zippers let them contro more...




---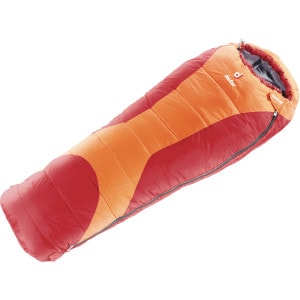 Deuter Starlight EXP Sleeping Bag: 40 Degree Synthetic - Kids'


On sale - now $71.2




- was

$89



Since your kid grows like a weed but loves to camp, ditch the drafty quilt for the Deuter Kids' Starlight EXP Sleeping Bag, because it expands a full twelve inches in response to sporadic growth spurts. Lined with soft microfleece and insulated with a high loft synthetic fiber, this mummy bag will help keep your little camper warm and dreaming throughout the night. more...




---
The North Face Aleutian Sleeping Bag: 20 Degree Synthetic - Kids'


$98.95



Kid's don't fit in grown-up sized sleeping bags (nor can they carry them, if we're being serious), so they're better off with a pint-sized bag like The North Face Aleutian 20 Degree Synthetic Kids' Sleeping Bag. Sized for youngsters, it has all the same features as The North Face's Trailhead Series adult bags--a heat-trapping draft collar, roomy cut, and a wrap-around footbox zipper--so it'll keep muchkins warm from dusk 'til dawn. It can even unzip all the way and be used as a comforter, if Lil more...