---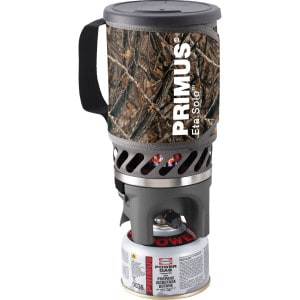 Primus EtaSolo Stove With .9L Pot - Heat Wrap Handle


$100



After a long day in the mountains you may be cold, tired, and not at all in the mood to cook, but Primus makes it easy for you to refuel with the EtaSolo Stove. A .9-liter pot is built right in to this compact set-up that takes the work out of whipping up a hot, nutritious meal, even on wind-lashed mountainsides. more...




---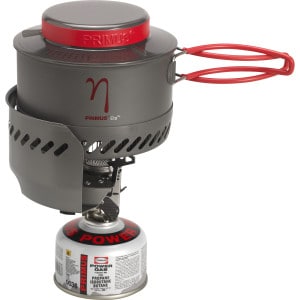 Primus Eta Express Stove


$109.95



After a long day on the trail, set up the Primus Eta Express Stove and whip up a hassle-free feast to replenish your pillaged energy stores. In addition to the compact Express stove, this kit includes a magnetic windscreen and a one-liter Eta pot with a heat exchanger for quick cook times and minimal fuel consumption. more...




---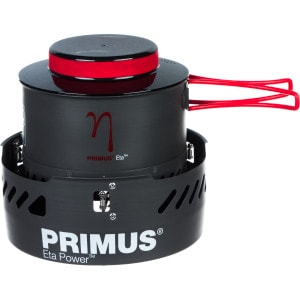 Primus EtaPower EF with 1.8L Pot/Lid and Storage


$110



Grab the Primus EtaPower EF stove with 1.8L Pot/Lid and Storage Bag, and you can be confident you'll have everything you need to whip up a tasty meal deep in the backcountry. The kit includes an Eta Power stove that will boil water in just three and a half minutes, a 1.8L Eta pot with a lid that doubles as a strainer, a nesting plastic bowl, and an insulted storage bag. Even better, the entire kit weighs just under two pounds and everything nests inside of the pot for easy packing. more...




---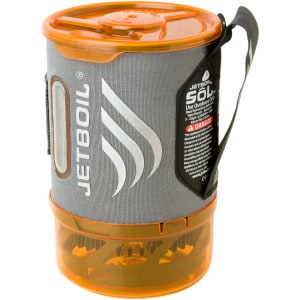 Jetboil Sol Stove


$119.95



An upgrade on all fronts, the Jetboil Sol Stove weighs ounces less than Jetboil's past cooking systems and provides unwavering performance in temperatures down to 15 degrees Fahrenheit. These improvements are thanks to the Thermo-Regulate Burner Technology, which easily achieves Jetboil's trademark two-minute boiling time and also features a push-button igniter, adjustable flame, and safe, lock-in aluminum cup. more...




---
Jetboil Helios Cooking System


$149.95



Featuring the same FluxRing tech and inverted canister design that made Jetboil famous, the versatile, efficient Jetboil Helios Cooking System works for anything from multiday backcountry trips to chilly evenings in the campground. The powerful burner can boil a liter of water in three minutes flat, and a clip-on windscreen holds off 10+ mph wind gusts. Jetboil designed the entire kit to fit inside the included two-liter pot so you can pack it away easily and get on with your hike. more...




---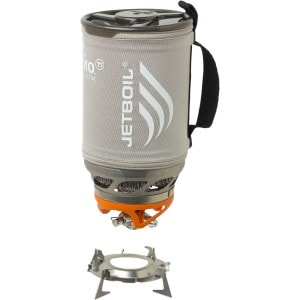 Jetboil Sumo Canister Stove - Titanium


$189.95



Jetboil designed its larger, group-sized Sumo Canister Stove with a single push-button ignition, a highly packable design, and feathery-light titanium to boot. Liquid fuel stoves can be a slow, patience-testing mess, but the Sumo uses simple, screw-on canisters to get you set up and cooking fast. Melt snow during the winter, simmer some soup, or heat up the morning coffee and hit the trail fast thanks to this self-contained cooker. more...




---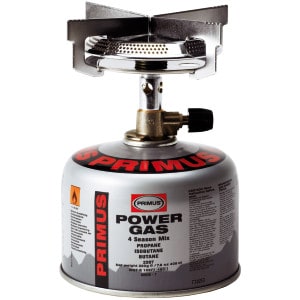 Primus Classic Trail Stove


$19.95



For summer, spring, and early fall camping and backpacking, it's hard to beat the lightweight versatility of the Primus Classic Trail Stove. Take this 8oz, compact cooking stove with you when temperatures are above freezing, and enjoy a fast meal on the trail--no priming, no preheating. more...




---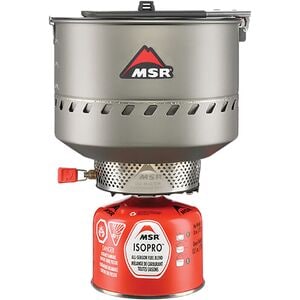 MSR Reactor 2.5L Stove System


$199.95



Whip up dinner for a group or melt a heap of snow fast when you're cooking with the MSR Reactor 2.5L Stove System. MSR's engineers gave this system a large, group-friendly pot and went to great lengths to make the burner system utterly reliable and supremely efficient. The enclosed burner shrugs off winds up to 12 miles per hour, the fuel-pressure regulation system maximizes the life of every fuel canister, and integrated stove-and-pot design makes for rock-solid stability when cooking and easy more...




---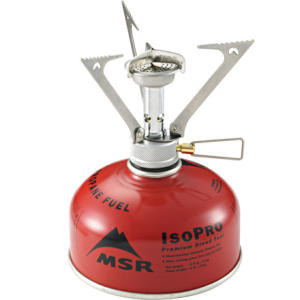 MSR Pocket Rocket Stove


$39.95



The MSR 3-ounce PocketRocket defines ultralight for all you gram-counting backpackers. Its compact stature does not eliminate functional controls, as there is no preheating, priming, or pressurizing required. Just twist the glove-friendly control valve and light. The PocketRocket stove quickly delivers a steady, hot flame that backcountry chefs can adjust to a simmer or boil without taking off their mitts. It excels on any trip where low weight and a hot meal are optimal; fast-and-light climbs a more...




---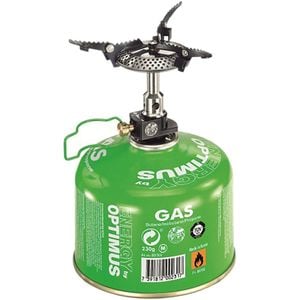 Optimus Crux Lite Stove


$39.95



Serious about shaving weight? Take the frame out of your pack, cut the tags off your jacket, and get yourself the 3.3oz Optimus Crux Lite Stove. This incredibly lightweight stove folds down to a super-compact size and comes with a stuff sack that fits in the hollow space under your butane canister. The Optimus Crux Lite Stove's 3000W output boils a liter of water in as little as three minutes, and a simmer knob lets you cook food instead of burning it. more...




---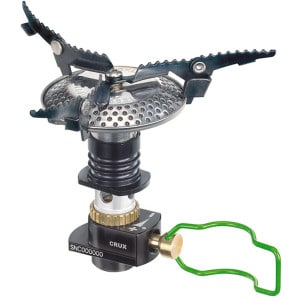 Optimus Crux Stove


On sale - now $37.46




- was

$49.95



The ridiculously tiny Optimus Crux Stove folds up to fit under a 220g butane canister and weighs only 3.3oz. When you need to go ultralight on your backcountry travels, this stove definitely needs to be with you. The Cruz Stove burns for 60 minutes going full blast with a 220g canister, and it boils a liter of water in only 3 minutes. When you decided to bring a tarp instead of a tent and pull the frame from your pack to save weight, you better have this Optimus stove on the gear list. more...




---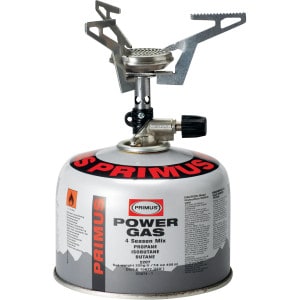 Primus Express Stove with Piezo Ignition


$49.95



When it's weight that count, pack the Primus Express Stove for lightweight cooking without the heavy bells and whistles. This canister stove weighs in at a mere 2.9 ounces, making it ideal for ultralight enthusiasts or those looking for a simple stove for simple cooking. A wide base lets the Express handle large pots, and its small size takes up very little space in your pack. more...




---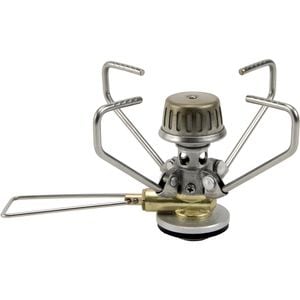 Snow Peak GigaPower Stove Auto Ignition


$49.95



Snowpeak GigaPower Stove with auto ignition is an incredibly small, lightweight, and convenient canister stove. Its 3.75 oz weight and nifty push button ignition helped the Snowpeak GigaPower with auto ignition win the Editor's Choice Award from Backpacker Magazine. This powerful little stove produces 10,000 BTUs (most camping stoves are 8-9,000 BTUs). Use this backpacking stove with Snow Peak fuel in temperatures as low as 14F (-10 C). The Snow Peak Giga Power Stove is designed to stow with a f more...




---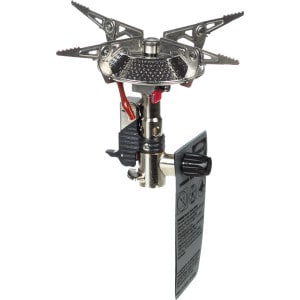 Primus Power Cook Canister Stove


$55



With its incredible 13500 BTU/hr heat output, the Primus Power Cook Canister Stove is the most powerful offering in the Primus line-up. The stove will boil water in as quick as two minutes, and the extra-wide pot supports allow you to cook with larger pots and pans, significantly enhancing your culinary options in the backcountry. Even better, the stove folds up super small for easy packing and weighs just six ounces. more...




---
MSR Micro Rocket Stove


$59.95



Attention gram-counters and fast-packers: the MSR Micro Rocket Stove is here to deliver you all the cooking power you need in a 2.6-ounce package. Designed to work with MSR's IsoPro canisters, this stove folds up small to fit in the palm of your hand, offers an adjustable flame, and easily holds large pots full of snow or water. Reach for the Micro Rocket when storage room is limited and you need fast, efficient heat in your cook space. more...




---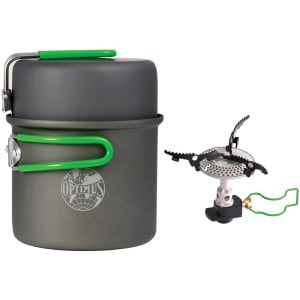 Optimus Crux Lite with Terra Solo Cook Set


$59.95



Make your next backpacking cooking experience a breeze with the super-lightweight Optimus Crux Lite with Terra Solo Cook Set. The Solo includes a 0.6-liter hard-anodized aluminum cookset with frying pan. The Crux Lite has a 3000W burner that boils water fast and won't spot burn when simmering. more...




---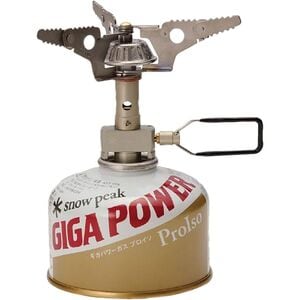 Snow Peak LiteMax Stove


$59.95



Don't forget where you put the Snow Peak LiteMax Stove, because at less than two ounces and about three inches across, you'll never find it again. This titanium and aluminum stove is seriously light and compact, folks. You can close your fist around the entire package, yet when deployed and attached to a fuel canister, the LiteMax is surprisingly stable for being so tiny and its folding arms double as wind shields to prevent blowing out. Turned to full power, 11,200 BTU's get your noodles to a r more...




---
MSR SuperFly Stove


$64.95



MSR designed its SuperFly Stove to be light, compact, and versatile while still dishing out serious backcountry BTUs. Built with top-shelf materials, this backpacking stove is compatible with a wide variety of fuel canisters, making it convenient for international travel. more...




---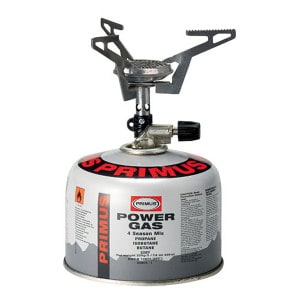 Primus Express Stove Ti W/Piezo Ignition


$75



The ability to boil water in four minutes quickens the arrival any backpacking meal, and the Primus Express Stove Ti with its Piezo Ignition achieves this feat with a package that fits into the palm of your hand. Time, weight, and overall convenience matter on the trail, and this canister stove delivers a strong performance with the help of its one-touch piezo ignition system and a small canister of PowerGas (PowerGas sold separately). more...




---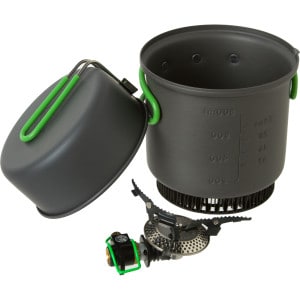 Optimus Crux Stove with Terra Weekend HE Cook Set


$79.95



Disappear into the mountains with the Optimus Crux Stove with the Terra Weekend HE Cook Set. Compact and efficient, the Crux incorporates a folding stove, saucepan with pouring lip, fry pan, storage bag, and neoprene sleeve to accommodate all your backcountry cuisine needs. more...




---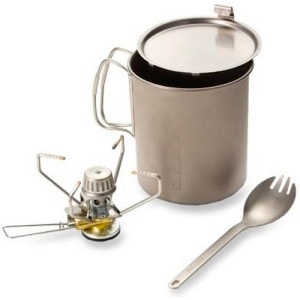 Snow Peak Starter Kit


$89.95



Snow Peak wants to get you outdoors and on the trails, which is why it assembled the Starter Kit. This super-compact, lightweight kit includes everything you need to cook on solo backpacking trips: a GigaPower stove, a Titanium Trek 700 pot with a silicone lid, and a Titanium Spork. The stove fits easily inside the Snow Peak pot, creating a tidy unit that packs easily and weighs only 9.15oz total (including spork). more...




---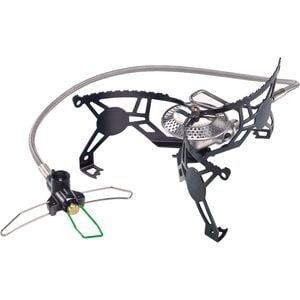 Optimus Vega Stove


$94.95



Cold weather can turn a canister stove into a sputtering heap, but not the Optimus Vega Stove. This backpacking stove packs a four-season function that allows you to invert your gas fuel cartridge so it delivers liquid fuel. Liquid fuel helps the Vega burn with more power and greater efficiency so you can keep cooking and actually reduce your cooking time. The Vega is lightweight and compact enough for your summer backpacking bag, and capable enough to earn a spot in your winter camping kit. more...




---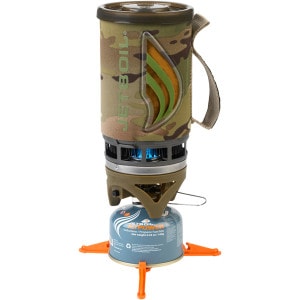 Jetboil Flash Personal Cooking System


$99.95



Click on the Jetboil Flash Personal Cooking System, and hum a show tune or two--by the time you hit the second chorus (two minutes), you'll have steaming hot delight. Unlike classic camp stoves, this self-contained unit eliminates the issues of an open burner and takes the guesswork out of a quick meal. Finish your food, pack the fuel canister inside the insulated mug, and stow the whole lightweight kit away in compact style. more...




---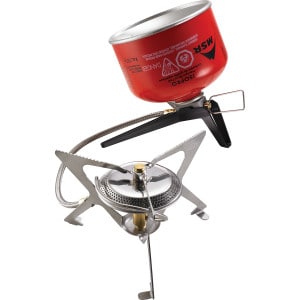 MSR WindPro II Stove


$99.95



The MSR Wind Pro II Stove is a dream-come-true the fast-and-light weight weenie crowd. The simple, durable Wind Pro II weighs and incredible 6.6 ounces, so you won't even know you're carrying it until it's dinner time. more...