---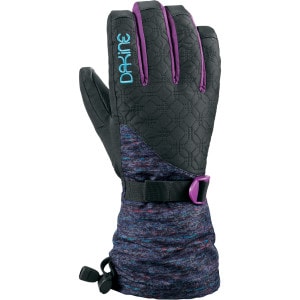 DAKINE Lynx Glove - Women's


$29.95



The Dakine Lynx women's glove is designed to get you out on the slopes without any unnecessary fluff. This women's-specific glove delivers Dakine's proven fit and features, without skimping on the value aspect. The DWR treated nylon shell keeps all but the coldest and wettest weather conditions at bay, while the high-loft synthetic insulation keeps your fingers toasty, and dries quickly if it gets wet. A soft tricot lining adds to your comfort by wicking away excess moisture. The large gauntlet more...




---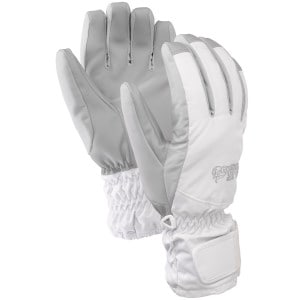 Burton Profile Under Glove - Women's


On sale - now $27.93




- was

$39.9



The Burton Women's Profile Under Glove is a warm and weatherproof solution to your tattered excuses for gloves. Sliding your hands into the fleece-lined, Thermacore insulated interior creates a feeling that is hard to reproduce. The DRYRIDE Ultrashell outer layer is composed of two layers to meet your demand for durability and the Toughgrip-G palm stands up to plenty of grabs, hand plants, and binding buckling without tearing to shreds. more...




---
DAKINE Tahoe Short Glove - Women's


On sale - now $23.97




- was

$39.95



The DAKINE Tahoe Short Glove delivers solid warmth and waterproofing without emptying your spring-break trip fund. High-loft synthetic insulation protects your hands from chilly weather, while a soft tricot lining feels good as soon as you slip 'em on. more...




---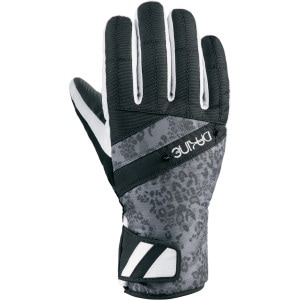 DAKINE Sienna Glove - Women's


$39.95



The Dakine Sienna women's glove is built especially for the park rats among us who want a low- profile, grippy glove for those slushy spring days. The DK Dry waterproof liner fends off moisture, and it gets a hand from the DWR treated nylon shell. There's a touch of warmth from the modest 80g synthetic insulation. The low-profile cuff tucks in easily under your jacket. Plus, the polyurethane palm is super grippy, for tweaked grabs and a solid hold on the rope tow. The season is upon us, so get a more...




---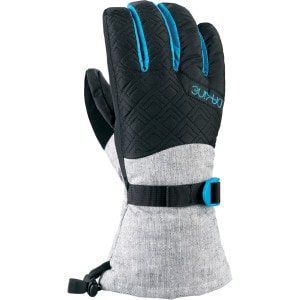 DAKINE Camino Glove - Women's


$44.95



Cold hands are a drag, and Dakine wants you to have fun, hence the Camino women's glove. There's a whopping 280 grams of high-loft synthetic insulation, which will keep you warm when even the penguins are shivering. If that's not enough, there's an internal heat-pack pocket for those extra-frigid days. You've gotta stay dry, so there's a DK Dry waterproof insert. The Rubbertec palm holds tight to your board, or whatever else you may need to grab. Since you don't want to drop off the grid every t more...




---
Pow Gloves Chase Glove - Women's


On sale - now $24.98




- was

$49.95



Just because winter bite is big it doesn't mean your glove has to be and the Pow Women's Chase Glove is a prime example of effective warmth in a low-profile design. High waterproofing, soft lining that controls your body's moisture, and insulation ensure your fingers survive cold temps while the slim design and great looks ensure your stylish look survives the conditions as well. more...




---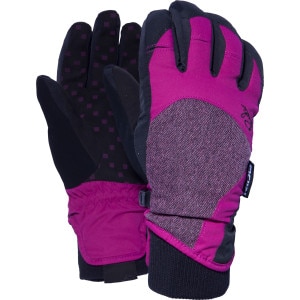 Ride Goldies Glove - Women's


On sale - now $29.97




- was

$49.95



The Ride Women's Goldies Glove covers your digits with a women's-specific fit, durable materials, and superior waterproofing that won't quit. The Goldies heats your paws with toasty 170g polyester fill so warm, you won't believe they could have crammed it into such a low-profile glove. more...




---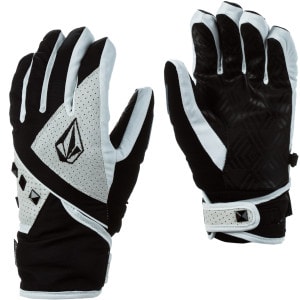 Volcom Bracket Insulated Glove - Women's


On sale - now $27.47




- was

$49.95



Don't miss another grab with the Volcom Bracket Women's Insulated Glove. Thermore insulation keeps your hands cozy so you can still use your fingers, and the Enlighten Stoned palm is super-grippy to help you get those methods extra-tweaked. more...




---
686 Radiant Insulated Glove - Women's


On sale - now $27.5




- was

$50



The 686 Women's Radiant Insulated Gloves wrap your hands in luxurious warmth so you can ride all day without having to retreat to the lodge to warm your paws. Wear-it-with-anything style mixes it up with high-tech materials so you'll stay warm and won't have a stroke trying to put together a good looking kit. more...




---
Burton Approach Under Glove - Women's


On sale - now $32.94




- was

$54.9



You can remove the liner in the Burton Women's Approach Under Gloves on warm spring days, and you can take off the decorative pom-poms if youre not into the cheer look. A waterproof/breathable insert keeps moisture from soaking through, and the no-gauntlet design allows you to seal your jacket's cuffs over these Burton gloves to eliminate snowy infiltrations. If you take a spill in the powder, use the soft chamois goggle wipe to clear away the snow so you can scope out your next line. more...




---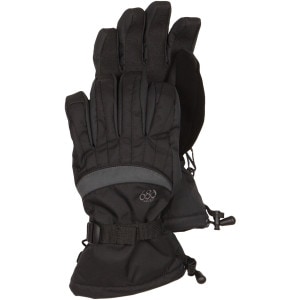 686 Cozy Insulated Glove - Women's


$60



686 designed the Women's Cozy Insulated Glove to keep your hands warm all winter without making your hands unusable. In order to achieve this goal, 686 designers put the lion's share of insulation on top of the hand, rather than on the palm where it would interfere with dexterity. They also added a sand-grip anti-slip palm reinforcement that makes it easier for you to pick things up.686 equipped the Cozy glove with an Infidry-10 membrane that handles the fluff from winter storms. The partially e more...




---
Burton Baker 3-in-1 Snowboard Glove - Women's


On sale - now $35.7




- was

$64.9



Prepare yourself for all the conditions you'll face in a season with the Burton Baker 3-in-1 Women's Snowboard Glove. It has a removable liner that can be worn alone on late spring days, or can be paired up with the insulated shell for mid-winter storms. The shell can also be worn alone, and has a vent pocket that can either be used to allow heat to escape if your hands get warm, or can be stuffed with a handwarmer when your fingers are really feeling frozen. more...




---
DAKINE Comet Glove - Women's


On sale - now $38.97




- was

$64.95



The DAKINE Comet Glove packs a metric crap-ton (yes, that IS a real measurement) of tech into an amazingly affordable, functional design. A Gore-Tex insert delivers guaranteed waterproof performance, while synthetic insulation and a cozy fleece lining keep your hands warm and happy. more...




---
Rome Norfolk Glove - Women's


On sale - now $38.97




- was

$64.95



The Rome Women's Norfolk Glove keeps your hands covered with the low-volume you would expect from a pipe glove with warmth and waterproofing fit for the whole season. more...




---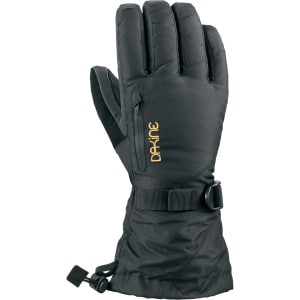 DAKINE Sequoia Glove - Women's


$64.95



A season on the hill will bring everything from bluebird skies to freezing-cold storm cycles, so be prepared for all of them with the Dakine Sequoia women's glove. The Gore-Tex waterproof breathable liner locks out moisture and expels your sweat, so you'll stay twice as dry. The high loft synthetic insulation is a blend of 140g and 280g, to keep your digits mobile and warm without turning your gloves into a mini sweat lodge. The removable liner adds warmth for cold days, and it's touchscreen com more...




---
Burton Gore-Tex Under Snowboard Glove - Women's


On sale - now $38.45




- was

$69.9



If you suffer from frozen fingers throughout most of the season, do your hands a favor and pick up the Burton Gore-Tex Women's Under Snowboard Glove. It has a removable liner so you can double up when temps get really cold, and when spring rolls around you can wear just the outer shell or even just the liner on the warmest days. And if that's not enough, it has a pocket you can slide a handwarmer onto for ultimate comfort, plus the shell has a Gore-Tex membrane to keep your fingers dry. Because more...




---
Ride Linda Glove - Women's


On sale - now $41.97




- was

$69.95



The Ride Women's Linda Glove knows that premium materials make happy hands. On the exterior, a goat-leather palm stands up to love-hate relationship between your hands and your board's metal edges while the highly waterproof material covers the exterior from Mother Nature's impending moisture-ridden blast. Inside the glove is a whole different story filled with the comfy goodness of the high-pile fur lining. more...




---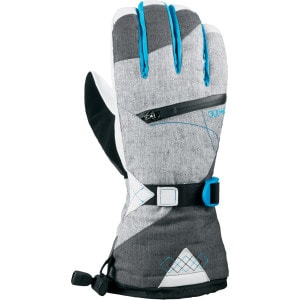 DAKINE Avalon Glove - Women's


$69.95



The Dakine Women's Avalon Gloves live for cold, blustery, snowy conditions. Packed with comfort features, the Avalons feature waterproof breathable DK Dry inserts that keep your paws bone dry while you shred the resort. Water-repellent leather palms provide durability and style while PrimaLoft insulation adds cozy warmth on frigid lift rides. For single-digit days, count on the zippered heat pack pockets to turn these puppies into mini-ovens so you're not racing to the warming hut after each run more...




---
Burton Favorite Leather Glove - Women's


On sale - now $41.2




- was

$74.9



The Burton Women's Favorite Leather Glove is like that the special top you reach for first after doing laundry, except you can wear it everyday and nobody will say anything. Although the Favorite Glove is so stylish, people will definitely take notice. more...




---
DAKINE Targa Glove - Women's


On sale - now $41.22




- was

$74.95



Shredding is fun, but cold fingers suck. Crush the evil chill-demons of winter with the toasty-warm DAKINE Womens Targa Glove and its Gore-Tex membrane. Winter can try to soak your digits with freezing and soggy conditions, but inside this glove lies a waterproof breathable membrane that's designed to keep you bone dry. A zip-style cuff prevents powder from creeping up your sleeves on really deep days, and the fleece lining feels like the fur of a million tiny kittens caressing your skin. more...




---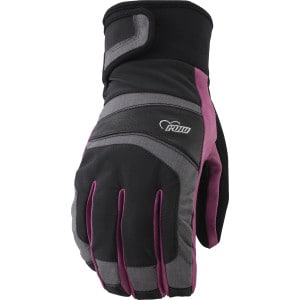 Pow Gloves Gem Glove - Women's


$74.95



Pow Gloves built its Gem Glove specifically for women for the ideal combination of comfort and warmth. While the Hipora insert provides excellent waterproof protection to keep your hand dry in snow storms and powder-plowing madness, PrimaLoft Gold warms your hand through winter's weather without bulking the glove up. Pow Gloves blended nylon for durability with softshell fabrics for breathability and dexterity, and it added goatskin at the palm for excellent grip.The Gem's microfleece lining fee more...




---
Burton Golden Glove - Women's


On sale - now $47.94




- was

$79.9



The Burton Women's Golden Pipe Glove has a slim profile that enables freestyle-focused knuckle-dragging, but also offers the warmth and durability to venture outside the park. Just ask Kelly Clark, it's her brilliant concoction of features. more...




---
DAKINE Annie Boulanger Team Targa Glove - Women's


On sale - now $46.72




- was

$84.95



Annie Boulanger helped pioneer women's backcountry freestyle riding and she doesn't show any signs of slowing down. Annie's pro-model DAKINE Team Targa Glove gives her the protection she needs to get after it in seriously stormy conditions, and the style to look good doing it. more...




---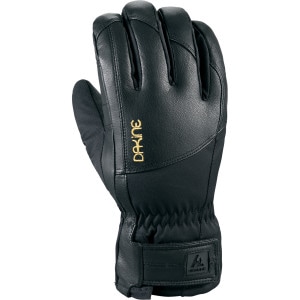 DAKINE Odyssey Gore-Tex Glove - Women's


$84.95



Long seasons demand durable gloves, like the Dakine Odyssey women's glove. This Gore-Tex lined waterproof glove takes cues from a dedicated ski racing glove, with a full leather palm, and leather/synthetic shell. The result is a glove that breaks in buttery soft, and is highly wear resistant. The 170g PrimaLoft insulation keeps your hands warm, while reducing the bulk for tons of dexterity. A wool liner is sweat absorbent to keep you dry, plus it's antimicrobial, so it won't get funky even as yo more...




---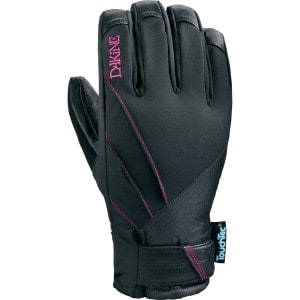 DAKINE Tempest Glove - Women's


$84.95



The DAKINE Tempest Glove packs a ton of warmth and storm-stopping tech into a low-bulk design. Primaloft insulation, a Gore-Tex insert, and a durable leather palm keep your hands protected from seriously harsh weather without making you feel like you're wearing boxing gloves when it's time to adjust a zipper or strap into your bindings. more...




---
Burton Veda Glove - Women's


On sale - now $52.2




- was

$94.9



You don't have to leave the leather at home just to stay dry. The Burton Women's Veda Glove uses a Gore-Tex waterproof breathable membrane to make sure your hand stays dry as you carve the pow or hike the pipe. more...