---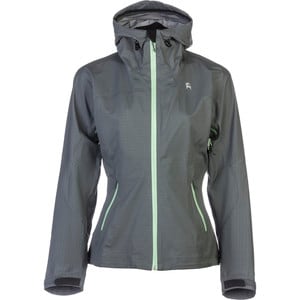 Backcountry.com Stash Shell - Women's


$188.95



There's a storm churning in the mountains, but thanks to the Backcountry. com Women's Stash Shell, you're headed out into the wild anyway. At just 13 ounces, this technical shell is hardly noticeable in your touring or trekking pack, and it doesn't feel bulky when you're wearing it out on the trail either. The Stash shell achieves its feathery lightness without sacrificing any of the high-end weather protection that keeps you dry summer through winter. You still get shell material with welded se more...




---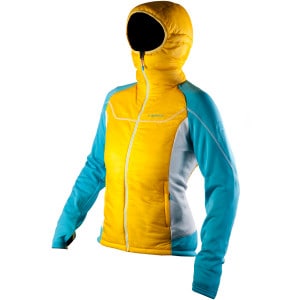 La Sportiva Siren Hooded Jacket - Women's


On sale - now $94.47




- was

$188.95



The La Sportiva Women's Siren Hooded Jacket is the sort of shell that you'd fine in Greek mythology. It's like the Golden Fleece, but better, because it's a shell that can do a little bit of everything, thanks to strategically-placed fabrics. This highly functional and technical crossbreed offers both wind-resistant, insulating areas and stretch breathable panels.The Siren is built with pill- and fade-resistant fabric, so it will look good for extended use, and the 15D ripstop nylon is whisper-l more...




---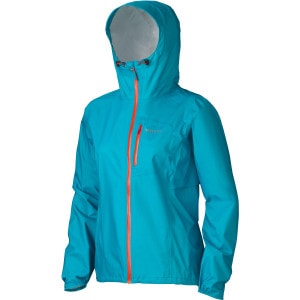 Marmot Essence Jacket - Women's


On sale - now $119.97




- was

$199.95



The ultralight Marmot Women's Essence Jacket is the perfect choice for climbing, backpacking, hiking, or running sessions when the weather is uncertain. Its NanoPro MemBrain shell has better waterproof and breathable protection than most ski jackets have, and this fully-taped jacket still weighs only five ounces to keep the weight off your mountainous adventures. The Essence's athletic fit includes Angel-Wing Movement for unimpeded mobility in the vertical world, and integrated cooling vents ens more...




---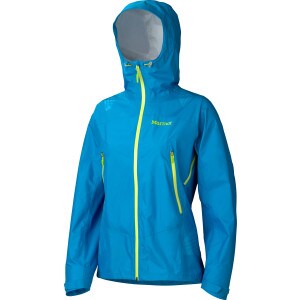 Marmot Super Mica Jacket - Women's


On sale - now $134.97




- was

$224.95



It's surprising that the Marmot Women's Super Mica Jacket only weighs 8. 9 ounces and protects you from the elements whether you're backpacking in bad weather, alpine climbing through the clouds, or cycling in the rain. Its NanoPro MemBrain has fully taped seams to offer the same waterproof protection that most ski jackets have, but the Super Mica is a lot more breathable to keep you prime while cycling in warmer weather. The mini ripstop shell is so thin that you can see through it, but it's de more...




---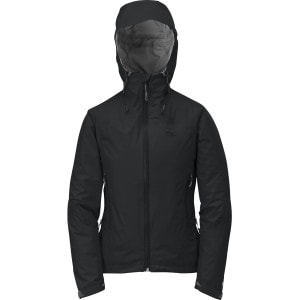 Outdoor Research Paladin Jacket - Women's


On sale - now $124.97




- was

$249.95



The soft and supple three-layer waterproof, breathable Pertex Shield+ of the Outdoor Research Women's Paladin Jacket delivers hardcore protection in whisperweight comfort. This jacket caters to the needs of alpine guides, who require durable protection and performance without the excess weight. It features fully taped seams, underarm zips for venting, a drawcord hem, and water-resistant zippers. Its trim fit and pockets that sit above harness or pack belt eliminate unwieldy bulk and accommodate more...




---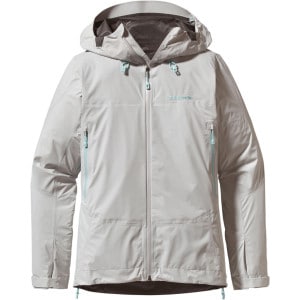 Patagonia Super Cell Jacket - Women's


On sale - now $161.4




- was

$269



Weather can roll in quickly in high-altitude climates so be prepared with the Patagonia Women's Super Cell Jacket. Its waterproof breathable Gore-Tex membrane protects you against Mother Nature's violent mood swings, while the Super Cell's Paclite technology enables it to pack down to nearly nothing when not in use. more...




---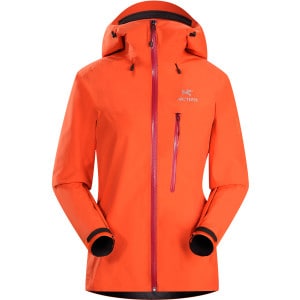 Arc'teryx Alpha SL Jacket - Women's


$274.95



The Arc'teryx Women's Alpha SL Jacket might end up being your most important piece of gear on your climbing trips. Gore-Tex gives jacket guaranteed waterproof breathable protection while Paclite technology lets you stuff the Alpha Super Light into its included stuff sack for compact travel whether you're climbing or flying. Arc'teryx designed the Alpha SL with an e3D design that provides a full range of motion despite its trim fit. This jacket also features WaterTight zippers for extra waterproo more...




---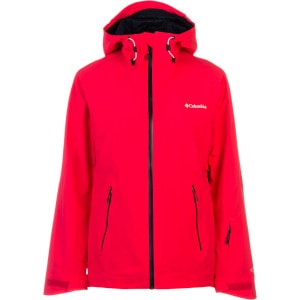 Columbia Millennium Flash Shell Jacket - Women's


On sale - now $125.98




- was

$279.95



The Columbia Women's Millennium Flash Shell Jacket is a burst of outdoor-minded inspiration. This stretchy, weatherproof shell loves to break trail as dawn breaks over the horizon and then float down through several feet of fresh powder. Or you can take this shell for a week-long walk through the John Muir Wilderness without fear that rain will ruin your 7-day sojourn. Omni-Tech fabric on the outside gives you waterproof, breathable protection. Omni-Heat lining doesn't squander your body heat, b more...




---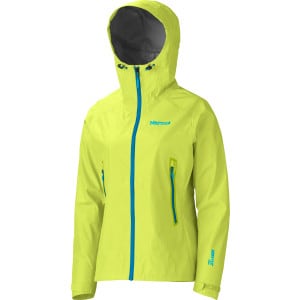 Marmot Nano AS Jacket - Women's


On sale - now $142.47




- was

$284.95



When the weather's drizzly or down-pouring and your rain jacket is both restrictive and not doing its job, the fun factor of your hike or climb takes a nose dive. In the Marmot Women's Nano AS Jacket, however, you'll be able to enjoy your hikes and climbs in wet weather or when there's a high possibility of sudden showers. The Nano AS uses Gore-Tex Active Shell that's highly breathable for aerobic outdoor activities, and the jacket is cut for free-moving comfort. So you get top-notch, guaranteed more...




---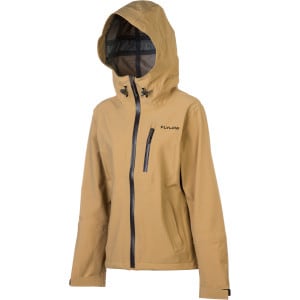 FlyLow Gear Vixen Coat - Women's


On sale - now $162.47




- was

$324.95



Be physically free in the stretchy softshell-meets-hardshell FlyLow Women's Vixen Coat. Weather-resistant with fully taped seams, this move-and-groover won't be benched by a little snowstorm. Powder guard snaps, vents, and waterproof zippers join forces to keep you out and ripping. more...




---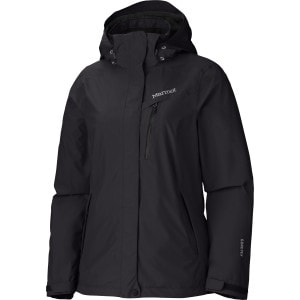 Marmot Palisades Jacket - Women's


On sale - now $146.23




- was

$324.95



While the Marmot Women's Palisades Jacket isn't made from wooden stakes or tree trunks, it is a defensive structure that protects you against inclement weather all year long. A combination of waterproof, breathable fabric and deliberate design results in a weatherproof jacket that won't ride up when you're reaching for a hold, doing the wave, or straining to grab ahold of your daredevil toddler before she tries to launch herself off the top step on a skateboard. GoreTex fabric guarantees waterpr more...




---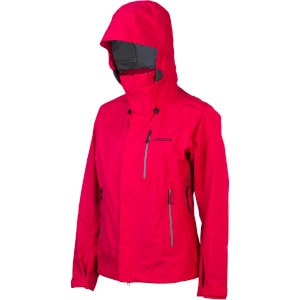 Patagonia Piolet Jacket - Women's


On sale - now $131.6




- was

$329



Patagonia created The Piolet Jacket for the commitment-phobe who wants to play the field. That is, who wants to do it all when it comes to outdoor pursuits, from high-alpine trekking, to skiing, to climbing ... you name it, she'll go after it, no matter what the conditions. This jacket features Gore-Tex Performance Shell, which is a Gore-Tex waterproof breathable membrane bonded to an extremely durable nylon face fabric for bomber protection in the nastiest winter storms imaginable. more...




---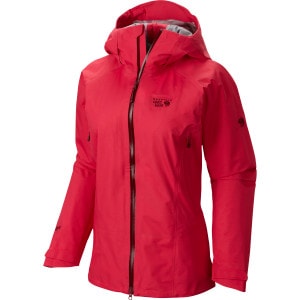 Mountain Hardwear Torsun Jacket - Women's


$349.95



The higher you get the worse the weather becomes, but the Mountain Hardwear Women's Torsun Jacket is fully equipped to handle the gnarliest alpine storms. It's fully waterproof and built with a three-layer Dry. Q Elite Instant waterproof and breathable membrane, which begins transporting moisture as soon as you put it on, unlike most shells, which require moisture to build up inside the jacket before it begins to breathe. Mountain Hardwear made sure that the elbows were fully articulated for sup more...




---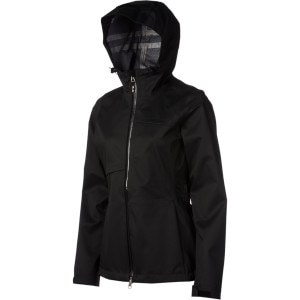 Lol Cypress Jacket - Women's


On sale - now $125.98




- was

$359.95



Whether your afternoon plan includes a snowshoe excursion, making snow angels, or sledding in the park, the Lole Women's Cypress Jacket will keep you comfy and dry for hours of snow play. The three-layer shell won't be bullied by wet winter weather, and the active micro-pore technology prevents the interior from feeling clammy. more...




---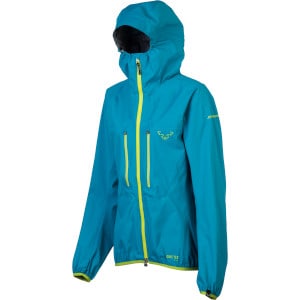 Dynafit Patroul GTX Active Jacket - Women's


On sale - now $187.47




- was

$374.95



If you're touring in the backcountry, effective temperature and moisture regulation are two of the most important factors in personal comfort and happiness. Perhaps the most important single piece of clothing controlling these factors is your shell. The Dynafit Patroul GTX Active Jacket is an ultra-high-performance touring shell that offers the features needed to keep you comfortable in the backcountry. The Gore-Tex active shell combines legendary waterproof performance with exceptional breathab more...




---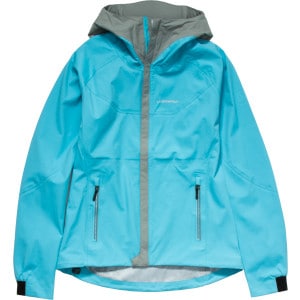 La Sportiva Storm Fighter GTX Jacket - Women's


$378.95



Fight your way to the front of the line for the first shot of virgin snow in the La Sportiva Women's Storm Fighter GTX Jacket. Waterproof, windproof, and well under a pound at 11. 5 ounces, this jacket protects you from the worst of Mother Nature. Wear it alone when you only need saving from the downpour of the decade, or liberally layer underneath it if exposure to extreme elements is in your immediate future. On the outside, guaranteed waterproof and guaranteed breathable Gore-Tex Active throw more...




---
The North Face Alpine Project Jacket - Women's


On sale - now $227.97




- was

$379.95



When every ounce counts, you can count on the The North Face Women's Alpine Project Jacket. This ultralight member of the Summit Series is made from the new Gore-Tex Active Shell that is 30% lighter than other Gore-Tex laminates; when combined with the performance 30D shell fabric, you get spectacular weight savings along with guaranteed protection from the elements. On the inside, textile backer fabric is laminated directly onto the membrane for extreme breathability and next-to-skin comfort. more...




---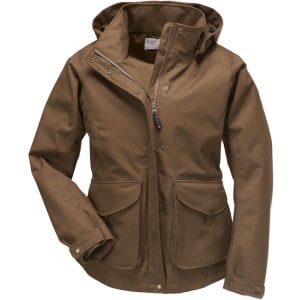 Filson Elliot Bay Jacket - Women's


$385



When everyone else runs inside from the drizzle, you can enjoy your walk outside with the Filson Elliot Bay Women's Jacket. Designed specifically for Northwest rain, wind, and snow, this jacket is made with durable, two-layer polyester and wool twill--perfect for when the elements get soggy. The heavy duty front zipper with snap storm flap closure keeps cold weather storms out while the front adjustable zip-off hood keeps your head warm. The contoured, hip-length feminine fit means this jacket k more...




---
Marmot Spire Jacket - Women's


On sale - now $159.98




- was

$399.95



It has a simple and sleek feel, but the Marmot Women's Spire Jacket is seriously high-tech and fully equipped for any alpine adventurebe it mountaineering, climbing, or backcountry skiing. For starters, it provides bomber weather protection via waterproof, breathable, three-layer Gore-Tex and fully taped seams. A hood is standard on any tech shell, but this gale-force, helmet-compatible head shelter features a fine-fitting ERG adjustment system and a laminated wire brim to keep precipitation, wi more...




---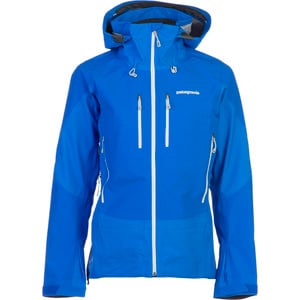 Patagonia Triolet Jacket - Women's


$429



Patagonia Women's Triolet Jacket relies on Gore-Tex Performance Shell to deliver tough waterproof breathable protection from high alpine weather. Three-layer construction sandwiches a Gore-Tex membrane between the tough nylon outer face and robust inner lining, ensuring that you stay high and dry on stormy days. more...




---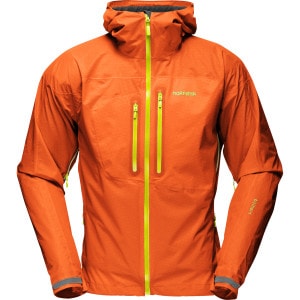 Norr Bitihorn Gore -Tex Active Shell Jacket - Women's


On sale - now $307.23




- was

$438.9



Built to be cardio-specific, the Norrona Women's Bitihorn Gore-Tex Active Shell Jacket caters to the alpine adventurer who refuses to stop every half mile to adjust layers. The Bitihorn boasts design features and intuition to make it the go-to active shell in your adventure wardrobe. Stuff it in your daypack before a trail run under questionable skies, or bring it on your next river trip through the Tavaputs plateau. more...




---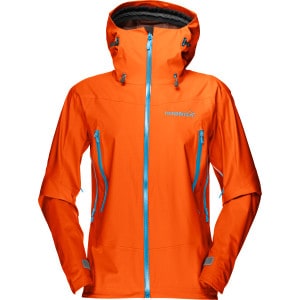 Norr Falketind Gore-Tex Jacket - Women's


$438.9



With the beastily Women's Falketind Gore-Tex Jacket from Norrona in your corner, tackling the trail through a downpour, skiing in a blizzard, or setting the route while your hair gets whipped around are child's play. This is Norrona's most versatile all-season jacket. Three rugged layers of Gore-Tex make quick work of inclement weather, wrapping your core in guaranteed waterproof, guaranteed breathable protection. Moisture vapor gets whisked away before it can bead up on your skin so you rarely more...




---
Norr narvik Gore-Tex 2L Performance Shell Jacket - Women's


$438.9



Enhance your epic day on the mountain with outstanding gear like the Norrona Narvik Women's Gore-Tex 2L Performance Shell Jacket. This sleek technical shell's two-layer construction means it will deliver waterproof breathable Gore-Tex performance in a lighter, softer shell than heavy-duty three-layer jackets. The shell's comfort is enhanced by an ultra-soft, breathable, brushed polyester inner face. Laminated stretch woven wrist gaiters and powder skirt keep snow where it ought to be, under your more...




---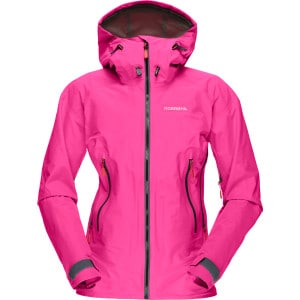 Norr Trollveggen Dri 3 Jacket - Women's


On sale - now $306.74




- was

$471.9



Whether you're suspended halfway up a glacial crag, ski touring, or trekking at alpine elevations, stay protected against the elements in the Norrona Women's Trollveggen Dri 3 Jacket. The jacket is made of a high-performance, breathable stretch fabric that supports free movement and keeps you from getting overly clammy when you're working up a sweat, while offering a high level of waterproof, windproof protection. A DWR (durable water repellent) finish beads moisture into droplets that run off r more...




---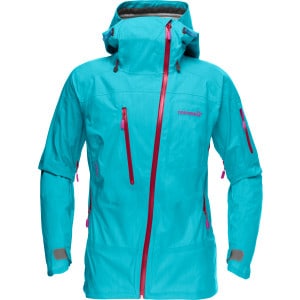 Norr Lofoten Gore-Tex Active Shell Jacket - Women's


On sale - now $345.73




- was

$493.9



Backcountry. com is the exclusive US retailer for Norrona products, and it's bringing you the Women's Lofoten Gore-Tex Active Shell Jacket so you can sport it down the steep summits in Chamonix, France or the steeps of A-Basin, Colorado. Made with a Gore-Tex Active Shell, this jacket has guaranteed waterproof protection that keeps you dry in the burliest weather, and yet it remains remarkably breathable and light--weighing barely over one pound--so you can climb, tour, or even hike in this jacke more...




---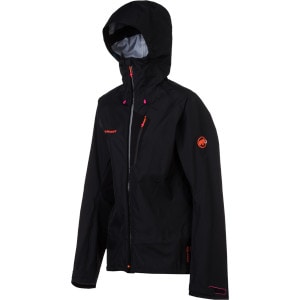 Mammut Felsnadel Touring Jacket - Women's


$499.95



When you're out ski touring or climbing alpine rock faces, the Mammut Women's Felsnadel Touring Jacket offers a balance of protection and breathability so you stay comfortable when working up a sweat in snowy, icy environments. The jacket's Gore-Tex Active fabric is designed specifically to provide maximum breathability for high-intensity activities while still maintaining top-notch waterproof and windproof protection. It efficiently packs down to a small size if you're carrying it with you as a more...




---
Norr narvik dri3 Jacket - Women's


$548.9



Sleek and powerful, the Norrona Women's Narvik dri3 Jacket stands up to some of the stormiest conditions so you can ski the resort or the backcountry in any weather and look good no matter what. Made with Norrona's proprietary three-layer Dri3 shell, this jacket offers excellent waterproof protection that keeps you dry whether you're skiing through a storm or slicing through all the powder it left behind the next day. The shell is also very breathable so you can hike to a high ridge or hammer do more...




---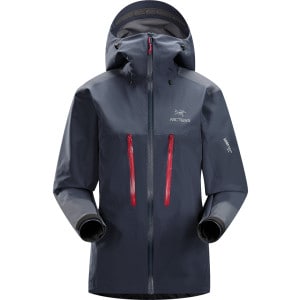 Arc'teryx Alpha AR Jacket - Women's


$549.95



Vertically-oriented ladies who want function, simplicity, and durability above all else rock the Arc'teryx Alpha AR Women's Jacket in all sorts of wet, windy, and cold alpine conditions. Cut with Arc'teryx's e3D ergonomic design to ensure a full range of movement and easy layering, the Alpha AR is made for bagging winter peaks, scaling frozen waterfalls, and sussing out the moves on alpine walls--you know, your standard winter weekend. Fully decked out with a three-layer waterproof and breathabl more...




---
Arc'teryx Beta AR Jacket - Women's


On sale - now $357.47




- was

$549.95



You hike, you climb, you board, you walk your kids to school, and you hate three things: getting wet, being unprepared, and eating eggplant. The Arc'teryx Women's Beta AR Jacket solves the first two problems, but can't do much about the eggplant thing. As #2 in Arc'teryx's essential line, the Beta AR bears an uncanny resemblance to it's big sister, the Theta AR. Both jackets are sleek, all-weather and all-conditions beasts, but the big difference between the siblings is the Beta AR sports a high more...




---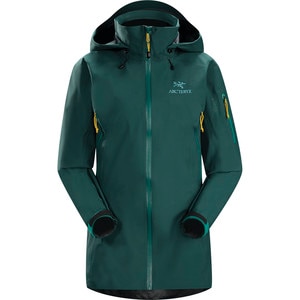 Arc'teryx Theta AR Jacket - Women's


On sale - now $373.72




- was

$574.95



The Women's Theta AR Jacket leads the Arc'teryx essentials line, and it's obvious why. The Theta AR is decked out with every feature you could ever want on a wet or windy day, regardless of whether you live in Seattle, are halfway through hiking the AT, or are skiing through a heavy March blizzard. This jacket is more than an exercise in utility--articulated design provides full range of motion plus feminine styling, so your bright fuchsia manicure isn't the only give-away that you're a woman. G more...




---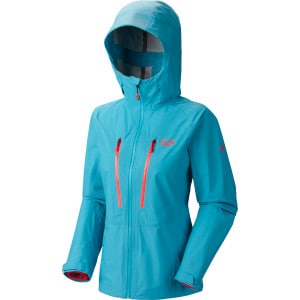 Mountain Hardwear Seraction Jacket - Women's


On sale - now $201.23




- was

$574.95



When you're on the side of a mountain you never know what the weather's going to do. Zip up the slim and strong Mountain Hardwear Women's Seraction Jacket and be prepared for anything. This shell jacket is armed with waterproof, breathable Dry. Q Elite technology to fend off storms. Stretch panels at the shoulders and forearms allow mobility for those reachy holds or taking in slack ASAP. A four-way adjustable hood protects your head while leaving vision open and clear. And this climbing jacket more...




---
The North Face Kichatna Jacket - Women's


On sale - now $209.63




- was

$598.95



It seems like The North Face thought of everything with its Women's Kichatna Jacket to keep you comfortable on backcountry and mountaineering ski sessions. A Gore-Tex Pro Shell membrane and fully taped seams give guaranteed waterproof, windproof, and breathable protection, and additional Gore-Tex Pro Shell reinforcements at the shoulders and underarms offer all the durability you need to ski in this jacket for many seasons. Plus, The North Face added tough grip zones on the shoulders and hips to more...




---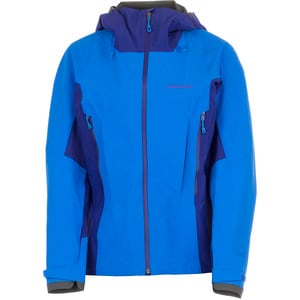 Patagonia Super Alpine Jacket - Women's


$599



Blue skies and calm winds do nothing for you. You ferret out insane ice overhangs and the promise of white-out conditions when winter descends. Refined for 2014, the lighter, stronger, and meaner Patagonia Women's Super Alpine Jacket guarantees to protect you from the weather, but offers no such assurances about your physical well-being when you're taking on the trials and tribulations of the WI 10 ice of Helmcken Falls, Canada. New materials helped this hard shell drop well below the one-pound more...




---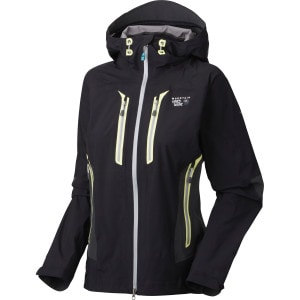 Mountain Hardwear Drystein Jacket - Women's


On sale - now $209.98




- was

$599.95



Whether you're hiking up a glacier field or performing life-or-death maneuvers on an ice wall, there's nothing like the Mountain Hardwear Women's Drystein Jacket. Its stretch side panels and elbows provide plenty of flex while the DryStein's waterproof breathable Dry. Q Elite membrane shields you from sudden blasts of snow and melting ice. more...




---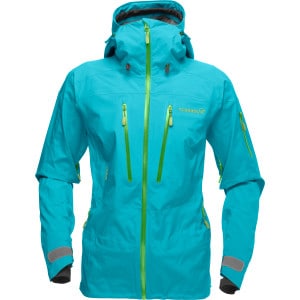 Norr Lofoten Gore-Tex Pro Shell Jacket - Women's


On sale - now $445.83




- was

$636.9



Why take any chances? If you want to be absolutely certain to stay dry and comfortable on your next backcountry trip, you need the Norrona Women's Lofoten Gore-Tex Pro Shell Jacket. The three-layer Gore-Tex Pro Shell is durable, abrasion resistant, waterproof, and breathable--guaranteed. Designed with a clean, minimalist Scandinavian look, the Lofoten shell sets the standard for freeride and backcountry protection. more...




---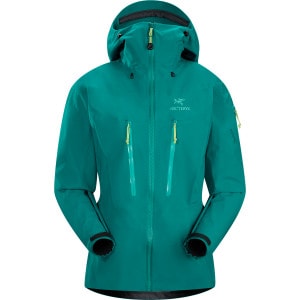 Arc'teryx Alpha SV Jacket - Women's


On sale - now $422.47




- was

$649.95



The Arc'teryx Women's Alpha SV Jacket has a durable N80p-X Gore-Tex Pro shell that withstands the kind of horrendous weather that rends tents to tatters and forces the Yeti to seek shelter. Whether you're a medic on a search-and-rescue chopper, guiding a group of novice ice climbers, or backpacking through the Olympic National Forest, the e3D design and uber-tough Gore-Tex Pro fabric lets you move the way you want, and stay protected from the elements, too. N80p-X Gore-Tex Pro is a mouthful, and more...




---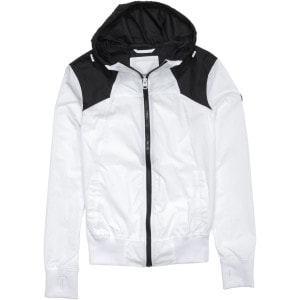 Bench Coached Jacket - Women's


On sale - now $55.27




- was

$78.95



Hip coverage for cool nights, the Bench Women's Coached Jacket adds a touch of fashion-forward British style to your wardrobe. The lightweight synthetic fabric comes in a flattering, active cut, and the jacket features extended-length thumbhole sleeves and a contrast-color zipper, shoulder panels, and three-piece adjustable hood for a modern, modish, artfully urban look. more...




---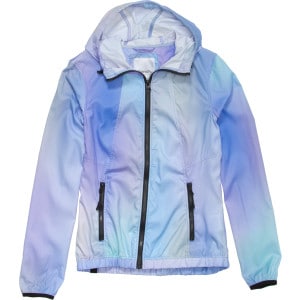 Bench Fanciful Jacket - Women's


On sale - now $69.27




- was

$98.95



Cool and colorful coverage with sharp urban style, the Bench Women's Fanciful Jacket offers lightweight protection for blustery days and breezy evenings. The faded-blue full-spectrum hue turns heads while the active cut, extended-length thumbhole sleeves, two zippered hand pockets, and a three-piece adjustable hood keep it functional. And it cleverly packs into its own back pocket for portability. For a modern, modish, artfully urban look, get Fanciful. more...




---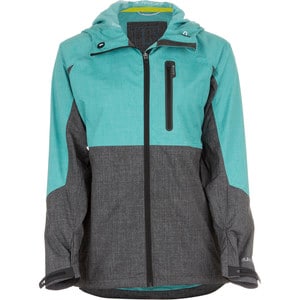 Burton Berkley Jacket - Women's


$99.95



It doesn't take a doctor to recognize the style of the Burton Berkley Women's Jacket, but even the finely trained eyes of a PHD might not notice the two-layer DryRide Durashell fabric or the DWR coating that helps shed moisture when you're shredding the mountain or the streets. An internal pocket keeps your tunes close by, Lycra cuffs seal out drafts and snow, and zippered underarm vents keep you cool if you're hiking or spinning some springtime laps. more...