---
BCBGeneration Jelly Crossbody (Black Combo) Cross Body Handbags


On sale - now $44.99

- was

$64



Your impeccable taste in handbags will be clear whenever you sport the BCBGeneration Jelly Crossbody. Cross-body made of PVC. Top-zip closure. Single crossbody strap. Exterior zip pocket. Polyester lining. Imported. Measurements:Bottom Width: 9 inDepth: 2 more...

larger picture

---
BCBGeneration Morgan (Clear) Cross Body Handbags


On sale - now $61.21

- was

$98



Keep it clear and concise with the Morgan from BCBGeneration. Box-crossbody made of acylic. Bow-shaped, pinch-lock closure. Gold-tone encasing. Chain-link crossbody strap. Flat bottom for upright structure. Imported. Measurements:Bottom Width: 6 inDepth: more...

larger picture

---
BCBGeneration Quinn Satchel (Dove) Satchel Handbags


On sale - now $61.21

- was

$98



As the famous saying goes: speak softly but carry a large satchel; you will go far! Made of textured synthetic leather. Top zip closure. Dual rolled handles with detachable, adjustable crossbody strap. Exterior front zip pocket. Polished hardware accents. more...

larger picture

---
BCBGeneration Quinn Weekender Bag (Black) Tote Handbags


On sale - now $79.05

- was

$128



Upgrade your weekend wardrobe with this sleek bag! Synthetic leather handbag with studded detail at handles and side. Magnetic snap closure. Top carrying handles with shoulder strap. Decorative hardware accents. Slim, flat bottom. Lined interior with a ba more...

larger picture

---
BCBGeneration Shoulder Bag (Mink) Shoulder Handbags


On sale - now $62.99

- was

$78



Slip the BCBGeneration Shoulder Bag up your arm for a fresh look that epitomizes your unique taste! Pebbled synthetic leather crossbody with zigzag overlay at front. Top zip with fold-over closure. Single shoulder strap with chain-link detail. Exterior fr more...

larger picture

---
BCBGeneration The 24-Hour Tote (White) Tote Handbags


$78



Trust your gut with this spacious bag, the BCBGeneration The 24-Hour Tote, you won't forget a thing. Made of polyurethane. Dual flat carrying straps. Signature logo embossed detail in front. Flat base to provide upright structure. Lining made of cotton. I more...

larger picture

---
BCBGeneration The Affirmitive Shoulder (Aloe) Cross Body Handbags


On sale - now $35.99

- was

$88



Know your worth, you bring style and confidence to the table; all evident when you tote this self-explanatory Affirmative Shoulder bag! Synthetic leather crossbody bag. Top zip closure. Adjustable crossbody strap. Signature logo plaque at back and polishe more...

larger picture

---
BCBGeneration The Affirmitive Shoulder (Black) Cross Body Handbags


On sale - now $44.99

- was

$88



Know your worth, you bring style and confidence to the table; all evident when you tote this self-explanatory Affirmative Shoulder bag! Synthetic leather crossbody bag. Top zip closure. Adjustable crossbody strap. Signature logo plaque at back and polishe more...

larger picture

---
BCBGeneration The Almost Famous Hobo (Black 1) Shoulder Handbags


$98



Head out with this chic BCBGeneration bag to show off a bit of attitude! Made of polyurethane. Flap top with a magnetic snap closure. Single top handle. Shoulder strap. Interior features polyester lining with one zip pocket and two pocket slots. Imported. more...

larger picture

---
BCBGeneration The Almost Famous Hobo (Navy) Shoulder Handbags


$98



Head out with this chic BCBGeneration bag to show off a bit of attitude! Made of polyurethane. Flap top with a magnetic snap closure. Single top handle. Shoulder strap. Interior features polyester lining with one zip pocket and two pocket slots. Imported. more...

larger picture

---
BCBGeneration The Amber Bag (Black) Cross Body Handbags


On sale - now $40.99

- was

$88



Keep flawless style on hand with this fabulous Amber Bag! Pebbled synthetic leather crossbody. Flap front with push-lock closure. Adjustable crossbody strap. Polished rose gold-toned hardware accents at front. Slim, flat bottom. Lined interior with credit more...

larger picture

---
BCBGeneration The Byob Crossbody (Dark Evergreen) Cross Body Handbags


$48



Sleek and straight to the point the Byob Crossbody bag. Made of slightly pebbled polyurethane. Zipper closure. Exterior front slip pocket. Signature logo embossed detail in front. Flat bottom. Lining made of polyester and cotton. Interior slip pocket. Imp more...

larger picture

---
BCBGeneration The High Maintenance Clutch (Silver Metallic) Clutch Handbags


On sale - now $38.1

- was

$58



Keep your friends close and your essentials closer in this fabulous High Maintenance Clutch! Polyurethane clutch with quilted detail at front flap. Flap front with magnetic snap closure. BCBGeneration embossed hardware. Lined interior with back wall zip p more...

larger picture

---
BCBGeneration The High Step Crossbody (Celestial Combo) Cross Body Handbags


On sale - now $32.99

- was

$58



Work your magic wherever you go with this stellar geometric-printed cross-body. Cross-body made of polyurethane. Top-zip closure. Removable shoulder strap. Exterior zip pocket. Polyester lining. Interior features a multifunctional slip pocket. Imported. M more...

larger picture

---
BCBGeneration The Higher Maintenance Clutch (Black/White Combo) Clutch Handbags


On sale - now $47.99

- was

$78



Keep your friends close and your essentials closer in this fabulous Higher Maintenance Clutch! Softly pebbled synthetic leather clutch with metallic finish. Flap front with magnetic snap closure. Exterior side zip detail. Lined interior with back wall zip more...

larger picture

---
BCBGeneration The Higher Maintenance Clutch (Navy) Clutch Handbags


$78



Keep your friends close and your essentials closer in this fabulous Higher Maintenance Clutch! Softly pebbled synthetic leather clutch with metallic finish. Flap front with magnetic snap closure. Exterior side zip detail. Lined interior with back wall zip more...

larger picture

---
BCBGeneration The Icon Chain Crossbody (Eclipse Blue) Cross Body Handbags


$88



Forgive the style failures of the past, you have risen to a high fashion standard not attained by many with the BCBGeneration The Icon Chain Crossbody bag. Made of softly pebbled polyurethane with some woven detail. Top flat carrying handle with flat cros more...

larger picture

---
BCBGeneration The Icon Shoulder Bag (Black) Shoulder Handbags


$78



Make the streets your runway with this stunning The Icon Shoulder Bag. Made of softly pebbled faux leather with faux pony hair detail. Flip latch closure. Top flat carrying handle with flat crossbody strap. Signature logo hardware detail in front. Flat bo more...

larger picture

---
BCBGeneration The Indio Belt Bag (Tan) Wallet Handbags


On sale - now $40.99

- was

$58



When you're juggling the tasks of your day you'll be glad you went hands-free with this ingenious, stylish BCBGeneration belt bag. Belt bag made of 100% PU with snakeskin effect. Top flap with magnetic snap closure. Gold-tone hardware. 200% polyester lini more...

larger picture

---
BCBGeneration The Indio Clutch (Mink Combo) Clutch Handbags


On sale - now $50.99

- was

$64



Keep your friends close and your essentials closer in this sensationally exotic Indio Clutch! Softly pebbled synthetic leather clutch with printed geometric pattern at front and solid triangular overlays. Top zip closure with foldover detail. Polyester li more...

larger picture

---
BCBGeneration The J.T.T. (Biscuit) Clutch Handbags


On sale - now $51.2

- was

$128



Stay organized in style with this chic BCBGeneration satchel. Faux leather handbag with snakeskin texture. Top zip closure. Four external zip closure pockets. Dual top handles and removable shoulder strap. BCBGeneration embossed logo plaque at back. Flat more...

larger picture

---
BCBGeneration The J.T.T. (Tan) Clutch Handbags


On sale - now $64.99

- was

$128



Stay organized in style with this chic BCBGeneration satchel. Faux leather handbag with snakeskin texture. Top zip closure. Four external zip closure pockets. Dual top handles and removable shoulder strap. BCBGeneration embossed logo plaque at back. Flat more...

larger picture

---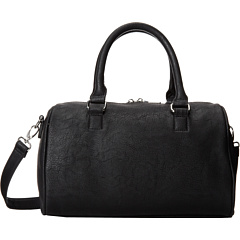 BCBGeneration The Jet Setter Duffel (Black) Satchel Handbags


$98



The classic duffel style bag, goes with everything in your closet. Made of polyurethane. Zipper closure. Dual rolled carrying straps with detachable crossbody strap. Signature logo engraved hardware detail in back. Flat base to provide upright structure. more...

larger picture

---
BCBGeneration The La Vie Boheme Shoulder Bag (Black) Shoulder Handbags


$78



Step into the limelight with the marvelous BCBGeneration The La Vie Boheme Shoulder Bag. Made of perforated polyurethane. Chained carrying handle with chained shoulder strap. Signature logo engraved hardware detail in back. Lining made of polyester cotton more...

larger picture

---
BCBGeneration The La Vie Boheme Shoulder Bag (Blush Combo) Shoulder Handbags


$88



Step into the limelight with the marvelous BCBGeneration The La Vie Boheme Shoulder Bag. Made of perforated polyurethane. Chained carrying handle with chained shoulder strap. Signature logo engraved hardware detail in back. Lining made of polyester cotton more...

larger picture

---
BCBGeneration The Lana Hobo (Black) Hobo Handbags


On sale - now $79.05

- was

$128



Get into the swing of things this fall toting this tastefully tasseled The Lana Hobo! Polyurethane handbag with grommet and fringe accents. Magnetic snap closure. Dual flat shoulder straps. BCBGeneration embossed hardware. Lined interior with back wall zi more...

larger picture

---
BCBGeneration The Lana Shoulder Bag (Black) Shoulder Handbags


$118



Flaunt The Lana Shoulder Bag and rock out, your style cannot be tamed. Made of pebbled polyurethane with fringe detail. Magnetic snap closure. Flat shoulder strap. Exterior front slip pocket. Signature logo engraved hardware detail in back. Lining made of more...

larger picture

---
BCBGeneration The Lana Shoulder Bag (Blush) Shoulder Handbags


$118



Flaunt The Lana Shoulder Bag and rock out, your style cannot be tamed. Made of pebbled polyurethane with fringe detail. Magnetic snap closure. Flat shoulder strap. Exterior front slip pocket. Signature logo engraved hardware detail in back. Lining made of more...

larger picture

---
BCBGeneration The Lana Shoulder Bag (Eclipse Blue) Shoulder Handbags


$118



Flaunt The Lana Shoulder Bag and rock out, your style cannot be tamed. Made of pebbled polyurethane with fringe detail. Magnetic snap closure. Flat shoulder strap. Exterior front slip pocket. Signature logo engraved hardware detail in back. Lining made of more...

larger picture

---
BCBGeneration The Lana Tote (Dark Raspberry) Tote Handbags


$138



You're taking the boho chic look to a whole new level with this stunning fringed Lana Tote. Made of pebbled faux leather material with fringe detail. Magnetic snap closure. Dual flat carrying straps. Signature logo engraved hardware detail in back. Lining more...

larger picture

---
BCBGeneration The Lana Wristlet (Black) Wristlet Handbags


$98



Flaunt the Lana Wristlet and rock out, your style cannot be tamed. Made of polyurethane with leather trim and fringe detail. Top-zipper closure. Small wrist carrying handle. Signature logo engraved hardware detail in back. Lining made of polyester. Interi more...

larger picture

---
BCBGeneration The Lana Wristlet (Blush) Wristlet Handbags


$98



Flaunt the Lana Wristlet and rock out, your style cannot be tamed. Made of polyurethane with leather trim and fringe detail. Top-zipper closure. Small wrist carrying handle. Signature logo engraved hardware detail in back. Lining made of polyester. Interi more...

larger picture

---
BCBGeneration The Lana Wristlet (Eclipse Blue) Wristlet Handbags


$98



Flaunt the Lana Wristlet and rock out, your style cannot be tamed. Made of polyurethane with leather trim and fringe detail. Top-zipper closure. Small wrist carrying handle. Signature logo engraved hardware detail in back. Lining made of polyester. Interi more...

larger picture

---
BCBGeneration The Lunch Meeting Clutch (Tan/Blush Combo) Clutch Handbags


$68



The perfect bag to add the fashionable splash to your look, The Lunch Meeting Clutch. Made of faux leather with faux calf hair. Zipper closure. Lining made of polyester. Signature logo embossed detail at back-wall. Imported. Measurements:Bottom Width: 12 more...

larger picture

---
BCBGeneration The Make A Statement Bag (Black) Cross Body Handbags


$88



Conservative and contemporary, The Make A Statement Bag has confidence. Made of pebbled polyurethane with stud detail. Zipper closure. Crossbody strap with chain detail. Exterior front zip pocket. Flat base to provide upright structure. Lining made of pol more...

larger picture

---
BCBGeneration The Make A Statement Bag (Dark Raspberry) Cross Body Handbags


$88



Conservative and contemporary, The Make A Statement Bag has confidence. Made of pebbled polyurethane with stud detail. Zipper closure. Crossbody strap with chain detail. Exterior front zip pocket. Flat base to provide upright structure. Lining made of pol more...

larger picture

---
BCBGeneration The Malibu Tote (Black) Tote Handbags


On sale - now $44.99

- was

$88



Take your own road to style success with this striking tote. Tote-style bag made of polyurethane. Magnetic snap closure. Dual fat top shoulder straps. Flat bottom. Lining made of polyester. Imported. Measurements:Bottom Width: 12 1 2 inDepth: 3 1 2 inHeig more...

larger picture

---
BCBGeneration The Malibu Tote (White) Tote Handbags


On sale - now $35.99

- was

$88



Take your own road to style success with this striking tote. Tote-style bag made of polyurethane. Magnetic snap closure. Dual fat top shoulder straps. Flat bottom. Lining made of polyester. Imported. Measurements:Bottom Width: 12 1 2 inDepth: 3 1 2 inHeig more...

larger picture

---
BCBGeneration The Meet The Boss Tote (Black) Tote Handbags


$108



Stylish professionalism gives you a clever egde, get a head start with the BCBGeneration The Meet The Boss Tote! Made of textured polyurethane with stud detail. Magnetic snap closure. Dual flat carrying handles. Signature logo engraved hardware detail in more...

larger picture

---
BCBGeneration The Mini Curator Tote (Black Combo) Tote Handbags


$118



Carry the pleasantly stylish The Mini Curator Tote for a delicate but fierce addition. Made of textured faux leather. Snaps at sides. Dual flat carrying straps. Flat bottom. Lined interior. Interior back-wall zip pocket. Interior key fob. Two interior fro more...

larger picture

---
BCBGeneration The No Doubt Minaudiere (Cabernet) Clutch Handbags


On sale - now $55.94

- was

$88



Confidence is your most attractive accessory; step out fabulously assured with the accompaniment of this angular No Doubt clutch. Pebbled synthetic leather clutch. Pressure clasp frame closure. Detachable crossbody chain. Polished silver-toned hardware. F more...

larger picture

---
BCBGeneration The Perforated Curator Tote (Navy) Tote Handbags


$98



Toss the other totes this is perforated stylish goodness you will want to wear every day. Made of perforated faux leather. Zipper closure. Dual flat carrying straps. Flat base to provide upright structure. Lined interior. Interior back-wall zip pocket. Tw more...

larger picture

---
BCBGeneration The Quilted Higher Maintenance Clutch (Brulee) Clutch Handbags


$78



Full of charismatic style, The Quilted Higher Maintenance Clutch will carry your entire outfit. Made of quilted polyurethane with zipper and hardware detail. Magnetic snap closure. Lining made of polyester and cotton. Interior back-wall zip pocket. Import more...

larger picture

---
BCBGeneration The Quilted Higher Maintenance Clutch (Dark Evergreen) Clutch Handbags


$78



Full of charismatic style, The Quilted Higher Maintenance Clutch will carry your entire outfit. Made of quilted polyurethane with zipper and hardware detail. Magnetic snap closure. Lining made of polyester and cotton. Interior back-wall zip pocket. Import more...

larger picture

---
BCBGeneration The Quilted Higher Maintenance Clutch (Rouge) Clutch Handbags


$78



Full of charismatic style, The Quilted Higher Maintenance Clutch will carry your entire outfit. Made of quilted polyurethane with zipper and hardware detail. Magnetic snap closure. Lining made of polyester and cotton. Interior back-wall zip pocket. Import more...

larger picture

---
BCBGeneration The Quilted Tribute Bag (Black) Tote Handbags


$108



The style Gods have answered your prayers with the flawless BCBGeneration The Quilted Tribute Bag, sure to elevate your style game! Made of quilted faux leather. Zipper closure. Dual flat carrying handles with detachable carrying strap. Flat base to provi more...

larger picture

---
BCBGeneration The Say Yes Bag (Black) Handbags


$118



Agree with the BCBGeneration The Say Yes Bag gives you sleek superior style in the most pleasant way. Made of smooth polyurethane with exterior zipper detail. Magnetic snap closure. Dual rolled carrying handles. Signature logo engraved hardware detail in more...

larger picture

---
BCBGeneration The Sorry I'm Late Clutch (Black) Clutch Handbags


$98



The party doesn't start until you get there, with the sleek and elegant BCBGeneration The Sorry I'm Late Clutch. Made of smooth polyurethane. Push button lock closure. Chained carrying strap. Signature logo engraved hardware detail in back. Flat base to p more...

larger picture

---
BCBGeneration The Tribute Bag (Off White) Tote Handbags


$98



Slip the BCBGeneration Tribute Bag over your shoulder for a fresh look that epitomizes your chic ensemble and classic taste! Pebbled synthetic leather tote. Top zip closure. Top carrying handles with detachable, adjustable crossbody strap. Signature logo more...

larger picture

---
BCBGeneration The Wilson Tote (Celestial Combo) Tote Handbags


On sale - now $19.99

- was

$78



Slip the BCBGeneration Wilson Tote over your shoulder for a fresh look that epitomizes your chic ensemble and classic taste! Smooth synthetic leather tote. Magnetic snap closure. Dual flat shoulder straps. Signature logo detail at front. Slim, flat bottom more...

larger picture

---
BCBGeneration The Wilson Tote (Flint) Tote Handbags


$78



Slip the BCBGeneration Wilson Tote over your shoulder for a fresh look that epitomizes your chic ensemble and classic taste! Smooth synthetic leather tote. Magnetic snap closure. Dual flat shoulder straps. Signature logo detail at front. Slim, flat bottom more...

larger picture

---
BCBGeneration The Xl (Taupe Combo) Satchel Handbags


On sale - now $84.31

- was

$138



Keep flawless style on hand with this fabulous The XI satchel! Color-blocked synthetic leather bag. Top zip closure. Dual carrying handles with detachable, adjustable crossbody strap. Exterior front slip pockets with magnetic snap closures. Polished hardw more...

larger picture

---
BCBGeneration The Zipper Tribute Tote (Black 1) Tote Handbags


$128



Stamp your style with the fashionably chic BCBGeneration The Zipper Tribute Tote. Made of polyurethane with perforated detail. Zipper closure. Dual flat carrying handles with detachable shoulder strap. Signature logo engraved hardware detail in back. Flat more...

larger picture

---
BCBGeneration The Zoey Crossbody (Juniper) Cross Body Handbags


$48



Slip the BCBGeneration Zoey Crossbody over your shoulder for a fresh look that epitomizes your unique taste! Textured synthetic patent leather crossbody. Single crossbody strap. Top zip closure. Signature logo plaque at front. Interior lining with a back- more...

larger picture

---
BCBGeneration The Zoey Crossbody (Whisper White Multi) Cross Body Handbags


$54



Slip the BCBGeneration Zoey Crossbody over your shoulder for a fresh look that epitomizes your unique taste! Textured synthetic patent leather crossbody. Single crossbody strap. Top zip closure. Signature logo plaque at front. Interior lining with a back- more...

larger picture

---
Women's BCBGeneration 'Owen the 9 to 5' Hobo


On sale - now $72.36

- was

$108



This generous hobo, with its chic, squared-off silhouette and slouchy attitude will take you from desk to days off in style. Its roomy interior will easily accommodate workday tech to weekend gear, while an exterior pocket keeps essentials handy. Color(s) more...