Antarctica
Pictures, Information and Travel
Maybe you've been to Antarctica on a cruise or to work and want to reminisce
Perhaps you haven't been but would love to travel to the Antarctic
Possibly you have no intention of going, but just think Antarctica is a cool place
If you like pictures - we've got stacks of pictures of Antarctica and photographic advice
You may have homework to do so you need facts about Antarctica or its animals
Maybe you're planning an Antarctic cruise or vacation
Find out what you will see, where you'll go and what you need to take in the Antarctica travel guide


Antarctic Pictures Gallery - Clouds go scurrying by in Antarctica most days, it's the windiest and highest continent as well as the coldest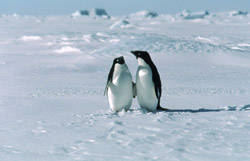 Pictures of Penguins in Antarctica

Ice berg trapped in sea-ice with full moon

Greetings From Palmer Station, Antarctica Residents used their bright red United States Antarctic Program parkas to write a greeting to scientists and flight crew aboard NASA's DC-8 as it flew over the station during Operation Ice Bridge. Photograph courtesy Johnson Space Center/NASA
Aurora Australis From Space May 24th 2010
Photograph courtesy Johnson Space Center/NASA
Most recently added and updated pages
Antarctica: Operation Deep Freeze Journal 1971-72 | The UK in Antarctica | Cool and fun things to do in freezing weather | Antarctic marine animals adaptations | Antarctic Invertebrates | Cold Acclimatization in Humans | How Animals Deal With Cold
Travel: Group Trips to Antarctica | Antarctic Travel
Buy: Men's Socks | Women's Socks | Men's Winter Boots | Women's Winter Boots | Extreme Cold Weather Clothing | Dresses | Women's Boots
Antarctica Travel
Send me Antarctic trip details
Featured trip
Fly - Cruise Antarctica
240 Years ago in Antarctica


James Cook reaches 71°10'S on 31 January 1774, entering Antarctic waters though never sighting the continent before turning north to resupply at Tahiti.



100 Years Ago in Antarctica

The Heroic Age of Antarctic Exploration
Home of the Blizzard, Douglas Mawson:
December 1913 - The indescribable moment was when Davis came ashore in the whale-boat, manned by two of the Macquarie Islanders (Hamilton and Blake), Hurley and Hunter. They rushed into the Hut, and we tried to tell the story of a year in a few minutes.

On the Ship we greeted Gillies, Gray, de la Motte, Ainsworth, Sandell and Correll. It was splendid to know that the world contained so many people, and to see these men who had stuck to the Expedition through ``thick and thin.'' Then came the fusillade of letters, magazines and ``mysterious'' parcels and boxes. At dinner we sat down reunited in the freshly painted ward-room, striving to collect our bewildered thoughts at the sight of a white tablecloth, Australian mutton, fresh vegetables, fruit and cigars.

The two long years were over--for the moment they were to be effaced in the glorious present. We were to live in a land where drift and wind were unknown, where rain fell in mild, refreshing showers, where the sky was blue for long weeks, and where the memories of the past were to fade into a dream--a nightmare?

Ice Breaker Penetrating the Ice Pack Standish Backus Watercolor on paper, 1956 88-186-BH - Icebreaker Eastwind is towing an oiler ship (fuel carrier) YOG-34 through the Ross Sea pack, overhead a helicopter scouts the ice conditions. Picture courtesy The Naval History & Heritage Command - USA

Ice sheets contain a record of hundreds of thousands of years of past climate, trapped in the ancient snow. Scientists recover this climate history by drilling cores in the ice, up to 3,500 meters (11,000 feet) deep. Photograph copyright Reto Stöckli, NASA GSFC