Antarctica Books, buy online - Recommended Titles for Children
Perishing Poles
Anita Ganeri, Mike Phillips (Illustrator)
Reading level: Ages 8 - 12
Paperback - 128 pages (2009)
Buy USA

Buy UK

Free world delivery
The latest offering in an excellent series of books. These "Horrible Geography" (along with other similar titles in other subjects) are rightly popular with teachers and children alike. They offer a tremendous amount of information, presented in a highly readable and eminently entertaining way, whether you start at the beginning or just pick them up and dip in somewhere. My own children love them, not least because they're available at pocket money prices.
Synopsis: Wave goodbye to boring geography lessons as you venture into the chilly world of "Perishing Poles", with huge icebergs, hungry polar bears and frostbite to challenge intrepid explorers.
Shipwreck at the Bottom of the World, The True Story of the Endurance Expedition
Jennifer Armstrong
Buy USA

Buy UK

Free world delivery
Featuring 40 of expedition photographer Frank Hurley's stunning photographs, this book vividly retells the story of the Endurance for kids ages 12 and up. With many excerpts from expedition diaries.
Paperback - 64 pages (27 April, 1995)
Buy USA

Buy UK

Free world delivery
The excellent "Eyewitness Guides" series of books deliver information in an easily digestible and lavishly illustrated ( =approachable and entertaining) manner. As a teacher myself, I use these books frequently with pupils and my own children. They are always popular and amongst the most sought after if there are a number to choose from.
This title in the series covers the Arctic and Antarctic. It explains how plants, animals and people survive in the cold, what they find to eat, and how they live. Discover how to build an igloo, how husky dogs pull a sled, and follow in the footsteps of the heroic explorers.
Antarctic Journal : Four Months at the Bottom of the World
Reading level: Ages 9-12
Hardcover - 64 pages (January 2001)
Buy US

Buy UK

Free world delivery
Imagine if you were given a grant by the National Science Foundation to spend four months in Antarctica to sketch, take pictures, and write home to friends and family. Antarctic Journal is the record of Jennifer Owings Dewey's trek to the bottom of the world: "a planet as remote as the moon in its own way," she writes. Antarctica, home to 100 million penguins, has ice up to three miles thick, covering 98 percent of the land.
The author writes her account of this icy-cold adventure at Palmer Station in an accessible journal, sprinkled with letters home and colored-pencil sketches and photographs of various landscapes and Arctic creatures. Discussions of penguin behavior are interrupted by the history of Gondwanaland and continental drift, while snippets about trying to cook krill (the tiny phytoplankton that blue whales eat) in garlic and butter add a comic and personal touch to her adventure.
Descriptions of the "green flash" that happens just before sunset, red tide, and a mirage effect called the "fata morgana" (named after the fairy Morgan who built castles in the air) are sure to intrigue and inspire young explorers. This is a charming, personable introduction to a forbidding, fascinating continent.
Draw Write Now, Book 4: The Polar Regions, Arctic, Antarctic
Marie Hablitzel, Kim Stitzer
Beginning drawing and writing lessons for children ages five to ten. BOOK 4 focuses on the Polar Regions -- Arctic and Antarctic. The books are simple enough for a young child to do independently, but a teacher or parent may present the lessons.
Each drawing lesson includes a colorful picture and step-by-step instructions, while the writing lesson includes four simple handwritten sentences. The teacher or parent may introduce letter formation or have the children copy the sentences for handwriting practice, or use the lessons as a springboard for creative writing or report writing.
Developed by an elementary school teacher and co-authored by her daughter. A brief list of the 21 lessons in the book includes Blue Whale, auroras, Arctic people, polar bear, igloo, tundra, wolf, penguin, krill and scientists.
Antarctica (The Seven Continents)
Reading level: Ages 9-12
Library Binding - 64 pages (December 1998)
Buy US
One book in a series about different continents. A good general book describing the basic elements of Antarctica including its landscapes, geology, weather and climate, coastlines, air and soil as well as its plants and animals.
Hardcover - 32 pages (2 July, 1999)
Reading level: Ages 4-8
From the icy waters of the Arctic to the snowy plains of the Antarctic, this book looks at 12 different weird and wonderful animals describing how they keep warm. It is one of a series on animals that live in various habitats of the world. Each book has a full-colour world map annotated to show where the animals live and includes a list of "words to remember".
Paperback - 36 pages (4 October, 2001)
Buy US

Buy UK

Free world delivery
Child Education / Junior Education Best Books Supplement, October 2001
'An excellent resource for introducing children to the genre of nature diary writing...a great way to show how naturalists observe and record.'
Hardcover - 48 pages (20 July, 2000)
Buy USA
Packed with photographs, activities and topic webs, this book follows the life of an emperor penguin chick as it takes its first steps on a journey through life in Antarctica. It looks at penguin life cycles, their natural habitat, the food chain and the threats they face every day.
Hardcover - 32 pages (18 March, 2002)
Buy USA

Buy UK

Free world delivery
The Arctic and Antarctica are desolate places and only a few animals are equipped to live there. This book takes a look at hardy polar animals against the backdrop of their cold, windy and hostile environments.
In the Arctic, fur-covered mammals such as Arctic wolf and snowshoe hare, the polar bear and lemming share their territories with the huge bowhead whale, the harp seal and the snowy owl.
On the frozen continent of Antarctica, brown skuas and storm petrels squabble over food, while chinstrap and emperor penguins evade the fierce and predatory leopard seal.
A Visual Introduction to Whales, Dolphins and Porpoises (Animal Watch Series)
Hardcover - (December 1998) 48 pages
Reading level: Ages 9-12
Buy US
"...the vocabulary and writing style make them [The Animal Watch series] appropriate for upper elementary through junior high readers. They are attractive for browsing or general interest, and for reports."
Profiles: Humpback whales; Bowheads and right whales; Grey whales; Belugas and narwhals; Killer whales; Sperm whales; Bottlenose whales; Pilot whales; Dolphins; Porpoises.
The secrets and wonders of the wild are revealed in our new Animal Watch series. Here, a distinguished ecologist and gifted natural history artist travel the globe to take readers into the natural habitats of the world's most lovable and intriguing animals.
Filled with captivating, full-color artwork and photographs, each book provides an in-depth look at a family of animals. Extensive mapping allows readers to easily locate every habitat in which a particular species can be found.

Lonely Planet travel guide Antarctica

USA |

UK


Free world delivery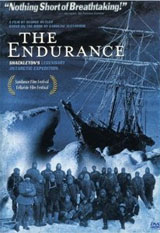 The Endurance - Shackleton's Legendary Expedition
Dramatization with original footage

DVD |

DVD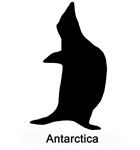 Cool Antarctica Store - Pictures, Shirts, Calendars, Cards etc.