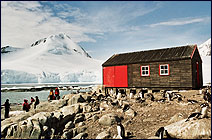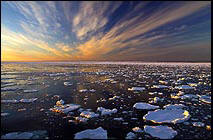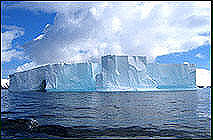 Age Range

- The age range of passengers on Antarctic trips tends towards 40+, there are often 30 somethings in lesser numbers and maybe some younger passengers, most will probably be in the 45-65 age range.

There is no "shoestring" way of getting there so you don't get many young independent travellers. Passengers on Antarctic trips are frequently very well travelled and tend to be interesting people, the sort who are prepared to spend on an "experience" (as opposed to simply being entertained) in fact. Antarctic trips are reasonably active so passengers need to be able to get around readily.




Entertainment

- Antarctic small ship cruises are not what people usually imagine a cruise to be, for the majority of passengers, this is a very positive thing indeed!

While you have guides and experts on board, their expertise does not necessarily lie in performing a medley from "Chicago" complete with fish-nets and high heels after dinner (you could always ask). There are usually no professional entertainers on these ships, there will be talks and maybe videos shown but they will be very much to do with Antarctica and the specialisms of the guides. Reading, relaxing, watching the world go by, getting to know your fellow passengers over coffee or a drink at the bar are what will pass the time when on board and sailing. Antarctic cruises differ from the wider cruising experience quite significantly in this regard.




Fitness and health

- Most cruises will have a variety of activity levels for the passengers. You need to be in generally good health as while there will probably be a doctor on board the ship, you will be a long way from any other medical assistance.

You should be sufficiently able-bodied to get in and out of zodiacs from the ship and ashore and negotiate uneven possibly slippery ground. Once ashore there are usually two or three different walks. Typically one will be easy at low level over a short distance with frequent stops, one will involve gaining more altitude and cover much more ground with infrequent stops. Another will be for photographers and wildlife enthusiasts, which may be quite energetic or might involve spending a lot of time in one area if the circumstances are appropriate.

Some trips will offer one or more activities of sea kayaking, cross country skiing, camping, snowshoeing, mountaineering or diving as options where obviously a higher level of fitness is required.




Medical facilities -

Antarctic cruises are not like other cruises where ships call at towns and cities with all of the medical facilities that you would expect. Ships will carry a medic of some sort, but facilities vary greatly according to the size of the ship.

In an emergency, pretty much all the ship could do would be to steam back to the nearest port which may well be a few days sailing away. It may be possible to visit a national base if there are facilities and personnel available.

Anyone with any kind of disability or medical need should contact a tour company and explain the situation in as much detail as possible so that the Antarctic trip can be tailored to the individual need. There's no reason that a disability that does not disallow someone to live a fairly normal life at home should particularly prevent a trip to Antarctica, obviously it is very much down to individual details.




Food

- Food will be plentiful, tasty and nutritious, of course the more luxurious your ship the greater the variety and quality. Fresh fruit and veg may run low on longer (20 days +) trips, but overall you'd be hard pushed to tell the difference from a good hotel restaurant. Most dietary requirements can be met. I have never heard anyone comment negatively about the food on an Antarctic trip but have heard lots along the lines of "Hadn't really counted on that aspect, definitely a bonus".




Nationalities

- Antarctic cruise ships tend to be very cosmopolitan environments. The language on board is most commonly English and lectures, guided walks etc. will be conducted in English. While there may be a majority group of some nationality on a trip, there will nearly always be half a dozen and probably many more different nationalities represented by the passengers. There are also trips that are conducted in German or French which of course mainly attract passengers of those nationalities.




Last minute deals

- It is possible to get a late deal on a cruise if you go to Ushuaia (but not give-away prices). The flip side is that you will almost certainly pay a lot more for your flights if booked at short notice and possibly have to book extra hotel room nights if the flights don't all fit together as you'd like. The cheaper flights go first and many cruises offer discounts or offers on flights for early booking, you also have more choice. The best chance of a bargain is look once you are in Ushuaia having got there by non premium means, i.e. no last minute flight.




Older Passengers

- Antarctica is a fairly active place to visit, though you can have quite a sedate time on a trip there if you choose. To make the most of it, you should get ashore as often as possible. To do this, you should be able to walk down somewhat wobbly possibly steep steps to get into the zodiac which will be rising and falling to some degree with the waves (up to a foot is typical, usually less). At the other end, you will need to be able to get out of the boat over the side and probably into ankle deep water or onto wet rocks. There will be many strong hands to help you do this, but it does require a certain level of spriteliness. Once ashore you may need to negotiate uneven rocky ground and/or ice and snow that may be slippery. While there are many active people in their 80's and even over who visit Antarctica and take part in the whole programme, it is not for the infirm and unsteady.




'Ologists

- Biologists, ornithologists, geologists, historians (ok not an 'ologist that one) etc. will be your guides to where you are and what you will see in Antarctica. Don't be afraid to ask questions, if you're asking there will be others who would like to know the answer too and the guides will be glad you're interested.




Open Bridge

- A policy on the bridge (where the crew go to drive and operate the ship) of most cruise ships to Antarctica. You the passenger can wander on and have a bit of a nose around as long as you don't press things.

The first time I went on the bridge of a ship in Antarctica, there was quite a swell running, as I was walking off, the ship lurched and I fell against a big bank of switches and buttons setting off the abandon ship signal - try not to do this.




Photography

- Many ships have a resident photographer as a part of the programme at no additional cost. Photography is covered extensively here, there will also be many keen photographers on your trip happy to offer help and advice. Even if you are a novice it's worth getting a decent camera for your trip.




Rough weather at sea

- You should expect rough conditions at some point, this may be when crossing the Drake's passage or elsewhere on your cruise, though you may encounter calm seas all the way. If you suffer at all from sea-sickness, take some medication, patches are always popular and quite effective. Take care during rough seas as you can be launched out of your chair, dumped unceremoniously on your bed or similar. Slippery silk pajamas are not recommended as every time the ship lurches, you'll shoot off in that direction (possibly quite entertaining for onlookers however). Walk around with your legs bent a little at the knee to absorb unexpected lurches. It can also be great fun!

The first time I encountered rough seas I stayed in my bunk for about 48 hours feeling awful, this is the worst thing you can do. Make the effort of find your sea-legs, some food in your stomach is better than none. Go up on deck or look out of a window, the sickness comes largely from the discrepancy between what your eyes tell you and what your inner ear tells you. i.e. ears say the world is moving around, eyes say it isn't. If you look at a static horizon, it all makes more sense and you feel better. After my inauspicious start (over 25 years ago) I've never suffered from sea-sickness since.




Souvenirs

- It is possible to buy souvenirs in Antarctica from the gift shop and Post Office at Port Lockroy on the Peninsula, and also the gift shop at the American Palmer base on the peninsula. The New Zealand Scott base and American McMurdo base in the Ross Sea region also have gift shops. Otherwise shops are non-existent.




Unlocked door policy

- This operates as standard on ships in Antarctica. There will be a ships safe if you wish to leave large amounts of cash. Like a utopian global village, there is no crime aboard a cruise ship in Antarctica. Most ships are cashless, bills and tips being paid by card on the last day or morning of departure. Some smaller ships however do not take tips by card and so you will need cash for this - ask before you set off.




Weather

- There's a lot of weather in Antarctica and it's in evidence most days. It can and does change in a moment so make sure you take your outer layers and insulating layers ashore with you even though the sun is shining and it's warm.




Younger passengers

- Some ships have rules where they won't take passengers who are under 6 or under 12. While children are not discouraged from an Antarctic trip, they are not really catered for either. The chances are you won't meet any other children on the cruise at all and there may be long periods of entertaining yourself (sea passages) which for the adults is all part of the attraction of being able to switch off and absorb where you are, read etc. For children however this may be a more challenging time and also for parents hearing "I'm bored" (and other passengers too). Antarctica is only really a family destination for older children.

Tell me more about a trip to the Antarctic!


Shackleton's 1914-17 Trans-Antarctica Expedition on Twitter - follow us now to get the story 100 years to the day later. @danthewhaler

Lonely Planet travel guide Antarctica
USA
| UK


Free world delivery

Antarctica Cruising Guide
USA
| UK


Free world delivery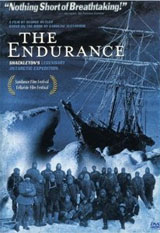 The Endurance - Shackleton's Legendary Expedition
Dramatization with original footage

DVD

DVD