Tell me more about a trip to Antarctica!
Shackleton's 1914-17 Trans-Antarctica Expedition on Twitter - follow us now to get the story 100 years to the day later.
@danthewhaler

2014/15 Itinerary
Antarctic Peninsula, Falklands, South Georgia cruises
Peninsula Cruise

10 days from $5,995
Weddell Sea and Antarctic Peninsula
Remote region

scuba and kayaking options
Air-Cruise
Fly over the Drake Passage then join your ship in Antarctica. Fly both ways or fly one - sail one options
Antarctica, South Georgia and the Falkland Islands
23 days from $15,995
Antarctic Peninsula
Fly / sail 11 days, active adventure

scuba and kayaking options
Antarctica Cruise
14 days, Luxury Accommodation


kayaking
Antarctica Cruise - The Peninsula
Active Adventure -

kayaking, camping
Classic Antarctica
Fly cruise with Antarctic Circle crossing
9 days from $12,995
Antarctic Peninsula
Luxury Ship
12 days from $6,295
Across the Circle
Antarctic Peninsula, Antarctic Circle, Historic Areas

scuba and kayaking options
11 days from $7,100
Antarctic Peninsula
Antarctic Peninsula, Penguins, Seals, Whales, Historic sites
13 days from $11,073
Cruises in Eastern Antarctica - Ross Sea Region
Ross Sea in the Wake of Scott and Shackleton
Ross Ice Shelf, McMurdo Sound
30 days from $19,500
Galapagos cruises

Lonely Planet travel guide Antarctica
USA
| UK


Free world delivery

Antarctica Cruising Guide
USA
| UK


Free world delivery
Southwards, a magnificent Alpine country, illuminated by the rising sun, rose slowly from the sea; there were mighty fells with snowy crowns and with sharp, uncovered teeth, around the valleys through which enormous, broad rivers of ice came flowing to the sea.

J. Gunnar Andersson, 1902 - describing South Georgia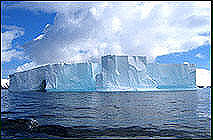 Highlights: Expect the best naturalist guides and a fantastic trip at a great time of year.
Rates: $15,995 - $25,995
Above rates are per person and based on double occupancy except in Triple Cabins.
Single Rates: 1.7 times the regular double occupancy rate in Lower Deck, Main Deck Porthole, and Main Deck Window; 2 times the regular double occupancy rate in Superior, Deluxe, and Suite. Solo travelers can be matched up to share a cabin, if available, and will be charged the double or triple occupancy rate (standard cabin categories only).
Sea Kayaking Option: $950 per person.
Ship - Sea Adventurer - Expedition Ship
Passengers: 122
Introduction

This voyage combines the comfortable adventure cruises of Classic Antarctica with visits to the Falkland Islands (Islas Malvinas) and spectacular South Georgia. Many of the wildlife (penguins, whales, seabirds and seals) and scenic highlights of the Antarctic Peninsula and the South Shetland Islands are included as well as the best of these two wildlife-rich sub-Antarctic islands. These expeditions are designed to include as much wildlife viewing as possible, but also include visits to scientific bases and allow plenty of time to enjoy the breathtaking scenery of icy waterways, glaciers, and icebergs.

Itinerary

Day 1: Ushuaia, Argentina
Due to the size of the continent, Antarctica's diversity is best appreciated on longer voyages, where greater distances can be covered. This extended expedition encompasses the wildlife paradise of South Georgia, the remote Falkland Islands (Islas Malvinas) as well as the extraordinary beauty of the Peninsula. Overnight at a hotel in Ushuaia.

Day 2: Embarkation Day
As you embark, the anticipation and excitement grows for what lies ahead. As every Antarctic adventure presents new opportunities and experiences, Embarkation day is just as exciting for your Expedition Team as it is for you. They're onboard to ensure your comfort and safety, as well as help make your wildlife dreams come true.

Day 3-4: Crossing the Drake Passage
Legendary for its high winds and rolling seas, you may get lucky and have surprisingly calm seas. Spend your time in the lounge or chatting with your fellow travelers. As you develop your sea legs during the crossing, our Expedition Team will begin their series of presentations to help you for your upcoming Zodiac and land excursions. You officially enter Antarctica when the ship crosses the Antarctic Convergence, a biological boundary that fluctuates around 60° south.

Day 5-8: South Shetland Islands / Antarctic Peninsula
Spellbound, shocked and awe-inspired are common reactions to arriving in Antarctica. The indescribable feeling of stepping foot on this untouched, unique environment is something you'll remember forever. Antarctica is a land of extremes; at one moment you'll be overcome with a feeling of complete desolation and silence, at the next moment you'll be inspired by nature as a calving glacier crashes into the sea or a penguin unwittingly provides comic relief as it waddles by.

Your camera will constantly be fixated on Adélie, chinstrap and gentoo penguins, along with Weddell, fur, crabeater and leopard seals. Minke and humpback whales are also commonly sighted in the clear Antarctic waters.

When it comes time for an animal break, the Expedition Team will take you on guided hikes to glaciers, research stations and snowy mountains, to help you appreciate the landscape and what it takes to live in such an extreme environment.

Days 9-10: At Sea
There are many activities to keep you engaged while you are at sea. You could learn to identify the seabirds that glide alongside the ship, or attend the illustrated presentations by the Expedition Team. They will prepare you for the shore landings and Zodiac cruising that are to come.

Days 11-13: South Georgia
Flexibility in this area is a must. All of your expedition leaders have been to South Georgia numerous times and, if the weather is in your favor, you may make a landing before breakfast or even after dinner. You call at some of the many islands, bays, and coves where you can see outstanding birdlife and elephant and fur seals close at hand. The following is a list of places you may visit on South Georgia. Some of them are pending final government approval.

Salisbury Plain – Two glaciers flank Salisbury Plain on South Georgia's north coast. Here, more than 200,000 king penguins congregate and breed, and you are greeted by one of the more remarkable sights—and sounds—on earth.

Stromness Bay – Site of Sir Ernest Shackleton and his party's arrival after their harrowing crossing of the island's glaciers on foot, Stromness offers views of cliffs and a glacier from which the adventurer and his companions descended.

Grytviken – You go ashore and explore here, discovering the old ruins of this once-active whaling station. The cemetery holds a special fascination, as it is here that Shackleton is buried—on this island he loved. Walking along the coast, you spy seabirds, penguins, and marine mammals.

Gold Harbour – At the foot of the Bertrab Glacier, Gold Harbour is often referred to as the "jewel in the island's crown." In addition to a large king penguin colony, you are likely to see elephant and fur seals, Gentoo penguins, giant petrels, and perhaps even some light-mantled albatross.

Elsehul Bay – This beautiful bay on the north end is home to thousands of fur seals as well as macaroni penguins, the most numerous of all penguin species. Listen for the high-pitched trumpeting of the king penguins amid the magnificent sounds of marine mammals that echo throughout this bay.

Days 14-16: At Sea
The next few days at sea can be as busy or as relaxing as you desire. Go on deck to spot whales and sea birds flying overhead, or attend lectures from our on-board specialists. Whatever you choose, remember to take a moment to reflect on the amazing creatures you've met so far.

Days 17-18: Falkland Islands
You will spend these days in the Falkland Islands (Malvinas), renowned for their amazing wildlife. Highlights include Flightless Steamer Ducks, Magellanic and Gentoo Penguins and a colony of the rare Black-crowned Night Herons. Peale's and Commerson's dolphins are often seen along the coast. Nearby New Island boasts fantastic Rockhopper Penguin rookeries, along with Black-browed Albatrosses and Blue-eyed Shags. You will also explore Stanley, the charming capital of the Falkland Islands (Malvinas). Don't miss the chance to visit the small, but interesting museum.

Days 19-22: At Sea
It is always a bittersweet moment to turn the ship away from the penguins and icebergs and towards Buenos Aires. As the magical silence of Antarctica fades away, enjoy some final chats with your new friends on the ship and celebrate your successful journey to a land like no other.

Day 23: Buenos Aires, Argentina
After breakfast aboard, you will be transferred to the airport for your homeward flight.

Notes:

Read this itinerary as a guide only; the exact route and program varies according to ice and weather conditions - and the wildlife you encounter. Flexibility is the key to the success of this expedition.

Mandatory Travel Insurance:
All guests are required to have comprehensive travel insurance coverage. Due to the remoteness of the areas in this itinerary, travelers must have a minimum $50,000 of emergency medical coverage. Proof of coverage is required prior to embarkation. The shipping company will not be held responsible for delays due to force majeure. Any additional costs accrued will be the responsibility of the traveler. We strongly recommend at least $200,000 Emergency Medical/Evacuation coverage for Antarctic trips which includes coverage for cancellation, trip disruption, baggage and personal property. We can assist you with this.

Sea Kayaking Option:
Not included in cruise rate. See rates page for price. Minimum age 16 years. This is a pre-booked option for kayakers with some experience. Places are strictly limited so please advise at time of booking. Please contact us for additional details.


Included:
Group transfers in Ushuaia from the airport to local hotel for passengers arriving on Day 1 of the program or one day prior only; one night pre-expedition hotel accommodation with breakfast in Ushuaia (The number of guests per room is the same as cabin occupancy on the ship. Due to limited availability, travelers who reserve a suite on board are accommodated in standard rooms at the hotel.); group transfers from a designated location in Ushuaia to the ship on embarkation day; group transfers from the ship to the local airport on disembarkation; shipboard accommodation with daily housekeeping; all breakfasts, lunches and dinners on board throughout your voyage. (Please inform of any dietary requirements as far in advance as possible. Unfortunately, the ships' galleys cannot prepare kosher meals.); all shore landings per the daily program; leadership throughout the voyage by experienced Expedition Leader, including shore landings and other activities; all Zodiac transfers and cruising per the daily program; formal and informal presentations by Expedition Team and guest speakers as scheduled; Photographic Journal on DVD, documenting the voyage; a pair of waterproof expedition boots on loan for shore landings; an official parka to keep; coffee, tea and cocoa available around the clock; hair dryer and bathrobes in every cabin; comprehensive pre-departure materials, including a map and an informative Antarctic Reader; all miscellaneous service taxes and port charges throughout the program; all luggage handling aboard ship; Emergency Evacuation Insurance for all passengers to a maximum benefit of $100,000 per person*.

Not Included:
Any airfare; passport and visa expenses; government arrival and departure taxes, Argentina's Reciprocity Fee; any meals ashore with the exception of breakfast at the host hotel before embarkation; alcoholic and non-alcoholic beverages, except ones mentioned as included; baggage, cancellation and medical travel insurance; excess baggage charges; laundry, and other personal charges; telecommunications charges; voluntary gratuity at the end of the voyage for shipboard staff and crew; supplements for adventure options; fuel surcharge may apply.

*Emergency Evacuation Insurance:
Emergency evacuation coverage to a maximum benefit per paying passenger of $100,000 is included in the cost of this expedition. Included coverage is applicable only to travel between the first and last day of the expedition purchased. Additional days of travel prior to the expedition and/or after the expedition are not covered by the included emergency evacuation insurance. We strongly advise all passengers to purchase medical, cancellation and baggage insurance, and additional emergency evacuation coverage.
Antarctic Peninsula Region Cruises - (sample cruises)

Trip
Departure Dates
Highlights
Ship / Pax
Options*
Prices**
Days
Departure port
Discovering the 7th Continent - The Antarctic
Peninsula
11/16/14
11/26/14
12/06/14
South Shetland Islands, Antarctic Peninsula, Lemaire Channel, Paradise Bay, Port Lockroy
Expedition Ship

Sea Adventurer - 122

kayaking
camping
snowshoeing
$5,995 -
$14,995
12
Ushuaia, Argentina
Classic Antarctica Air-Cruise
12/02/14
12/07/14
12/12/14
12/17/14
12/22/14
12/27/14
01/22/15
02/06/15
02/11/15

Fly over the Drake Passage both ways

, Antarctic Peninsula, South Shetland Islands
Expedition Ship



Ocean Nova -

68

kayaking
snowshoeing
$9,790 -
$18,595
7
Punta Arenas - Airport
Antarctic Peninsula Air-Cruise
02/27/15

Fly south, sail north,

South Shetland Islands, Abundant Wildlife, Lemaire Channel
Research Vessel

Polar Pioneer - 54

kayaking
scuba
$7,100 -
$12,600
11
Punta Arenas Chile, return Ushuaia, Argentina
Antarctica Cruise - The Peninsula - Luxury expedition ship
11/27/14
12/17/14
01/14/15
01/24/15
02/03/15

Antarctica Peninsula, South Shetland Islands, Abundant Wildlife, Lemaire Channel
Luxury Expedition Ship

Sea Explorer - 114

kayaking
$6,295 -
$16,795
12
Ushuaia, Argentina
Antarctica Cruise - The Peninsula (Active Adventure)
12/10/14
01/27/15
03/16/15
South Shetlands, Antarctic Peninsula, Penguin Rookeries, Lemaire Channel
Research Vessel

Akademik Sergey Vavilov - 92

kayaking,
camping
$6,795 -
$13,095
11
Ushuaia, Argentina
Trip
Departure Dates
Highlights
Ship / Pax
Options*
Prices**
Days
Departure port
Antarctica Peninsula - via Cape Horn
12/05/14
02/04/2015
03/04/2015
Cape Horn national Park, Antarctic Peninsula, penguins, icebergs on a luxury ship
Luxury Expedition Ship

Sea Spirit - 112

kayaking
camping
snowshoeing
$7,595 -
$19,195
12
Ushuaia, Argentina
Antarctica Cruise - Land of the Penguins
11/19/14
1/04/15
1/16/15
Antarctic Peninsula, Penguins, Seals, Whales, Historic sites
Scenic Exploration Ship



Fram

- 240

$11,073 -
$18,779
13
Buenos Aires, Ushuaia, Argentina
Antarctic Peninsula with Circle Crossing, Air Cruise
01/01/15
02/16/15

Fly over the Drake Passage both ways

,
Antarctic Peninsula, South Shetland Islands
Expedition Ship

Ocean Nova - 68

kayaking
snowshoeing
$12,995 -
$20,795
9
Punta Arenas, Chile
Antarctica - Cruise - The Peninsula
Luxury expedition ship
11/28/14
12/08/14
12/18/14
12/28/14
01/7/15
01/17/15
01/27/15
02/06/15
South Shetland, Paradise Bay, Lemaire Channel
Luxury Expedition Ship

National Geographic Explorer - 148

kayaking
$11,990 -
$22,870
14
Buenos Aires / Ushuaia, Argentina
Antarctica Cruise - The Peninsula with Circle Crossing
0 2/19/15

Sail south, fly back,

South Shetlands, Antarctic Peninsula, Lemaire Channel, Spectacular Glaciers
Research Vessel

Polar Pioneer - 54

kayaking
$7,100 -
$12,600
11
Ushuaia, Argentina
Antarctica Cruise - The Peninsula Luxury Expedition Ship
12/2/14
12/12/14
1/09/15
1/31/14
2/06/15
2/16/15
2/26/15
12/2/15
12/12/15
Antarctic Peninsula, Penguin Rookeries, Lemaire Channel
Luxury Expedition Ship

Silver Explorer - 132

$9,950 -
$29,750
11
Ushuaia, Argentina

Cruises Visiting the Ross Sea Region

Antarctica Cruise - Weddell Sea & Peninsula
01/11/15
02/09/15
Scott and Shackleton's Huts, remote East Antarctica, Emperor penguins, sub-Antarctic islands
Research Vessel

Spirit of Enderby
- 56

$19,500 -
$28,800
30
New Zealand

Cruises Visiting South Georgia- (sample cruises)

Trip
Departure Dates

Highlights

Ship / Pax

Options*
Prices**
Days
Departure port
Antarctica, Falklands, & South Georgia
11/20/14
01/31/15
Vast Colonies of King Penguins, Breathtaking Scenery, Historic sites, South Shetlands, Antarctic Peninsula
Research Ship



Akademik Ioffe

-

96

kayaking
$11,995 -
$22,695
19
Ushuaia, Argentina
South Georgia, Antarctica & the Falklands

02/19/15

Vast Colonies of King Penguins, Breathtaking Scenery, Historic sites - kayaking option
Expedition Ship

Sea Adventurer - 122

kayaking

$15,995 -
$25,995

23

Ushuaia, Argentina / Buenos Aires

South Georgia, Antarctica & The Falklands
10/17/14
Vast Colonies of King Penguins, Breathtaking Scenery, Historic sites
Expedition Ship



Expedition


-

132

$9,999 -
$15,999
22
Fly to Stanley in the Falkland Islands from Montevideo, disembark in Ushuaia, Argentina

Notes




* options may be at additional cost and are usually booked when the cruise is booked - it may be too late once the cruise has started.

** prices are based per person, the lowest price is usually for triple occupancy in a basic cabin, the highest for double occupancy in the best available suite.

Need a Little Guidance? contact our travel partners who will help you find the best cruise for your requirements