---
Patagonia Re-Tool Vest - Women's


On sale - now $76.3




- was

$109



Gentle on you and gentle on the environment, the Patagonia Women's Re-Tool Vest offers lightweight fleece warmth in bluesign-approved fabric. Patagonia's lifestyle line offers 4 polyester or polyester-blend vests, and the Re-Tool is the lightest of the bunch. Made from Polartec Thermal Pro fleece, and containing 51% recycled material, the Re-Tool vest is perfect for the fall harvest or putting the garden to bed until next spring. Polartec Thermal Pro fleece offers lightweight warmth when you nee more...




---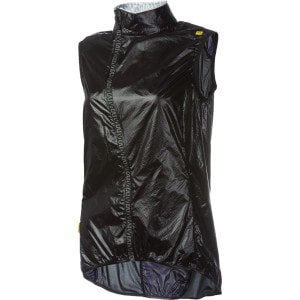 Mavic Oxygen Women's Vest


On sale - now $38.46




- was

$109.9



Weather happens everyday. Unfortunately, the bad stuff can happen with no warning miles from home in the middle of a ride. You'll always be ready, though, if you shove the Mavic Women's Oxygen Vest in your pocket before you head out. more...




---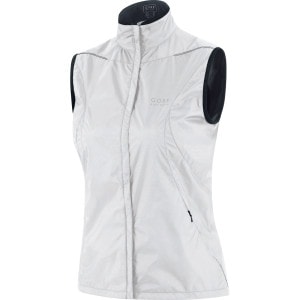 Gore Bike Wear Countdown AS Vest - Women's


$109.95



From stormy summer nights to brisk winter mornings, the Gore Bike Wear Women's Countdown AS Vest keeps you covered. WindStopper fabric keeps sharp gusts from stabbing through your core, while a mesh instert in the back dumps excess heat when you start to heat up. The Countdown also features two front pockets that zip closed to keep your keys safe. more...




---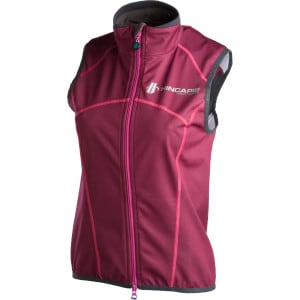 Hincapie Sportswear Encounter Windshell Women's Vest


On sale - now $54.98




- was

$109.95



Take the Hincapie Sportswear Encounter Windshell Women's Vest along on your next ride for added core warmth and protection from chilly wind. Stretchy MTX Wind Repel shell provides unrestricted movementSoft micro-fleece backing wicks moisture and retains warmthReflective elements for low-light safety more...




---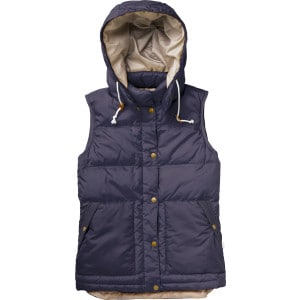 Burton Wander Vest - Women's


On sale - now $76.97




- was

$109.95



You're a daydreamer; you wander the streets and the slopes. It's good and healthy to have your head in the clouds, but just don't go wandering around cold. Don the Burton Women's Wander Vest, and get lost in its warmth and comfort. The nylon shell offers a vintage, yet timeless look, while the Thermacore insulation keeps you cozy. There's a removable, insulated hood, so you can dial in your style, and there's an interior media pocket with headphone cord port if listening to tunes while you strol more...




---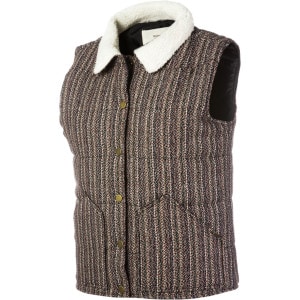 Lifetime Valley Vest - Women's


On sale - now $49.48




- was

$109.95



Whether you live in the mountains, by the beach, or in a van by the river, keep warm in casual style with the Lifetime Women's Valley Vest. more...




---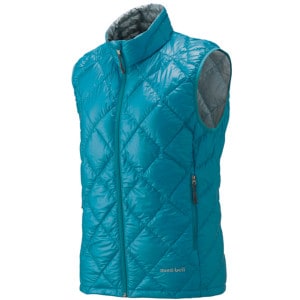 MontBell Ultralight Down Vest - Women's


$118.95



What keeps you warmer, a T-shirt or the MontBell Women's Ultralight Down Vest? If you guessed the former, remind us not to plan a winter camping trip with you. If you picked the latter, you are correct; and yet this super-warm vest doesn't occupy any more space in your pack, or weigh any more, than your average tee.The Ultralight Down Vest is packed with 800-fill goose down, which is lightweight and lofts easily after being compressed. While warmth is this jacket's hallmark, it also does a nifty more...




---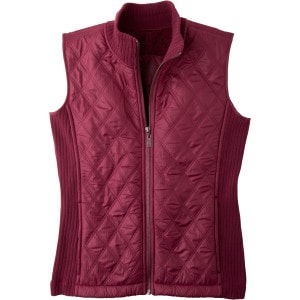 prAna Diva Vest - Women's


On sale - now $71.37




- was

$118.95



Brighten the dark days of winter with the comfy warmth of the Prana Women's Diva Vest. Chilly weather might tempt you to reach for a jacket, but why? Sleeves just get in the way, and besides, the source of your warmth comes from your core, and this vest protects that warmth with 60-grams of insulation and a cozy sherpa lining. You shouldn't be afraid to wear the Diva on the street though, because Prana gave this little beauty a cut that's fitted at the top and tapered as it stretches down to the more...




---
MontBell Ultralight Thermawrap Insulated Vest - Women's


$119



At just 5. 2-ounces light, the Montbell Women's Ultralight Thermawrap Insulated vest allows you to carry cold-weather core insulation without a weight penalty that would slow your ascent into the mountains. Climbing, paddling, or hiking the weather can turn cold and wet quick, so Montbell gave this vest a DWR-coating to repel light precipitation, and they used synthetic Exceloft insulation that retains its warmth even when wet. Find one reason not to carry this vest in your wilderness pack and w more...




---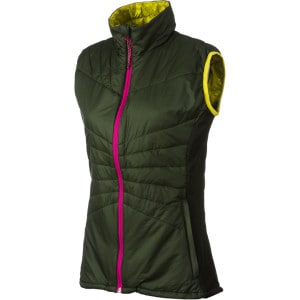 Stoic Luft 60 Vest - Women's


On sale - now $41.65




- was

$119



This season, Stoic expanded its women's line with the Luft 60 Vest, an ideal solution to keep your core warm while you're backcountry skiing in the winter or hiking in the fall. Low-bulk synthetic insulation compresses easily to make the Luft easy to stash in a pack, and this vest feels nice and light so you'll hardly notice any extra weight on your back. Sometimes sleeves are overkill, even in cold weather, and that's when this layering piece shines. more...




---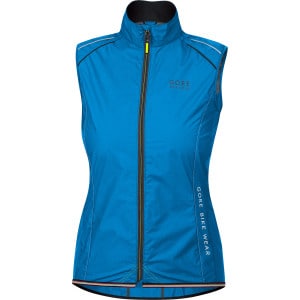 Gore Bike Wear Power AS Vest - Women's


$119.95



There are times when you just need a wind-blocking vest. Think fast descending, cool mornings, or really any time that you need more protection than your jersey provides, but where a full-on rain jacket just isn't practical. So, thanks to its ease of storage and legendary WindStopper fabric, the Gore Bike Wear Power AS Women's Vest will be there for you when you need it most. Gore's WindStopper is renowned for its supreme wind- and weather-blocking abilities, as well as its breathability. In oth more...




---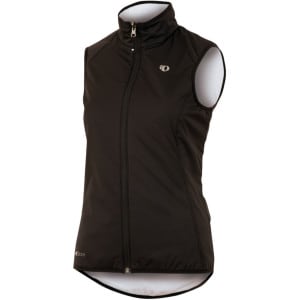 Pearl Izumi Elite Prima Reversible Vest - Women's


On sale - now $83.97




- was

$119.95



While a vest in itself is an exceptionally versatile piece of apparel, Pearl Izumi decided to take this concept even further. With its new Elite Prima Women's Reversible Vest, you receive a layer of protection between your core and the wind, rain, and cold weather -- all in a reversible design. Besides that, it's light and packable, meaning that you don't really have an excuse for leaving it behind. Pearl Izumi used its Elite Barrier Fabric to construct the Elite Prima. This material was chosen more...




---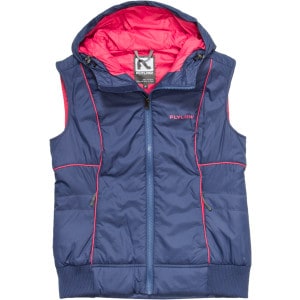 FlyLow Gear Smuggler Vest - Women's


On sale - now $59.98




- was

$119.95



Let your limbs fly free; doff the jacket and don the FlyLow Women's Smuggler Vest. With toasty-warm micropuff synthetic down insulation and an ample hood, you won't even know you're missing sleeves. And even though it's compressible for easy layering under a shell, this vest has water- and wind-resistant DWR for on-its-own wear too. Vests FTW! more...




---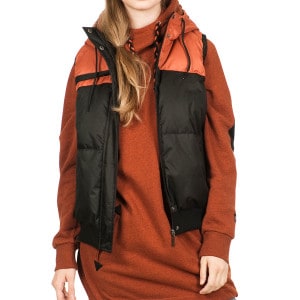 Nikita Unexpected Down Vest - Women's


On sale - now $77.97




- was

$119.95



Keep your core cozy with the Nikita Women's Unexpected Down Vest. Down insulation keeps you toasty where you need it so you can stay warm without overheating, the polyester fabric repels light moisture in case you walk outside into a flurry, and its casual style pairs well with a hoodie or flannel underneath. more...




---
Pearl Izumi Women's Elite Prima Reverse Vest


$119.95



Pearl Izumi Women's Elite Prima Reverse Vest ELITE Barrier fabric delivers lightweight wind protection and warmth ELITE Barrier fabric with Primaloft provides optimal warmth Full length internal draft flat with zipper garage seals in warmth Two zippered front pockets One zippered back pocket Lightweight and packable Reversible SPECIFICATIONS of the Pearl Izumi Women's Elite Prima Reverse Vest Weight: 40-85 g/m2 Body: 100% polyester Liner Body: 100% polyester Filler: 100% polyester Inner Fabric: more...




---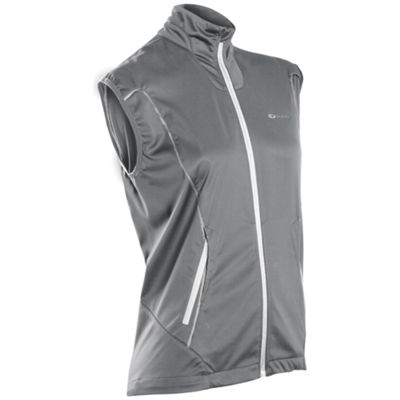 Sugoi Women's Versa Firewall 180 Vest


$119.95



Sugoi Women's Versa Firewall 180 Vest Firewall 180 fabric for high stretch thermal mobility and wind and water protection Integrate the vest with the sleeves of your Versa Jacket for added core warmth 2 front zip pockets and 1 back zip pocket for stowing the sleeves Reflective detailing for low light and night time visibility Moisture Transfers Warm wick Breathable fabric Water Resistant Reflective Wind Resistant SPECIFICATIONS of the Sugoi Women's Versa Firewall 180 Vest Semi fit Argon Blend: 1 more...




---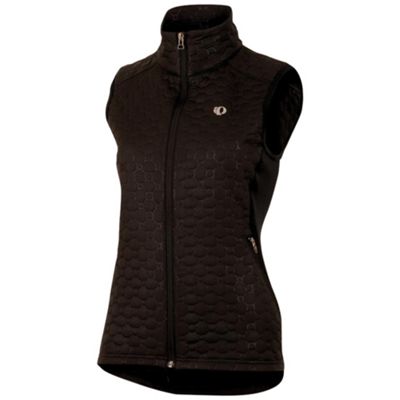 Pearl Izumi Women's Insulator Vest


$124.95



Pearl Izumi Women's Insulator Vest ELITE Barrier fabric delivers lightweight wind protection and warmth SELECT Thermal fabric sets the benchmark for moisture transfer and warmth Full length internal draft flat with zipper garage seals in warmth Two zippered front pockets Feminine embroidery on back yoke Reflective elements for low-light visibility SPECIFICATIONS of the Pearl Izumi Women's Insulator Vest Weight: 210-274 g/m2 Body: 100% polyester Panels: 100% polyester Semi-form fit more...




---
Gore Running Wear Sunlight 3.0 Active Shell Vest - Women's


On sale - now $64.47




- was

$128.95



It's a beautiful day, but there's a nip in the air and the breeze has stiffened, so throw on the Gore Running Wear Women's Sunlight 3. 0 Active Shell Vest before you head out the door for a run. This lightweight vest's WindStopper membrane stops chilly wind in its tracks while still allowing body heat to escape efficiently so you don't overheat halfway through your loop. Gore Running Wear complemented this technology with eye-catching style that includes a long, slim silhouette, and striking col more...




---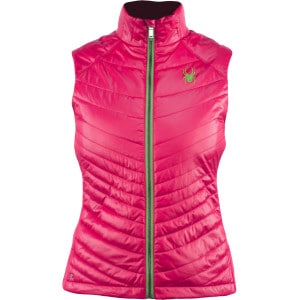 Spyder Sped Insulator Vest - Women's


On sale - now $90.26




- was

$128.95



What could be more convenient than skiwear beautiful enough for the snazziest apres bar? Nothing. The Spyder Women's Sped Insulator Vest goes from slope to fine establishment without pause. It feels luxurious, looks glamorous, and delivers breathable, water-resistant protection. With a Spylon DWR and Xt. L laminate, this is still a tough piece of performance wear. Lofty and efficient Primaloft One insulation adds cozy warmth to your cold-prone core. Stretch microfleece side panels are finished w more...




---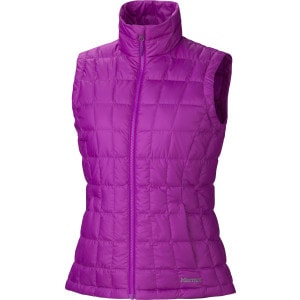 Marmot Sol Vest - Women's


On sale - now $90.96




- was

$129.95



Make the most of a vest and pull on the toasty-warm, down-filled Marmot Women's Sol Vest. This 700-fill power down vest hugs your torso in lofty, efficient warmth that stay that way thanks to highly water-resistant Down Defender treatment and a downproof ripstop exterior. Arms are liberated and mobile for ripping performance no matter what the activity, and there's a media pocket for rocking out. Sometimes it's the simple things. more...




---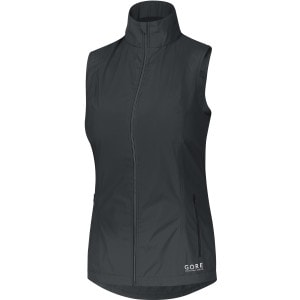 Gore Running Wear Sunlight 3.0 AS Vest - Women's


On sale - now $90.96




- was

$129.95



The Gore Women's Sunlight 3. 0 AS Vest strikes the perfect balance between breathable, windproof, and water-resistant protection; fantastic venting features; and flattering style. A Gore-Tex Windstopper membrane keeps windchill from getting to your core, and you can further seal things off with an elastic drawstring-adjustable hem. Mesh lining and a back vent allow for extra breathability when things heat up as you get going. You can stash small essentials in two small front pockets and carry yo more...




---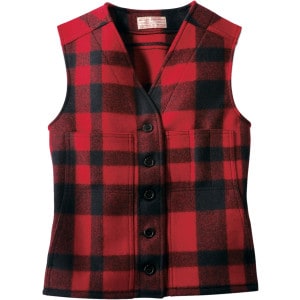 Filson Mackinaw Wool Vest - Women's


On sale - now $78




- was

$130



Ideal for layering under a coat or over a shirt, the Filson Women's Mackinaw Wool Vest gives you a simple, classic look and exceptional warmth without bulk. Its contoured side seams and adjustable back tabs provide a close, feminine fit. The 100% virgin Mackinaw wool offers incredible warmth and naturally resists odor for stellar all-day comfort. A five-button front closure offers a comfortable fit while two lower hand-warmer pockets and two upper open pockets help keep you organized. more...




---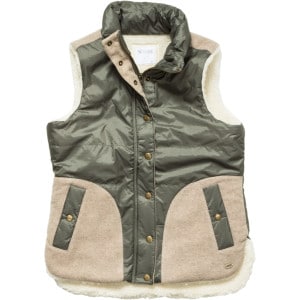 Carve Designs Boundary Vest - Women's


On sale - now $66.97




- was

$133.95



Watch barriers fall, enemies become friends, and cats play fetch when you wear the Carve Designs Women's Boundry Vest. While it's actually completely unrealistic to think of any of those things having to do with your cozy vest, it is realistic to assume that this easy-going vest's shearling lining and relaxed fit will make you feel awfully damn good. The fully-lined hood comes off, and the high-low hem means style stretches from top to bottom. Turn up the collar when a brisk wind blows, and enjo more...




---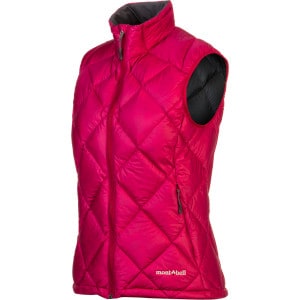 MontBell Alpine Light Down Vest - Women's


$135



The Montbell Women's Alpine Light Down Vest comes with a stuff sack, but you'll probably never want to take it off long enough to store it in there. Ultra-light and ultra-packable, this vest stashes easily in your pack so you can bust out some extra core warmth whenever you need it. The 800-fill down insulates exceptionally well, and smooth ballistic nylon deflects wind and light rain and glides easily over your other layers. Whether you're scaling Denali, walking around campus on a cool fall af more...




---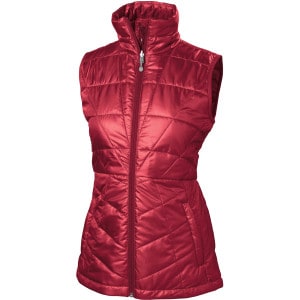 Isis Lithe Insulated Vest - Women's


On sale - now $76.42




- was

$138.95



The sweet and simple Isis Women's Lithe Insulated Vest brings you cozy warmth and comfort via its high-tech PrimaLoft Sport insulation. This lofty fiber technology resists water and wind, dries quickly, and breathes; and it will never clump up and leave you freezing like down can. But it's lightweight and packable, like down, for easy portability. You can take this cozy vest to keep your core comfy anywhere you roam. more...




---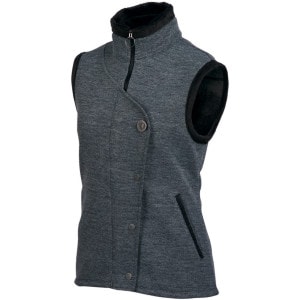 Pearl Izumi Beakay Vest - Women's


On sale - now $83.97




- was

$139.95



With its sophisticated sweater look on the outside and warm, fuzzy fleece on the inside, the Pearl Izumi Women's Beakay Vest is sure to be a cool-weather wardrobe favorite. Sport it when the office heat has been turned down or the fire in the wood stove begins to die, and you'll stay cozy even as you look fabulous. more...




---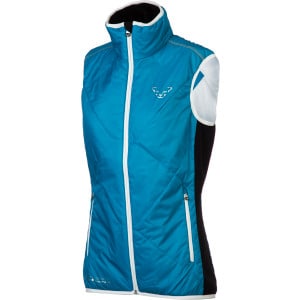 Dynafit Borealis Insulated Vest - Women's


On sale - now $97.96




- was

$139.95



T-shirts, sunglasses, and a suntan are the norm for spring touring, but sometimes, though, it gets windy and shady enough that just a shell and t-shirt just aren't sufficient to keep you warm. In those situations, a vest is often the ticket to comfortable temperature regulation without instantly overheating. The Dynafit Borealis Vest is an excellent high-tech vest option for all those times when a full-sleeved jacket is just too much. The nylon outer fabric is treated with a water resistant Para more...




---
Marmot Variant Vest - Women's


On sale - now $97.96




- was

$139.95



The Women's Variant Vest weighs under eight ounces and packs into its own pocket for easy storage so you can wear this vest during winter trail runs or stash it in your fall backpacking pack. Thermal R Eco insulation keeps your core warm and the athletic fit means that this vest sits close to your body so you can move easily while you ski, hike, climb, or run. more...




---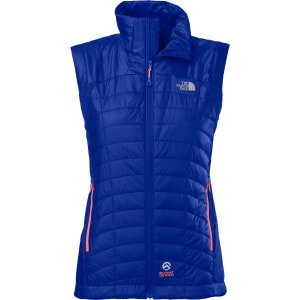 The North Face DNP Vest - Women's


$139.95



Pull out the The North Face Women's DNP Vest from your backpack and revel in its cozy comfort while you wait for the rest of your crew to catch up with you on the trail. Thanks to the DNP's innovative hybrid construction and PrimaLoft One core insulation, the DNP is able to provide lightweight mid or outer-layer comfort during spring's ever changing weather conditions. Its DWR-coated TNF Apex Aerobic underarms and stretch-woven side panels supply stellar breathability and freedom of movement wit more...




---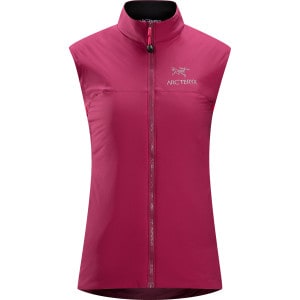 Arc'teryx Atom LT Vest - Women's


$144.95



Okay, Goldilocks: when a full jacket is too warm and going without anything is too cold, stay just right in the Arc'teryx Women's LT Vest. Pasting yourself across rock faces in late March or early November requires more than your favorite shirt, and the Atom LT's slim silhouette cuddles your core without getting in the way of the next move. When the wind kicks up or wet storms roll through, throw a shell over the Atom LT vest for additional protection. The vest's cozy Coreloft synthetic insulati more...




---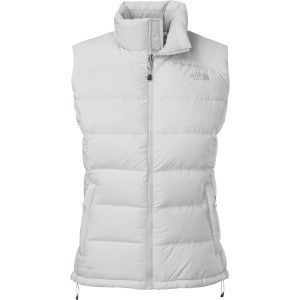 The North Face Nuptse 2 Down Vest - Women's


On sale - now $96.82




- was

$148.95



The hike up the hill got your blood pumping and the heat flowing, but now that you've taken some time to put your skis on and take in the view, the freezing top-of-the-mountain temps are cooling you down quickly. Pull The North Face Women's Nuptse 2 Down Vest out of your pack, throw it on under your jacket, and luxuriate in its cozy warmth. more...




---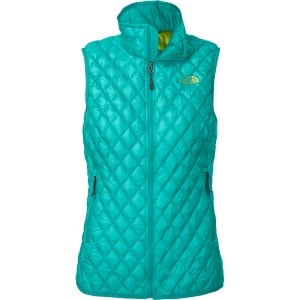 The North Face Thermoball Insulated Vest - Women's


On sale - now $104.26




- was

$148.95



The North Face Women's Thermoball Insulated Vest is much more than a stylish top. It's a serious piece of performance outerwear that happens to look like great for everything from a day of skiing to an evening out. When you pull on the Thermoball vest, you'll be amazed at how warm it is. You wouldn't expect a jacket this light to lock in warmth so well. The reason is the Bluesign-approved Primaloft Thermoball synthetic insulation, which is just as lightweight and compressible as down. Unlike dow more...




---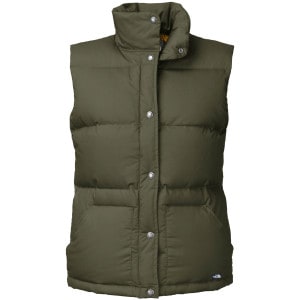 The North Face Woodlark Down Vest - Women's


On sale - now $104.26




- was

$148.95



Sleeveless and downy-sumptuous, The North Face Women's Woodlark Down Vest delivers high-loft warmth in a streamlined shape. An enzyme-washed cotton high-density poplin breathes, feels ultrasoft, and withstands rugged wear and tear, and the polyester ripstop lining feels smooth against skin. The 550-fill down fends off plummeting temps with efficient toasty goodness, and simple horizontal quilting keeps it in place and gives it sporty style. Possibly the best part? This casual-style vest goes wit more...




---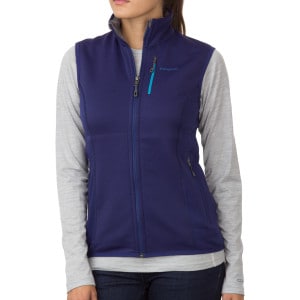 Patagonia Piton Hybrid Vest - Women's


On sale - now $74.5




- was

$149



The Patagonia Women's Piton Hybrid Vest makes chilly fallwinds a distant memory when you're setting up camp or your belay station. The Polartec Wind Pro fabric's HardfaceTechnology battles the breeze to keep your core toasty, and the slim fit flatters when this vest is worn solo and allows for easy layering over top when extra insulation or weather protection proves necessary. more...




---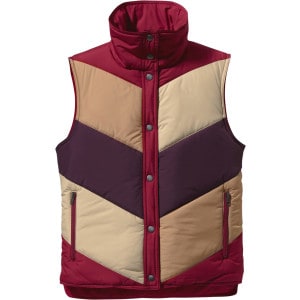 Patagonia Mirror Lake Vest - Women's


On sale - now $104.3




- was

$149



The Patagonia Women's Mirror Lake Vest does not have a vesting period. The minute you put it on, you're ensconced in reversible, water-resistant warmth. The color-block side is made from polyester plain weave, and treated with DWR so you shed the morning dew without trouble. The Mirror Lake vest reverses to a solid color, made from nylon faille and backed with wind-resistant polyurethane. Snap it up to your chin, thanks to a stand-up collar, for extra coziness. The waist adjusts via snapped tabs more...




---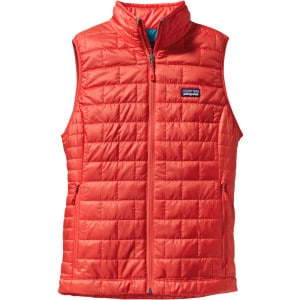 Patagonia Nano Puff Insulated Vest - Women's


$149



As summer heat starts to wane, outdoor adventures remain plentiful. On its own or under a shell, the Patagonia Women's Nano Puff Insulated Vest provides lightweight, compressible, and windproof insulation for your fall follies. The physical structure of PrimaLoft One insulation mimics the structure of feathers, trapping warm air as it leaves your body and creating a thermal barrier between surrounding cooler air and your body. Likewise, the warmth-to-weight ratio for PrimaLoft One is similar to more...




---
Helly Hansen Verglas Down Insulator Vest - Women's


On sale - now $104.96




- was

$149.95



You're a ninnyhammer if you brave the shoulder seasons without a down vest. The Verglas Down Insulator Vest by Helly Hansen is as versatile as your lifestyle dictates. The shell of the Verglas is made from the Pertex fabric. Basically, this is a microlight ripstop that's both durable and lightweight. Additionally, it was treated with a DWR (Durable Water Repellent) coating to ensure that water droplets don't penetrate. Filled with 700+ European goose down, it keeps your core warm without bulk. I more...




---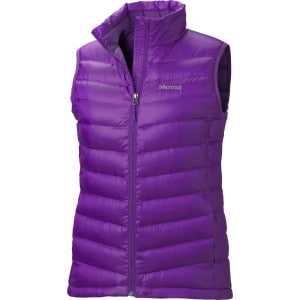 Marmot Jena Vest - Women's


On sale - now $104.96




- was

$149.95



Stay toasty to the core with the Marmot Women's Jena Vest. When a jacket would be overkill on a cool fall evening or early spring afternoon downtown, enjoy the comfort and warmth of 800-fill goose down. This flattering vest weighs in at under ten ounces, so you'll barely notice that you're wearing it. A hemline drawcord helps seal out unwanted gusts of chilly wind, and pocket-packability makes this vest a must-have for travel. more...




---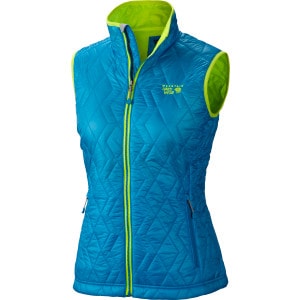 Mountain Hardwear Thermostatic Insulated Vest - Women's


On sale - now $104.96




- was

$149.95



The best is a vest that's lighter than the rest, or so it goes. While you won't win any rhyming awards with that line, people will understand your inspiration when they see you wearing the Mountain Hardwear Women's Thermostatic Insulated Vest. At a teensy-tiny light weight of half a pound, this feminine vest keeps it airy-light and rocks with skinny jeans and cashmere turtleneck when you're holiday shopping with your niece, or keeps you toasty (but not roasty) under your hardshell for a full day more...




---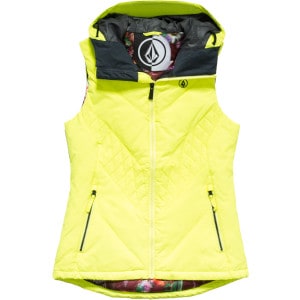 Volcom Revy Puff Down Vest - Women's


On sale - now $112.46




- was

$149.95



Throw on the Volcom Women's Revy Puff Down Vest when you'd like a little cushy warmth and street-friendly style around your core. 400-fill down insulation provides a layer of warmth while Volcom's breathable V-Science fabric keeps you comfortable. If snow starts falling or an icy breeze is blowing, you can cinch the hood down with two front pull tabs and pull in the hem with a pull cord accessed through the pocket. The soft suede chin guard protects your chin, and you can use the brushed tricot more...




---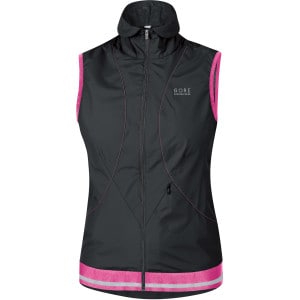 Gore Running Wear Air 2.0 AS Vest - Women's


$149.95



Running is hard enough without adding layers of immobile clothing. When you need protection from wind and light precip without the bulk, you need the super lightweight and packable Gore Running Wear Air 2. 0 AS Vest. The bold colors will brighten up any gloomy day. Featuring a shell designed from Active Light Windstopper Fabric, the Air vest is the lightest piece of windproof clothing Gore makes. Like its heavier sister fabric, the Active Light is fully windproof while the mesh lining allows moi more...




---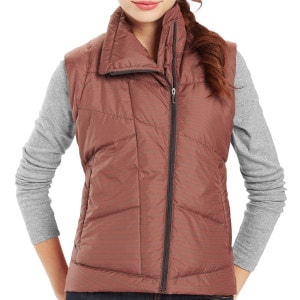 NAU Down Check Vest - Women's


On sale - now $108.46




- was

$154.95



At the top of your packing list for a winter weekend at Tahoe sits the Nau Women's Down Check Vest. Did you make sure it gets packed? Check. Actually, you're wearing it already. you love the warmth of the 800-fill power goose down and the fashionable look of the offset reverse coil DWR front zip with wind flap. If you are out shopping after hitting the slopes this weekend, the DWR treated recycled polyester shell will help shed off a little big of the white stuff. more...




---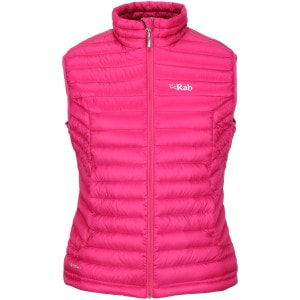 Rab Microlight Down Vest - Women's


On sale - now $108.46




- was

$154.95



Warm up your core with the Rab Women's Microlight Down Vest whether you're belaying during an alpine ascent, trekking across a chilly landscape, or wanting an extra mid-layer while you ski. Made with Pertex Microlight fabric, this vest is extremely lightweight and surprisingly durable so you don't have to worry about ruining it when you're running through the woods. Insulated with 80g 750-fill European goose down, the Microlight will keep your core warm in moderately cold conditions without addi more...




---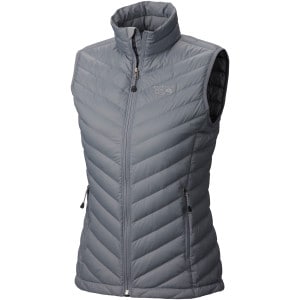 Mountain Hardwear Nitrous Down Vest - Women's


$159.95



The Mountain Hardwear Women's Nitrous Down Vest is so light and compressible that you can keep it close by whether you're skiing, backpacking, hiking, or climbing. Mountain Hardwear stuffed this vest with ultralight and lofty 800-fill down insulation, and then treated the down with Q. Shield water-repellent technology to help the down stay lofty and warm in wet weather. The vest's quilted construction holds the insulation in place, and a dual hem drawcord cinches the waist to retain all its wond more...




---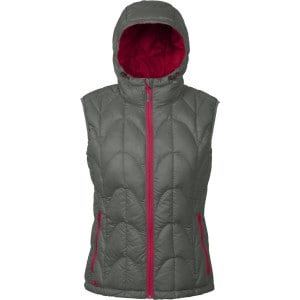 Outdoor Research Aria Down Vest - Women's


On sale - now $95.97




- was

$159.95



You'll be singing from the mountaintops when you're bundled up in the cozy Outdoor Research Women's Aria Down Vest. This fluffy vest features an ultralight 15D ripstop shell and 650-fill goose down that help the vest pack up small when you stuff it in your pack, and an adjustable insulated hood for hunkering down in nasty whiteouts. Two zippered hand-warmer pockets heat up chilly digits, and the quilted stitching makes the Aria as fit for a night at the lodge bar as it is for the mountains. more...




---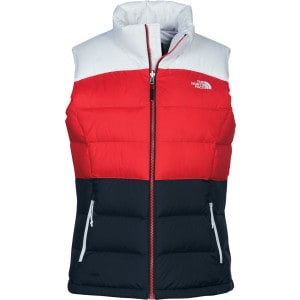 The North Face International Nuptse Vest - Women's


On sale - now $79.97




- was

$159.95



The North Face has crafted the International Nuptse Vest in the national colors of the most high-profile countries in the world of winter sports. Its 700-fill down will keep you warm while you watch your favorite events, and the flag-inspired design will help you declare your loyalty to your favorite country. The 50D polyester taffeta fabric is Bluesign-certified for environmentally friendly production and blocks heat-robbing wind from making it to your body. Two hand pockets and an internal che more...




---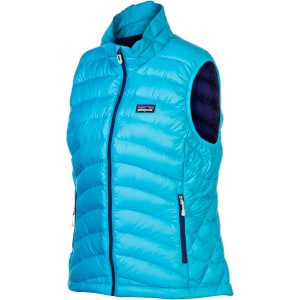 Patagonia Down Sweater Vest - Women's


On sale - now $118.3




- was

$169



Patagonia insulated the Women's Down Sweater Vest with lofty 800-fill down to keep your core incredibly warm without stifling you in bulky insulation. In fact, this versatile Patagonia vest weighs a mere 204 grams. The DWR-coated 22D polyester shell helps keep the weight down while it fights off light rain on a drizzly day. You can also compress the Down Sweater Vest to an incredibly small size, so it'll fit in your pack any day. more...




---
Patagonia Women's Down Sweater Vest


$169



Patagonia Women's Down Sweater Vest Superlight - windproof shell fabric with high tear-strength has a Deluge DWR (durable water repellent) finish Quilted construction stabilizes 800-fill-power premium European goose down Two zippered handwarmer pockets; One internal zippered stretch-mesh self-stuff pocket with a reinforced carabiner clip-in loop Elastic binding at armholes Adjustable drawcord hem seals in warmth SPECIFICATIONS of the Patagonia Women's Down Sweater Vest Weight: 8.2 oz / 232 g Sli more...




---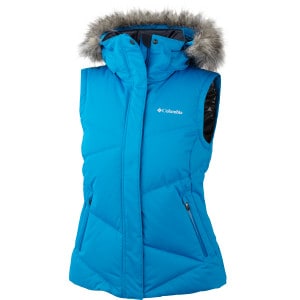 Columbia Lay 'D' Down Vest - Women's


On sale - now $118.96




- was

$169.95



Whether you're headed for a weekend at the cabin or in the big city, beat the cold by bundling up in the Columbia Women's Lay 'D' Down Vest. This cozy puffy vest packs a surprising amount of warmth thanks it its 550-fill insulation and heat-boosting thermal reflective lining, as well as a healthy dose of rugged urban style. more...




---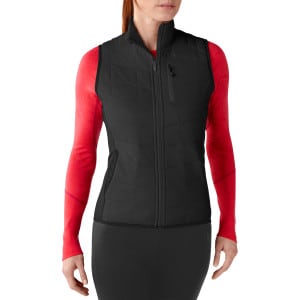 SmartWool PhD SmartLoft Divide Vest - Women's


On sale - now $118.97




- was

$169.95



People will think you've gone to school for decades given your cold-weather layering skills, but it doesn't take years and a dissertation to recognize the wisdom of adding the SmartWool Women's PhD SmartLoft Divide Vest to your winter wardrobe. Functional and fashionable, this vest marks SmartWool's foray into wool-insulated outerwear, and it earns an "A" for being all-around awesome. The semi form-fitted silhouette lets you throw a hardshell over this vest for wet spring skiing, or rock a pair more...




---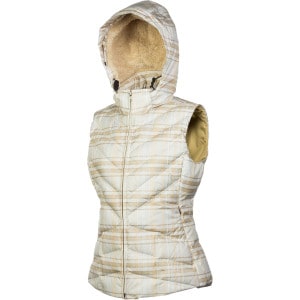 Patagonia Down With It Down Vest - Women's


On sale - now $98.45




- was

$179



When your core is cold, you're cold. So jump on the warmth train with the Patagonia Women's Down With It Down Vest. Its plush 600-fill goose down insulation and all-recycled outer shell combine to warm you when you need it most. Use the vest as an extra ski layer when your jacket alone just won't cut it, or just zip it up for a chilly day of errands in town. Chevron quilting and non-quilted side panels create a slim fit, and you can pull up the removable fleece-lined hood for extra warmth. more...




---
Norr lofoten Primaloft100 Insulated Vest - Women's


On sale - now $118.14




- was

$196.9



Vest-wearers know that most body is generated in the torso. Like any other vest the Norrona Women's Lofoten PrimaLoft100 Vest leaves your arms and shoulders free to move. Unlike any other vest, the Lofoten utilizes the new standard in fine denier and filament insulation that provides warmth even when wet, PrimaLoft Infinity 100. A drawcord waist hem and collar further insulate your body heat. Two waist pockets neatly fit your hands without bulking. A chest pocket serves the perfect storage slot more...




---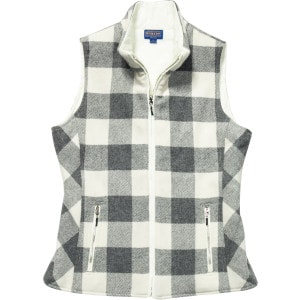 Pendleton Double Time Vest - Women's


$198.95



The Pendleton Women's Double Time Vest is a dream come true for the closet minimalist who likes to get maximum function out of each piece of apparel. This sweater is constructed of high-quality materials made to last a lifetime and adds a light layer of warmth to any outfit. Best of all, it is reversible, offering two contrasting styles. One side features a a blend of premium wools and a stylish checkered print; the other side is a textural quilted nylon in a solid ivory color. The vest's versat more...




---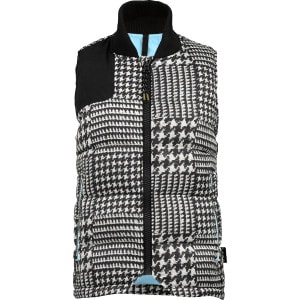 L.A.M.B. Insulator Down Vest by Burton - Women's


On sale - now $139.96




- was

$199.95



Looking to slip into something a little more comfortable after an epic day on the slopes? Zip up the L. A. M. B. Women's Insulator Down Vest by Burton for wicked-warm insulation and sassy style. This insulated down vest is filled with 650-fill goose down, providing maximum warmth for post-shred chillin' or festive slopeside fun. DryRide Mist-Defy water-resistant treatment repels light precipitation when you're partying at the summit lodge or shuttling between venues. Produced as a collaboration more...




---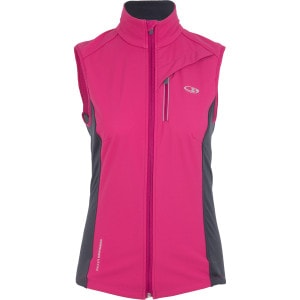 Icebreaker Gust Vest - Women's


On sale - now $119.99




- was

$199.99



The Icebreaker Women's Gust Vest utilizes a windproof and highly water-resistant polyester softshell to keep your core comfy when you run in less-than-prime conditions. A soft merino wool lining regulates your body temperature to keep you warm on the start of a brisk morning, and it's very airy to keep you comfortable near the end of your run. The lining is also naturally antimicrobial to repel odor and stay fresh after multiple seasons of long runs. The Gust features gusseted side and back pane more...




---
Mountain Hardwear Ghost Whisperer Down Vest - Women's


On sale - now $134.97




- was

$224.95



Lightweight and simple, the Mountain Hardwear Women's Ghost Whisperer Down Vest offers more than a whisper of warmth for your core when you're hiking on a crisp fall day. When weight and space are issues, this vest only costs you a 1/4-pound and a few inches. High-powered 800-fill down keeps you toasty when you're spotting a member of your cragging crew, finishing off the garden for the season, or being shown around campus by your (gasp) own child. Down insulation is how this vest weighs as much more...




---
Patagonia Ultralight Down Vest - Women's


On sale - now $160.3




- was

$229



Zap the cold with the featherweight, super-tough Patagonia Women's Ultralight Down Vest with water-repelling Deluge DWR finish and luxurious European goose down. A low-profile, slim silhouette features channel construction for optimal efficiency and warmth in this sleek layer. Cinch the drawcord hem and wear it solo on mild days, or layer it up with a shell when the weather's nasty. more...




---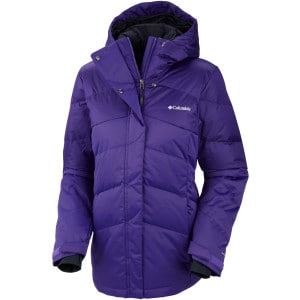 Columbia Powder Summit Down Jacket - Women's


On sale - now $167.96




- was

$239.95



The Columbia Women's Powder Summit Down Jacket flatters your feminine curves when you're cruising groomers, shredding powder, or walking through the town square in a snowstorm that promises a white Christmas. Weather-repelling Omni Shield combines with thermal Omni Heat to give you warm, flurry-flinging jacket for all but the coldest and wettest winter days. The 550-fill down insulation fills out sophisticated lines of this lady-like jacket, and the bottom tulip hem gives this coat a delicate en more...




---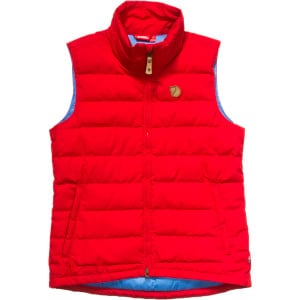 Fjallraven Ovik Lite Insulated Vest - Women's


On sale - now $192.46




- was

$274.95



If you feel a case of the winter blues coming on, save the tea and chicken soup; instead, nip your bug in the bud with a dose of warm, comfy style, courtesy of the Fjallraven Women's Ovik Lite Vest. Once you've gotten over the gloom, hit the shops in classic, slim-fitting style or cruise the slopes and snowshoe tracks wrapped in the Ovik's core-warming 500-fill down. The Ovik works wonderfully as a layering piece on chilly ski days, but its G-1000 Lite fabric can also stand up to breezes and lig more...




---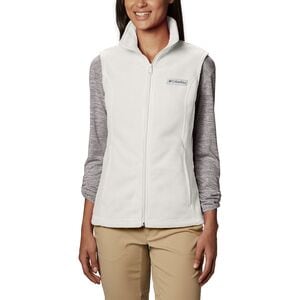 Columbia Benton Springs Vest - Women's


On sale - now $24.95




- was

$29.95



The most versatile piece in any outdoorswoman's wardrobe is probably a fleece vest. Cushy and soft, a good fleece warms your core while wicking sweat away no matter what the day's activity is. Zip into the plush Columbia Women's Benton Springs Vest and an a) hike, b) ski day, c) kid-chase in the yard, b) beach marshmallow roast, or d) all of the above. more...




---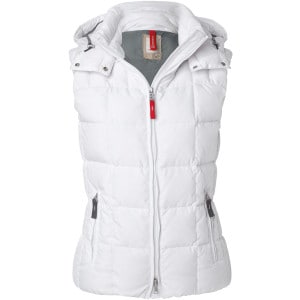 Bogner - Fire+Ice Cali Down Vest - Women's


$398.95



Life isn't as glamorous as it used to be, but you can bring a touch of class with you on your next ski vacation with the Bogner Fire and Ice Cali Down Vest. Featuring high-loft, luxuriously warm down/feather insulation, it's completely at home as stand-alone outerwear if you're hitting the slopes on a sunny spring day. It is also sure to catch the eye when you're enjoying a glass of wine on the deck or popping into the Main Street boutiques, thanks to the timeless tailored cut, contrast color li more...




---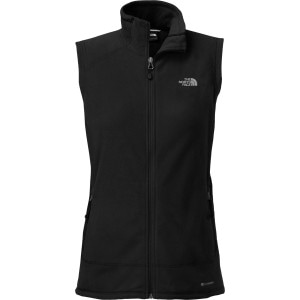 The North Face RDT 100 Vest - Women's


$54.95



When temperatures call for a little added protection around your core, the North Face Women's RDT 100 Vest will bring you fleecy warmth and comfort during aerobic outdoor activities. The vest features a stretch fleece with a low-profile hardface outer and breathable side and back-of-neck panels to keep you ventilated when you're working up a sweat. The fleece is coated with a FlashDry finish that allows the fabric to rapidly wick perspiration away from your skin and dry quickly to keep you comfo more...




---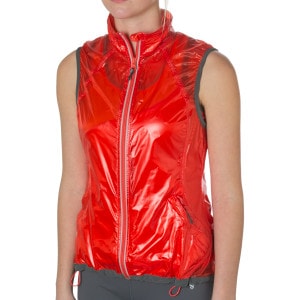 Stoic Thrive Luminous Vest - Women's


On sale - now $17.7




- was

$59



You know how it goes: when you step out of the car at the trailhead parking lot you're cold so you layer up, but by a mile or two into your run you're sweating like crazy. Head off this problem by dressing in the Stoic Women's Thrive Luminous Vest from the start. It blocks wind and light precipitation to provide vital core warmth, but is so lightweight and breathable you might forget it's there as you start to warm up. Wear it over a tee on cool summer morning runs or under your favorite fleece more...




---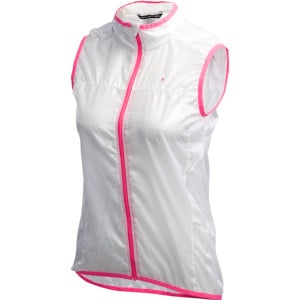 Louis Garneau Super Lite Vest - Women's Peggy


On sale - now $47.99




- was

$59.99



Even summer evenings in the city can turn chilly, so make sure you're comfortable on your ride home with the Louis Garneau Super Lite Vest. Proprietary Super Lite fabric is highly wind-resistant and durable, yet packable enough for any pocket, so you stay prepared no matter how far from the gym you live.Peggy's Detailed Description. DWR treatment keeps your core dry if those distant clouds start dropping rainZippered rear stash pocket houses your MP3 playerPeggy's first bullet point more...




---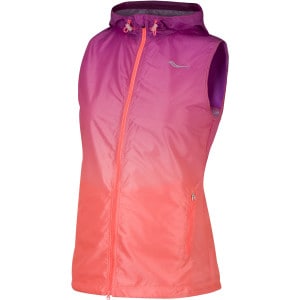 Saucony Packable Fade Vest - Women's


$64.95



Slip the Saucony Women's Packable Fade Vest into your hydration pack so you're ready for whatever Momma Nature throws in your face mid-way through Tahoe Rim Trail Ultra. The breathtaking ombre on this long and lean vest may eclipse the awe-inspiring panoramas of the mountains, yet there is no danger of the Fade wilting when you need it most. Nylon treated with DWR gives you time to find shelter when drizzles turn to a downpour. The vented back yoke jettisons excess heat. The droptail reduces the more...




---
Under Armour Women's UA Qualifier Woven Vest


$64.95



Under Armour Women's UA Qualifier Woven Vest Breathable woven fabrication delivers durability that won't weigh you down Blocked woven melange panels Wind/water resistant technology blocks the elements to help regulate your core temp High neck for extra coverage Bonded zip chest and hand pockets for secure storage 360° reflectivity SPECIFICATIONS of the Under Armour Women's UA Qualifier Woven Vest 100% Polyester more...




---
Element Bonfire Vest - Women's


On sale - now $62.51




- was

$69.45



Taking a few stylistic tips from the armed services, the Element Women's Bonfire Vest is a lightweight cotton canvas vest that adds a layer of complexity to your summer wardrobe. The center zip stays secret underneath a snap-close placket. Shoulder epaulets inspire thoughts of great generals while the contrast back panel piecing evokes the pioneers of fashion. Four front flap pockets create an aura of military power and are super-useful places to stash the little bits of crap that often get lost more...




---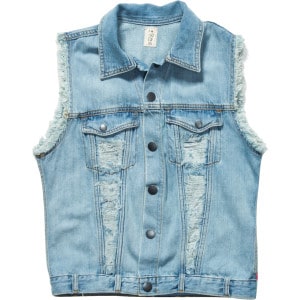 Volcom High Strung Vest - Women's


On sale - now $62.51




- was

$69.45



The Volcom Women's High Strung Vest is a classic cropped denim vest that's dressed-up and deconstructed. The strung-out, destroyed front panels and asymmetrical, mixed floral-print back panels artfully balance delicate detail and nonchalance with fashionably aggressive attitude. Metal logo front snaps and decorative chest pockets round out the details, and the vest adds fashionable attitude and multi-texture appeal to any outfit. more...




---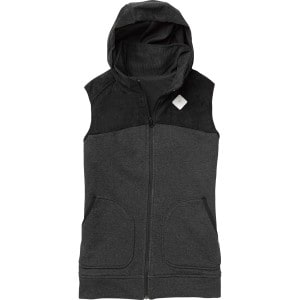 Burton Hale Vest - Women's


$69.95



Burton's Hale Women's Vest won't save you from frozen ice chunks pelting out of the sky, but it's DryRide Mist-Defy treatment will protect you from damp days, and the stowable hood will keep your hair from getting ruined by the sog. If you need a change, just flip it inside-out and enjoy the soft cotton comfort of the Hale's other side. more...




---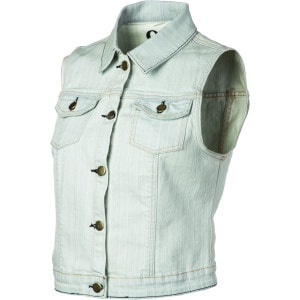 QSW Bonzer Vest - Women's


On sale - now $33.3




- was

$74



A denim vest adds casual cool to any outfit, and the O'Neill Women's Bonzer Vest gives you a modern version. Pair it with a mini, silk-chiffon dress, or just about anything else to add fun, edgy attitude. more...




---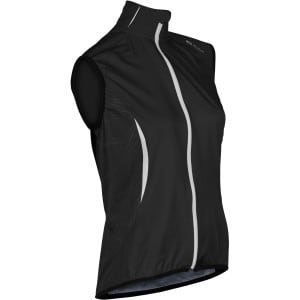 Sugoi Shift Women's Vest


On sale - now $37.48




- was

$74.95



Due to Sugoi's lightweight Shift fabric, you hardly notice the Shift Women's Vest when it's packed in your jersey pocket. But, once it's over your shoulders, Sugoi's proprietary fit and fabric provide anatomic comfort and warming wind-resistance. Sugoi's Shift Vest is also treated with a durable water-resistant finish (DWR) for the times where you find yourself caught in an impromptu rainstorm, or when the road's still damp from the night before. The fabric's engineered knit results in a subtle more...




---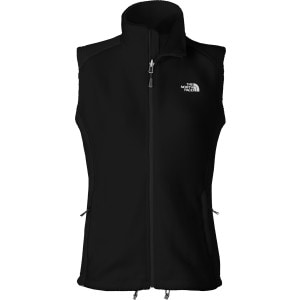 The North Face RDT 300 Vest - Women's


On sale - now $52.46




- was

$74.95



When you need an extra layer of warmth beneath your shell or windbreaker, count on The North Face Women's RDT 300 Vest to do the trick. Made with FlashDry technology, the RDT 300 stays dry even when you work up a sweat hiking, touring, or backpacking. more...




---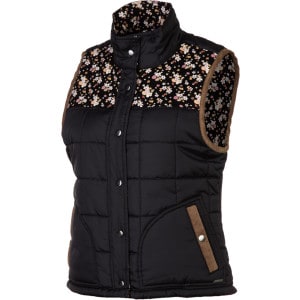 Element Creek Vest - Women's


On sale - now $47.67




- was

$79.45



Some days you feel more flowery and some days you don't. The Element Women's Creek Vest allows you to go with the flow. Its reversible design features a mostly quilted solid black side (with a small flower-print corduroy panel on the front), with a flower print corduroy-covered on the flip side. A bit of insulation adds warmth, and the hand pockets give you a place to stuff your hands if it's chilly, or small essentials if you're out on the town. However you chose to wear this vest, it serves as more...




---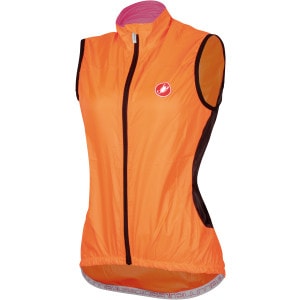 Castelli Velo Vest - Women's


$79.95



Mother Nature's varying conditions often call for an extra layer -- when a jersey won't keep the drizzle away, but a full jacket is overkill, Castelli's Women's Velo Vest steps in. It's a lightweight, breathable alternative that easily packs in a pocket. Castelli's Forcefield fabric is used throughout the Velo not only for its low weight, but its windproof and water-resistant traits, too. It's a 30-gram, ripstop fabric with a DWR (Durable Water Repellent) coating, so it retains the fabric's natu more...




---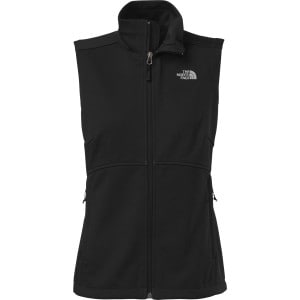 The North Face Canyonwall Fleece Vest - Women's


$79.95



The North Face Women's Canyonwall Fleece Vest combats gusty trails while still allowing your arms to move freely. Designed with wind-resistant, breathable WindWall technology, the Canyonwall helps eliminate the wind chill while allowing enough airflow to keep you dry on steep hikes. Ideal for rock climbing, hiking, backpacking, or around-town wear, the Canyonwall features a brushed jersey collar lining, a hem cinch-cord, and a reverse-coil center-front zip for comfort and convenience. Two hand p more...




---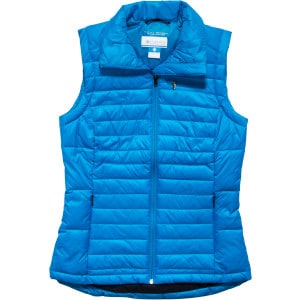 Columbia Powder Pillow Insulated Vest - Women's


On sale - now $55.96




- was

$79.95



When you're not wearing the Columbia Women's Powder Pillow Insulated Vest, stick it under your head for movie-watching comfort. This puffy vest treated with OmniShield repels stains and water like you resist stinky cheese and men who live with their mothers. Faux down insulation combines the warmth of down with the weather-resistant features of synthetic fabrics to give you a core-warming vest, even if you get stuck outside in a less-than-delicate drizzle. Narrow baffles accentuate the figure-fl more...




---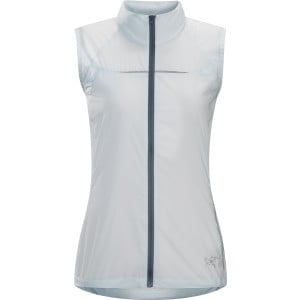 Arc'teryx Cita Vest - Women's


$84.95



Doodads, thingamajigs, and whatsits just slow you down, so Arc'teryx made the Cita Women's Vest with a super-simple streamlined design, with the features you need to go fast but nothing to weigh you down. Made of wind-resistant Lumin nylon ripstop and finished with a water-repellent DWR treatment, the Cita also has a mesh back for breathability, a hip pocket for your phone or energy gels, and reflective blazes to keep you visible on those early-a. m. runs. more...




---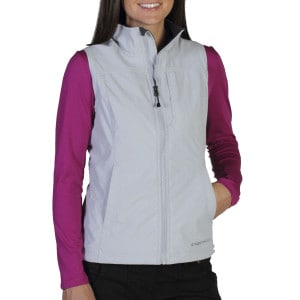 ExOfficio FlyQ Lite Vest - Women's


$89.95



Getting through security is bad enough, but organizing your accoutrement once you're ready to go exploring is a whole new level of nuttiness. Stop the madness and keep track of all your stuff with the ExOfficio Women's FlyQ Lite Vest. The vest itself is made from DWR-treated nylon so when you're walking through a misty drizzle you won't be saturated within seconds. Microfleece lines the collar so your chin doesn't get chafed. You can batten down the hatches by tightening the elastic bungee hem c more...




---
Asics Thermo Windblocker Jacket - Women's


On sale - now $58.47




- was

$89.95



Resistance training in the winds preceding the storm of the century might not be the most fun thing ever, but at least you've donned the Asics Women's Thermo Windblocker Jacket. Thermo Windblocker fabric shuns dusty gusts of wind whether it's in your face or pushing you from behind. On the inside, sweetly soft thermal fabric lets you wear only a sports bra if the temps are running above average. The extra-large back zip pocket holds energy gels and your fleece earband, or car keys and cash for c more...




---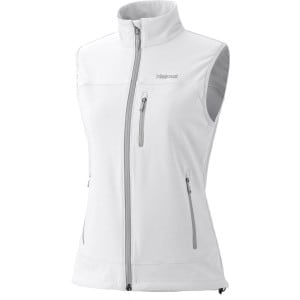 Marmot Tempo Vest - Women's


On sale - now $85.45




- was

$89.95



Protect your core while maintaining full arm freedom with the Marmot Women's Tempo Vest. Ideal for a fall climbing session or brisk hike, the stretchy, water-resistant Tempo helps keep your personal spiritual rhythm in sync with Mother Nature. more...




---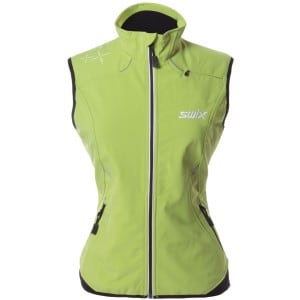 Swix Bergan Softshell Vest - Women's


On sale - now $62.96




- was

$89.95



Sleeves are overrated. Liberate those limbs with the supersoft, breathable, water- and wind-resistant Swix Women's Bergan Vest. Not only are your arms free as birds, your torso has all the mobility it wants with a stretchy shell and stretchier strategically placed panels. And with a handy audio pocket with cable exit, you can pole like mad while rocking out to your blood-pumping tunes. more...




---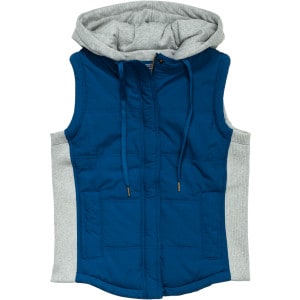 Gramicci Bellevue Hooded Vest - Women's


On sale - now $52.25




- was

$95



With the Women's Bellevue Hooded Vest from Gramicci, you no longer have to choose between a puffy and your most favorite sweatshirt in the world when you need a bit of core warmth for fall climbing or hiking. This armless wonder blends a sweatshirt hood with a low-profile polyester-fill vest. Ribbing at the sides makes it easy to move whether you're belaying your partner, strolling to yoga class, or taking in mountain views. more...




---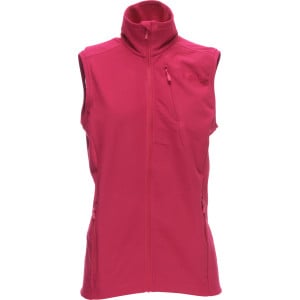 Norr Svalbard Warm1 Vest - Women's


On sale - now $66.75




- was

$97.9



Add warmth and style to any outfit with the Norrona Women's Svalbard Warm1 Vest. The soft and stretchy fleece allows you to move freely, and the flattering fit is just as suited to a day on the slopes as it is to your favorite downtown shops. more...




---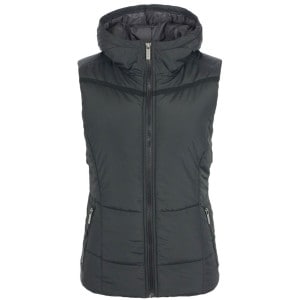 Bench Handy Vest - Women's


On sale - now $84.11




- was

$98.95



The Bench Women's Handy Vest is a super useful and super cute addition to your transitory seasonal wardrobe. Whether you're moving into winter or into spring, this sassy vest offers a touch of torso warmth without turning your core into a fiery blast furnace. The rear waist drawcord saves your shape from anonymity, and the the hood helps you maintain a low profile when going incognito is key. Two hand pockets hold everything you'd ever need to make a quick escape or stunning entrance: lipstick, more...




---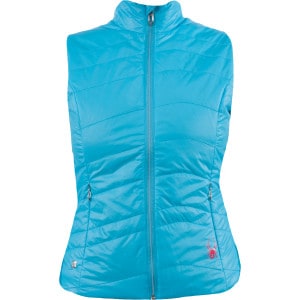 Spyder Curve Sweater Weight Vest - Women's


On sale - now $69.27




- was

$98.95



You are the female version of a Renaissance man. Your day job consists of crunching numbers for an international conglomerate, and your hobbies include hiking, mountaineering, whittling, cataloging rare bird calls, and designing walking aids for disabled dogs. Regardless of whether you're attending a canine convention or hiking in the Winds, the Spyder Women's Curve Sweater Weight Vest keeps you snug but not stifled. Sleek nylon twill weave puts on a relaxed, sophisticated face, and the PrimaLof more...




---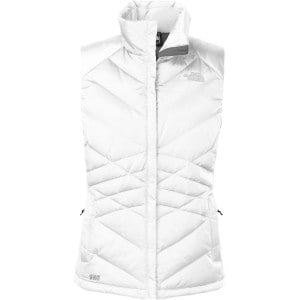 The North Face Aconcagua Down Vest - Women's


On sale - now $64.99




- was

$98.95



The beauty of The North Face Women's Aconcagua Down Vest is that it's chic enough to wear about town, but provides excellent core warmth when you need it. Designed with a silky nylon satin twill, this is a vest that you'll reach for when you want to dress to impress on cold days. As ever, the 550-fill down provides lightweight and compressible warmth, and the quilting pattern has been refined to offer a more tailored, feminine look. The Aconcagua looks great and functions wonderfully as a stand- more...




---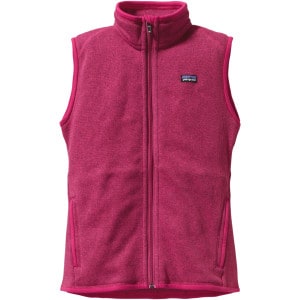 Patagonia Better Sweater Fleece Vest - Women's


$99



Turn down the thermostat and put on the Patagonia Women's Better Sweater Fleece Vest, which combines the aesthetic of wool with the easy care of polyester fleece. With its heathered overdye yarns and knit-like texture, the fabric has a sweater-like exterior and a fleece interior that warms you without restricting movement. The wind flap, zippered handwarmer pockets, armholes and hem are trimmed with a soft polyester jersey, and the front zipper comes complete with a wind flap and zipper garage. more...




---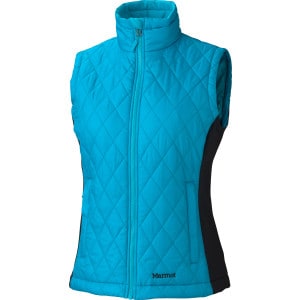 Marmot Kitzbuhel Insulated Vest - Women's


On sale - now $69.97




- was

$99.95



On cool fall hikes or chilly dawn patrol missions, the Marmot Women's Kitzbuhel Insulated Vest keeps your core continually cozy so you don't have to miss a minute of action. Whether you're strolling along Main Street, window-shopping, leaf-peeping on a tepid October day, or working off an extra slice of cake by skate-skiing up the road, this vest stands sentry against the cold without causing you to overheat. The ripstop polyester shell can handle a few sticks and stones without getting roughed more...




---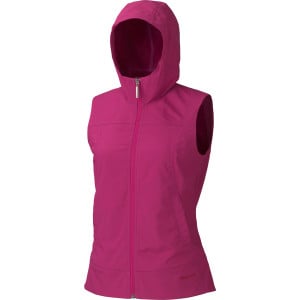 Marmot Summerset Vest - Women's


On sale - now $59.97




- was

$99.95



Weather's so dang unpredictable: the day could start with sun and heat and turn to clouds and drizzle. So pack the Marmot Women's Summerset Vest, a light, lean layer for in-between protection against moderate precip or cool winds. Marmot's M3 ultra-breathable, water-resistant stretch fabric won't restrict your movement during a run, hike, or dance party at the outdoor concert. more...




---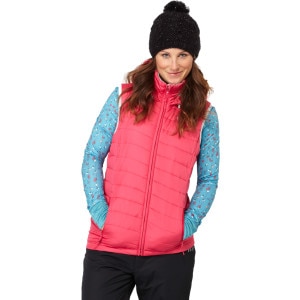 Roxy Warm Up Insulator Vest - Women's


On sale - now $69.97




- was

$99.95



When conditions on the mountain aren't quite cold enough for a full jacket, but you'd still like a little warmth around your core, a technical insulated vest is your ticket to all-day comfort. The Roxy Women's Warm Up Insulator Vest provides all the insulating warmth you need around your core, while giving you more access to fresh air than a full-coverage jacket. The vest features 180g down-like insulation, while its DWR (durable water repellent) finish repels moisture. You can cinch down the he more...