Budget Cold Weather Clothing

G

ear

for

Extreme

Conditions
Dressing for seriously cold weather without buying expensive clothing. This page assumes you will be spending extended periods outdoors in the coldest weather and are not so concerned with fashion, for hunting, ice fishing, snow-mobiling, snow shoveling or just enjoying the winter.

This is the US page | Go to UK page
---
ECWCS - Extended Cold Weather Clothing System. Developed by the US army as a system of protective cold weather clothing based on layering for versatility and changing conditions. A result is that there are a lot of ECWCS items available as surplus or used for those looking to buy warm layers without breaking the bank. Generation 3 or III is the latest, used since 2007, there are 7 "levels" some of which are alternatives rather than additional layers.
Foundation / Base Layer
-
Insulate and wick sweat away from the skin.
---
Somewhat counter intuitively one of the most important aspects of underwear for the coldest conditions is that it can wick away sweat from the skin. With so much clothing on top, sweat can build up in the layer next to the skin and become cold and clammy, especially after some activity. The key is to avoid cotton and go for synthetics such as polypropylene and polyester. Much more effective than using your usual underwear, the biggest "bang for the buck" layer. Merino wool is the best material for thermal underwear, though doesn't fall into the budget category.

Mid / Heavy weight long underwear - For colder conditions or use as outerwear indoors. Heavier weight thermal tops in particular can be used as a shirt indoors which makes them more versatile.
Men's | Women's | ECWCS gen III level 2

Lightweight underwear - For use in less extreme conditions or alternatively if you don't like thicker base layers and can use thicker layers over the top.
Men's | Women's | ECWCS gen III level 1
---
Layering - I spent time in Antarctica as a marine biologist, the coldest thing I did was setting and retrieving nets through the sea ice in winter using snow mobiles. Our clothes consisted of several layers, this worked better than a small number of thick layers. Sometime afterwards I was a school teacher, I used to give talks on Antarctica and part of this I would borrow bags of clothing from British Antarctic Survey and dress one kid in thin layers like I did, and another kid in easier to put on fewer thicker layers. The first kid would always get hotter faster and need to take the gear off first. Layers work best.
It may seem obvious, but layers need to be on the top and legs too, shorts or skirts can't be compensated for by 3 top layers and a parka.
Mid Insulation Layers
-
flexibility is important along with ventilation during exertion or warmer conditions, with the ability to wrap up warm again when the temperature drops.
---
A very varied layer that can be put on or off, unzipped, sleeves rolled up etc. during sunny periods or exercise and then closed down fully and another layer put on top when the weather gets bad again. It should be a soft layer for comfort and also to make it a more effective insulator when another layer is put on top of it. Half or full length zips are good and allow it to be used as the outer layer during warmer conditions or to quickly vent excess heat.
Materials:
Synthetics such as Polartec fleece are an excellent choice and inexpensive.
Wool is a traditional material and a great insulator, make sure it is pure wool as the vague description "knits" are often acrylic which isn't a great insulator or cotton which is worse. Pure wool isn't particularly cheap, though you may be able to pick it up in a sale or at second hand shops. Make sure you check the label to be sure what you're getting.
Acrylic knits are to be avoided. They will keep you warm to a degree but no-where near as much as the equivalent fleece or wool. It is good for chunky fashionable garments, hats and sweaters that can be worn without causing overheating. Woven acrylic on the other hand is good for hard wearing shirts.
Cotton is also generally to be avoided. It is hard wearing and some types can be good for outer layers in the dry (avoid it like the plague if there is a chance of getting wet) but is inefficient as insulation and not good at wicking moisture which it grabs hold of eagerly and is reluctant to let go again.
---
Upper body - thick shirts, sweaters and jackets long enough at the back to avoid exposed skin or lower layers during bending.

MAGCOMSEN Men 's Windproof Warm Military Tactical Fleece Jacket with Hood

Columbia Front-Zip Fleece

best seller

ECWCS gen III level 3
Cold Weather Fleece Jacket

Fleeces - Men's Women's Vest / gilet - Men's Women's Sweaters and hoodies - Men's
---
Lower body - Thick warm pants of heavyweight synthetic material such as polyester/cotton. Pants should be somewhat loose fitting and not tight as this allows a layer of air and doesn't restrict the circulation.. Denim is about the worst possible choice.
Bibs and overalls are particularly good, they add extra core insulation and keep you covered while bending or stretching.

Fleece-lined pants
Cargo or jeans style, cotton outer for everyday use but with a fleece lining for warmth
Men's
Women's

Arctix Essential Bib Overall
Nylon outer, insulated
Men's
Women's

Arctix Insulated Snow Pants
Nylon outer, insulated
Men's
Women's
More winter pants - Men's Women's, and Insulated bib overalls - Men's Women's
The Outer / Shell Layer
- direct protection from the weather, windproof and may be waterproof depending on the temperature use. Simply a "shell" with no additional insulation or with insulation built in.

---
The outer shell layer can be insulated or not. It may seem unusual at first but the most versatile and effective cold weather shells are fully windproof, but not always heavily insulated. In this way they can be used as the outer layer over any combination of insulating layers underneath. It takes a little more time to get dressed this way, but it works at least as well as a large heavily insulated parka, though more cheaply and for a more versatile and therefore more often used collection of clothing.
---

Extreme Cold Weather Insulated Parka - gen III level 7
urban gray, stowable hood, sized to fit over lower layers

Extreme Cold Weather Insulated pants - gen III level 7
urban gray, sized to fit over lower layers

N-3B Parka
Cold weather basic, very warm parka
---

Military shell parkas, insulated or uninsulated
Excellent quality and versatility at a low price

Boulder Creek Big & Tall Expedition Parkas
Fleece lined, windproof shell
---
There are three categories:

It is important for the outer layer to have draw-cords and cuffs that can close over the tops of gloves to prevent warm air being pumped out with movement, a hood is essential (unless wearing a helmet).


Extremities - head, hands and feet, ankles, wrists and neck.
Feet - Insulation from the cold ground is as important as insulation from the cold air
Thermal insoles - The only place you touch the ground is through the soles of your feet and you can lose a load of heat this way. Easily added to almost any footwear at little cost, no substitute for proper winter footwear though.
Boots

:

Thick insulated soles are as important as insulated uppers as a lot of heat can be lost through the only part of our body with which we contact the frigid ground. Boots for the coldest weather have soft insulated uppers, and they are going to be big, it's the insulation that makes them that way.
Boots for extreme cold conditions: Men's Women's
---
---
---
Socks: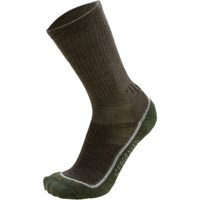 One or two pairs of thick insulating socks or a thin liner pair and thicker over socks make a huge difference. Wool gives the best insulation, at least 70% wool is ideal, a small amount of synthetic material such as nylon or polyester helps durability, and some elastic material gives a snug fit and prevents them from sagging. Cheaper mainly synthetic socks aren't so good, they cause sweating and damp retention which as well as being unpleasant will make your feet cold. Too many pairs of socks makes your boots tight and squashes out much of the insulating air.


Thermal socks: Men and Women's
---
---
Hands
Hands can get very cold very quickly, they have a high surface area to volume ratio and so lose heat readily. Hands don't need to get very cold before manual dexterity suffers which could impact whatever it is you're doing. Sensor gloves allow you use your touchscreen device without taking the gloves off.
Glove liners, lightweight gloves | Winter work gloves
Sensor gloves - touch screen
For the same materials used as gloves, mittens will keep your hands warmer. Layering should be used here too in the coldest conditions, a light inner glove that allows for handling ability and then a thicker pair of mitts over the top. These can be insulated themselves or just be a weatherproof outer layer. The outer pair should be wind-proof while water-resistance is always useful.
Work mittens

The issue with gloves when it gets colder is that the dexterity reduces as the insulation and thickness increases, despite what you may see claimed, there is no magical thin, ultra warm glove that is going to allow you full use of your hands down to minus stupidly cold, it's all a compromise.
---
---
---
Hand warmers - Disposable, chemical warmers, these can help your comfort levels significantly, one for each hand works better than passing a single one back and forth..
Rechargeable electronic hand warmers - Power packs that can be used for heat or battery back up for your phone
---
Head
The head is the largest exposed naturally uninsulated part of the body. Putting on a hat to insulate the head is an easy and obvious big step you can make to hang on to heat. The effect isn't as immediate as putting on a parka and it doesn't always seem to be an obvious thing to do (unless you have cold ears!). Hats are also easy to take off again for flexibility of insulation, and allow greater freedom of movement and better vision than a hood. In less extreme conditions an insulated hat alone is enough, as the temperature drops and wind gets stronger, use the hood on your shell garment too.
Style and material. I prefer synthetic rather than wool for comfort and fit (avoid acrylic, cheap but not so effective). A beanie hat is a very effective shape and can pulled over the ears or should have ear flaps that can fold up. Clean, plain shapes allow a hood to be pulled over and fit closely, bobbles make an air space that reduces insulation. A personal favourite is a close fitting "windstopper" hat with ear flaps, small enough to easily fit in a pocket with a warmth far beyond its size and weight.
Balaclavas are a great choice, they can roll up as a hat or be pulled down to cover the face and neck.
Hats - Beanies | Hard hat liners | Balaclavas | Windstoppers
---
The Neck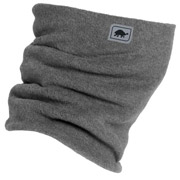 The neck is an important area as warm air can be pumped out and lost to be replaced with cold air coming in. A scarf or "neck gaiter" solves this problem.
A scarf must be worn correctly to get the best use from it. Wool or a performance synthetic material are needed (cotton is useless and acrylic not good enough), the scarf should be worn under the shell garment and over the insulating layer immediately beneath that so that it restricts air movement as well as providing insulation and preventing snow ingress. A neck gaiter is a neater version of a scarf, a tube of stretchy insulating material than can be worn like a scarf or pulled up over the lower part of the face like the bottom part of a balaclava.
Neck gaiters
---