Antarctic Books
History - Recommended Titles
---
Through Beau Riffenburgh's narrative and the perfectly composed images of Herbert Ponting, With Scott to the Pole tells the story of the triumph and tragedy of Scott's 1910-13 expedition to the South Pole. Along with four companions, the explorer reached the pole only to be bitterly disappointed to discover the Norwegian flag already planted there by Roald Amundsen. Scott and his men could no longer hope to secure the first attainment of the South Pole for the British Empire, and their despondency shows in the photographs that survived them. Yet with grit and courage they started on the 800 mile return from the pole. A harrowing time ensued, By the time they were within 11 miles of a depot which would have saved them they had already lost two members of the expedition, and it was at this point that Scott and his remaining two companions were overcome by a blizzard and died. With Scott to the Pole is a fitting tribute not only to Ponting's spell-binding aesthetic vision, but also to a magnificent story of adventure and heroism.
---
Buy
The nice man cometh Lucy Moore
This is widely regarded as being the best Antarctic book ever written, and by some - the best travel book ever written. Never out of print since first published in 1922.
'Cherry' was the 2nd youngest and one of the bravest on Captain Scott's famously fatal expedition of 1912 to be the first to reach the South Pole. A classic account of a journey that has passed into Antarctic folklore.
This book is about courage, misery, starvation, heroism, exploration, discovery, and friendship. It vividly illustrates the demands of science and the rigours of travel. It is a record of the coldest darkest days that can be found on our planet. It is written beautifully but not obviously, with a subtle artistry.
The "Worst journey" referred to is not as often thought, that of Scott and his party to the south pole, but of a five week journey undertaken by Cherry-Garrard and a small band in the depths of the Antarctic night and winter to obtain eggs of the emperor penguin. At one point their tent blew away in a gale, unable to take any action in the ferocious storm, they were forced to remain in their sleeping bags for a further 48 hours as they became buried by drifting snow, before it abated for long enough for them to emerge.
---
Buy
See the pictures online at the Royal Geographical Society
I am so pleased that this book has been published. Frank Hurley, a young Australian photographer was crucial to the 1914-1917 expedition, not least in that it was the promised sale of the photographs after the voyage that provided for a substantial amount of the funding. The book is an oversized collection featuring all of the official photographer's pictures (including several previously unpublished color plates). The stark black and white images of the ship and its men caught in an ocean of ice are both beautiful and chilling.
Photography buffs, historians and adventure lovers alike will relish the images from one who was surely one of history's greatest documentary photographers. There are almost 500 photos in black and white and colour.
If you are a fan of Antarctic exploration then this wonderful book should be in your library
---
Ernest Shackleton never lost a single man in Antarctica. This is the story that begin with the epic intent of being the first to cross the Antarctic continent. Shackleton and his men never even came close to the pole, but theirs was one of the greatest adventures of all time.
His ship, Endurance, was trapped and then crushed by sea ice, leaving Shackleton and 27 men adrift on ice floes. The story of how Shackleton saved all of them and reached South Georgia Island is one of the epics in the history of survival. A story so incredible that if it were written as fiction it would probably be regarded as too fantastic to be taken seriously.
---
An excellent and unique historical over-view of Antarctic voyages, from the very first by Captain Cook in 1772 to the end of the heroic age when Shackleton died aboard the Quest at South Georgia in 1922. There are considerable quotes from diaries, ships' logs and published accounts of journeys so desperate that explorers ended up eating the rawhide lashings of their sleds, as well as their sled dogs.
This book gives a very readable synopsis of each of the major journeys, why they happened, what they were trying to achieve and what conditions were like. You can therefore choose which expedition you've have most liked to been on, and which you would have least liked - though these are often the most fascinating to read about. Highly recommended - Paul, webmaster.
---
This is a true story of the bonds that form between man and dog, whilst dog sledding in remote harsh landscape of the Antarctica. These husky dogs are far more than just beasts of burden, they were these men's companions that provided them with a means to travel being able to survive wilderness conditions and work in the most demanding and beautiful places on earth.
This book has colorful illustrations on nearly every page showing magnificent landscapes and depicting the courage and devotion of these dogs. Nowadays huskies as a means of transport have been cruelly disregarded and replaced by cold efficient gas-driven machines. The resulting loss of those stoic moments where man could sit and gaze into the wilderness whilst befriended by his loyal and resilient but quiet friend, the husky dog will never return.
'A unique and inspirational account of a truly remarkable achievement. A book full of heart felt emotion, vividly describing life in Antarctica with the dogs. Compelling reading'. The photographs are evocative and the text both amusing and unusual. If only I could have been among those to have shared in this grand adventure.'
Of Dogs and Men is an attempt to record a lost way of life - a disappeared world, for us to discover. It also attempts to explain the deep affection that these men had for their dogs, men who were tough yet wildly sentimental about their close husky friends.
---
Mawson's Will : The Greatest Polar Survival Story Ever Written


Lennard Bickel


Australian Sir Douglas Mawson chose not to go with Robert Scott to the South Pole in 1911, but instead set out on a less prestigious expedition to chart Antarctica's coastline. Mawson set out in a party of three, facing mountains, crevasse-filled glaciers, and 60-mile-per-hour winds. Six weeks and 320 miles out, one man fell into a crevasse, along with the tent, most equipment, and all but a week's supply of food. After losing his other companion and the dogs, Mawson fought his way back home alone through horrific wind, snow, and cold to leave his own mark in history. This resonates far deeper than just an explorer's tale.
---
Home of the Blizzard


Douglas Mawson, Ranulph Fiennes

Rejecting a position on Scott's ill-fated South Pole team, Australian explorer Douglas Mawson sets off with his own plans in December 1911 to explore the unknown Antarctic coast south of Australia. The Home of the Blizzard is Mawson's thrilling account of the Australasian Antarctic Expedition, which set its base camp in a region of terrific yearlong windstorms and blizzards. Originally published as a two-volume work in 1915, then abridged and reprinted in 1930, this edition replicates the best selling 1930 volume, which has long been out of print.
Unlike most Antarctic expeditions of his day, Mawson's trek had no pole-hunting ambitions, focusing instead on scientific inquiry and mapping, which the international media largely ignored. And indeed, when Mawson left the Antarctic continent, his expedition had amassed more maps of Antarctica than any other to date. But Mawson's journey was no more void of adventure than those exploits of his contemporaries. Mawson's vivid description of the storms, hardships, endurance, tragedy, and survival make this adventure story well worth resurrecting. When his two companions perish, Mawson ventures on an unthinkable solo sledge journey back to his coastal base, a feat nothing short of pure courage.
---
Great White South


Herbert Ponting,
Roland Huntford (Introduction)
A facsimile edition of Ponting's classic account of Scott's British Antarctic Expedition of 1910-1913. It includes the 175 expedition photographs featured in the original 1921 text. With a new introduction by Roland Huntford. The dedication reads " To the Undying Memory of my Late Chief and Comrades".
---
South:
Ernest Shackleton
Shackleton's own words
The original account of Shackleton's journey as documented by himself, illustrated with classic black and white photographs that I've seen on a regular basis since being interested in Antarctica some 20 years ago and still consider to be among the best pictures of Antarctica ever taken.
---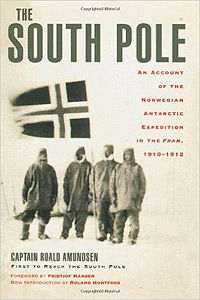 The South Pole
Roald E. Amundsen, Roland Huntford
Roald Amundsen was the leader of the Norwegian expedition that was the first to reach the South Pole, on December 14, 1911, just one month ahead of Scott's famous expedition. This account was originally published as two volumes in 1913 and is here reproduced in a single package for the first time. Amundsen and his team endured frostbite, snow blindness, and other horrors, all of which are well chronicled here. The text is supported by many black and white photographs, maps, and charts. This also includes a new introduction by Amundsen's biographer Roland Huntford.
Amundsen set out to reach the South Pole and his focus led to a well earned success. There are few tales in history and few great men who can truly say they accomplished exactly what they set out to do in the manner in which they planned. Those who can are Masters of their field. Amundsen is such a man.
---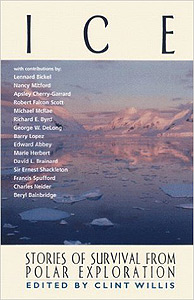 Ice, Stories of Survival from Polar Exploration
Clint Willis
(Editor)
A greatest hits of polar literature, featuring satisfyingly long excerpts from accounts of suffering and courage by the likes of Apsley Cherry-Garrard, Robert Scott, Ernest Shackleton, Douglas Mawson, Richard Byrd and other noted polar explorers. It also includes modern writing by Edward Abbey, Barry Lopez, Beryl Bainbridge and others. With a few photographs.
---
The Coldest March
Susan Solomon
Sir Ranulph Fiennes: "This is a very well balanced and meticulously researched book The Coldest March goes a long way to putting polar history right..."
Susan Solomon is an American senior scientist and "ozone hole" expert. This is a book of great depth, where she surveys the evidence about Captain Scott and his tragic attempt to be the first to reach the South pole. Against the recent descriptions of Scott as an unprepared and even incompetent adventurer, this explores and presents evidence on a more human scale and perspective and balances the rather one sided "conclusions" of other writers.
An essential read for anyone interested in Scott or the Antarctic.
---
Shackleton's Boat Journey
F.A. Worsley
On 1 August 1914, on the eve of World War I, Sir Ernest Shackleton and his hand-picked crew embarked in HMS Endurance from London's West India Dock, for an expedition to the Antarctic. It was to turn into one of the most breathtaking survival stories of all time. Even as they coasted down the channel, Shackleton wired back to London to offer his ship to the war effort. The reply came from the First Lord of the Admiralty, one Winston Churchill: "Proceed". And proceed they did. When the Endurance was trapped and finally crushed to splinters by pack ice in late 1915, they drifted on an ice floe for five months, before getting to open sea and launching three tiny boats as far as the inhospitable, storm-lashed Elephant Island. They drank seal oil and ate baby albatross (delicious, apparently.) From there Shackleton himself and seven others- -the author among them--went on, in a 22-foot open boat, for an unbelievable 800 miles, through the Antarctic seas in winter, to South Georgia and rescue. It is an extraordinary story of courage and even good-humour among men who must have felt certain, secretly, that they were going to die. Worsley's account, first published in 1940, captures that bulldog spirit exactly: uncomplaining, tough, competent, modest and deeply loyal. It's gripping, and strangely moving.
---
Captain Scott


Ranulph Fiennes


Ranulph Fiennes is often described as the "Greatest Living Explorer". Having experienced the deprivations, the stress and the sheer physical pain that Scott endured, Sir Ranulph Fiennes is well qualified to write the biography of Captain Scott. He tells the story of Scott's life and discusses how his achievements have been viewed after his death.
A book that reassesses Scott in the light of evidence that was revealed after the Huntford book "The Last Place on Earth" in particular, that painted Scott as something of an incompetent egotistical character against Amundsen's "Viking Hero". Fiennes is the man to cut through the sometimes over dramatic prose of writers who have no idea what it is really like to put themselves in extreme positions and achieve their goals.
Who do you ask about what the moon's surface is like? Neil Armstrong or someone with a comfy chair and powerful telescope?
---
Scott's Last Journey


Peter King - Beryl Bainbridge (Introduction) - Herbert Ponting (Photographer)


A handsome hard cover edition of Scott's journal, much enhanced by a selection of 150 photographs by Herbert Ponting and annotations by Peter King.
---
Leading at The Edge: Leadership Lessons from the Extraordinary Saga of Shackleton's Antarctic Expedition
Dennis N.T. Perkins (Author) Margaret P. Holtman (Contributor), Jillian B. Murphy (Contributor)

Part adventure story, part leadership guide, this intriguing book examines Shackleton's legendary Antarctic expedition through the lens of business--to reveal a set of powerful strategies for corporate leaders.
---
Shackleton's Forgotten Men
Lennard Bickel
In Shackleton's Forgotten Men Lennard Bickel honours the memory of a group of men who carried out some of the most heroic and devoted journeys ever made in Antarctica. This is the stirring account of the little-known, tragic expedition launched by Ernest Shackleton in 1915 to provide support for his own Antarctic expedition that would follow. These journeys were made to set up depots across the Great Ice Shelf to supply the coming Shackleton expedition, a crossing of the Antarctic continent from the Weddell Sea to the Ross Sea.
But the group lost their ship and supplies when a fierce polar gale ripped the ship from its moorings, and had to haul sledges almost 2000 miles across the hostile interior of Antarctica. Despite enduring unimaginable deprivation, from bad weather to disease and madness, this heroic band accomplished their mission, laying the way for Shackleton and his men. But Shackleton and his men never came and the drama of their own disastrous journey has until now overshadowed the extraordinary story of those brave men who came before them. Lennard Bickel tells the story of these forgotten heroes in a gripping account, drawing largely from interviews with one team member, Dick Richards, and from the diary of another.
---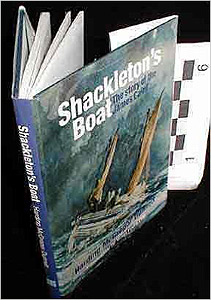 Shackleton's Boat : The Story of the James Caird
by Harding McGregor Dunnett (Author), Sir Vivian Fuchs FRS (Author)
Buy
A fully illustrated biography of the boat that took Shackleton and his small rescue party from Elephant Island to South Georgia on a mission to get help for the rest of the team left stranded by the sinking of their ship the Endurance in the Antarctic pack ice.
Written by the founder of the James Caird Society. The James Caird is preserved intact and displayed in Dulwich college London. The James Caird Society arrange dinners close to the boat on a regular basis.
---
Polar Journeys, The Role of Food and Nutrition in Early Exploration
Robert Feeney
From the golden days to modern high-tech polar expeditions, food -- or the lack of it -- plays a critical role. This is the book for anyone who has ever wondered about hoosh, pemmican and all the rest. The author, a biochemist, looks at the nutrition and diet of explorers, linking developments in food preservation techniques to the history of polar exploration. He includes a survey of the fateful journeys of Franklin, Greely, deLong, Robert Cook, Frederick Peary, Mawson, Amundsen, Shackleton and Scott. With menus, ample quotes from early journals, and extensive notes.