---
Historical Huts from the Antarctic Heroic Age
1897 - 1922 - huts still standing
The first overwintering hut in Antarctica was erected at Cape Adare in 1899 by the British Antarctic Expedition led by Carsten Borchgrevink. It was a large wooden structure supplied as a kit for speed and ease of erection, it was the first time a building had been erected on Antarctica, perhaps surprisingly it still stands and so is the only remaining example of a surviving first building on any continent.
It set the pattern for Antarctic buildings for the next fifty years or so of wooden huts designed to be erected quickly during a short summer season that will at some time be interrupted by adverse weather conditions.
While the buildings were only needed for 2-3 years at most, they had to be very strong and sturdily placed to withstand the relentless onslaught of the elements. Along with cold temperatures in Antarctica resulting in a slow rate of decomposition of the wood the huts were built from, this means that there are a number of huts that are still in existence today in pretty good condition for their age.
Some are real "time capsules" full of equipment and the belongings of the men who occupied the huts on their expeditions. They are still slowly decaying however, and there are now dedicated restoration activities to remove and preserve some the artifacts found in the huts before they are lost forever, they may be returned to the huts to be seen in situ or taken to museums in other countries if they are too delicate to last much longer.
Some of the huts over the years had some significant ice and snow build up inside them due to ill fitting or broken doors and windows which has buried the contents leading to surprise finds such as five cases of specially blended whisky taken by Shackleton in 1907 that were found in 2007 (more) and in 2017 a lost painting by Edward Wilson has been rediscovered in another hut here.
Visiting the Huts
Surviving historic Antarctic huts from the heroic age can be visited in the Ross Sea region, on the Antarctic Peninsula, the South Orkney Islands or at Commonwealth Bay, East Antarctica. All of the surviving huts are in relatively difficult to access and less frequently visited regions of Antarctica.
Ross Sea Region - The best area to see the huts with surviving examples in good condition from Scott's two Antarctic expeditions, Shackleton's Nimrod expedition and the first ever Antarctic building which still survives at Cape Adare. A cruise to the Ross Sea region will allow access to all of these though landings and visits to each are not guaranteed as this depends on ice conditions at the time of the visit. Trips to the Ross Sea region involve a sea voyage of about a week in each direction and an overall voyage of about 30 days, there are no commercial flights.
Cape Evans Hut - Scott - Terra Nova, 1910-13, also used by Ross Sea Party of Trans-Antarctic Expedition 1914-17


Hut Point - Scott - Discovery, 1901-04, also used by Ross Sea Party of Trans-Antarctic Expedition 1914-17


Cape Royds Hut - Shackleton - Nimrod, 1907-09


Cape Adare - Borchgrevink - Southern Cross - 1898-1900


Cape Adare - Campbell - Terra Nova - 1910-13, Scott's northern party, (remains)

Commonwealth Bay - Also in Eastern Antarctica, a visit to Mawson's Hut built for the 1911-14 Australian Antarctic Expedition, will be part of a longer trip of 25-30 days.
Antarctic Peninsula - Fewer huts are found here, most of which are ruins
Laurie Island - Bruce - Scotia, 1902-04. Part of the South Orkney Islands which are little visited by tour ships due to frequent and extensive ice.


Paulet Island, Hope Bay, Snow Hill Island - Antarctic, 1901-03. Three huts used by different groups of the same expedition, two are ruins, the region where they are found is frequently avoided by all but ice strengthened ships or ice breakers, so while there are cruises that visit, they are not as common as to the more predictably ice free western side of the peninsula. If you do travel to this area, you will probably encounter more sea ice and see Emperor penguins too.
Huts of Eastern Antarctica
Cape Adare
Borchgrevink - Southern Cross - 1898-1900
The first buildings in Antarctica, two huts were erected in 1899, one of them, 21x18 feet, housed ten men for the winter, the other was used for storage, a covered less substantial connection was also in place between the huts which is no longer present, the storage hut is now missing its roof.
Cape Adare Hut, circa 1899
Borchgrevink's Huts at Cape Adare in 2005
photo copyright Mike Usher
Borchgrevink Hut Interior, 2005
photo copyright Mike Usher
Cape Evans Hut, Ross Island
Scott - Terra Nova, 1910-13, also used by the Ross Sea Party of the Imperial Trans-Antarctic Expedition 1914-17
Scott had intended to make his base for his 1910-13 expedition at Cape Crozier, over 100 miles away as the skua flies, but due to heavy sea ice in the region sailed around to a point he named Cape Evans after his second in command. 25 men overwintered here in 1911, this became 20 in 1912 when Scott's party didn't return from the Pole.
Cape Evans hut circa 1912
Cape Evans hut circa 2009
Cape Evans hut interior, circa 2009
---
Hut Point, Ross Island
Scott - Discovery, 1901-04, also used by the Ross Sea Party of the Imperial Trans-Antarctic Expedition 1914-17.
A large hut at 36 feet by 36 feet, but as home to up to 48 men, one of the most crowded, there were 9 fewer men in the second winter after some returned to New Zealand on a relief ship. Now backed by McMurdo Station (USA) the largest station in Antarctica.
Hut Point, Discovery Hut, McMurdo Station behind, 2009
Nacreous Clouds over Discovery Hut, 2009
Inside the Discovery Hut
Cape Royds Hut, Ross Island
Shackleton - Nimrod, 1907-09.
Shackleton's first expedition to Antarctica, the hut is about 33x19 feet and housed 15 men over the winter. While later expeditions could have used the huts from earlier they were considered to belong to that expedition and couldn't be guaranteed to be in good, usable condition, so each expedition hut was built anew.
Cape Royds Hut - 1908, the first car in Antarctica can be seen in the garage behind the hut, the door to the stables is open
Cape Royds Hut - 2005
Inside Shackleton's Cape Royds Hut
---
Commonwealth Bay Hut, Cape Denison
Mawson - Aurora, 1911-14.
Built by the Australian Antarctic Expedition led by Douglas Mawson, there are two connected huts of 24x24 feet and 21x18 feet, the smaller one was a workshop. In the winter large wind tails of snow form around the hut, burying it with only the pitched roof visible, snow tunnels provided access to the outside as did a skylight in the roof, much easier than trying to keep the exterior doors free of snow. There were 18 men overwintering.
Mawsons Hut, Cape Denison, 2006, the smaller hut has had the roof reclad with new wood to preserve it
---
Huts of the Antarctic Peninsula
Nordenskjold - Antarctic (ship)
Swedish Antarctic Expedition 1901-03.
Snow Hill Island - 5 men, 1 planned winter, 1 forced winter
Hope Bay - 3 men, 1 forced winter
Paulet Island - 20 men, 1 forced winter

The first winter went as planned at Snow Hill Island where a prefabricated wooden hut had been erected, this still stands today with some original contents. The huts at Hope Bay and Paulet Island however were emergency shelters built of local stone with no cement and roofed with cloth as was available, today they are both ruins.
Snow Hill Island, Nordenskjold House
Stone hut at Hope Bay - 1903
Paulet Island hut
Omond House, Laurie Island, South Orkney Islands
Bruce - Scotia, 1902-04.
Not wooden, but unusually built out of local stone for the walls and with a roof made of sails, a large interior (relatively) in which six men overwintered. Now a roofless ruin.
Omond House, Scotia Bay South Orkneys
Omond House - Laurie Island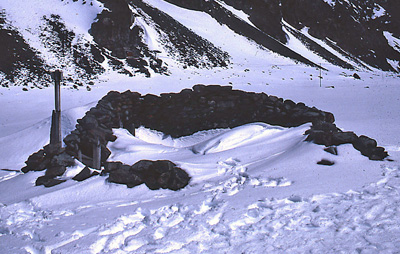 Omond House in 1998, animals such as fur seals contribute to the continued collapse of the uncemented natural stone walls
South Georgia / Falkland Islands / Antarctica - Sample Cruises - 2023 / 2024
Trip
Highlights
Prices USD*
17 - 23 days

Antarctica, South Georgia, and Falkland Islands

Trips to some of the most unique and abundant wildlife on earth, penguins, whales, seabirds and seals as well as magnificent scenery, ice and seascapes.
$11,556 - $48,191
15 or 16 days

Antarctica and South Georgia

$10,500 - $29,196
Air-Cruise, Fly the Drake - Sample Cruises - 2023 / 2024
Trip
Highlights
Prices USD*
6 - 15 days

Antarctic Peninsula, South Shetland Islands. Fly across the Drake Passage

Fly across the Drake Passage in 2 hours to join your ship, cruise the South Shetland Islands and western Antarctic Peninsula. Spectacular scenery, glaciers, icebergs, penguins, seals and whale sightings. Limited number of sail one way, fly the other trips.
$4,995 - $19,206
Antarctic Peninsula - Sample Cruises - 2023 - 2024
Trip
Highlights
Prices USD*
8-22 days

Classic Antarctic Peninsula Expedition
South Shetland Islands, Antarctic Peninsula, Penguin Rookeries, Lemaire Channel.
$4,860 -
$43,995
13 days

Antarctica Peninsula Basecamp

Antarctic Peninsula trip with several inclusive activities on offer such as hiking, snowshoeing, kayaking, mountaineering, and camping out under the Southern Polar skies.
$9,100 -
$11,750
10-16 days

Crossing the Circle

Sail down the Antarctic Peninsula and cross the Antarctic Circle, South Shetland Islands, Wildlife, Scenery.
$7,700 - $25,995
Notes
*
Prices
are based per person, the lowest price is usually for triple occupancy in a basic cabin, the highest for double occupancy in the best available suite.
Options
may be at additional cost and are usually booked when the cruise is booked - it may be too late once the cruise has started.
Contact me about my trip to Antarctica!
Please complete the form
and an Antarctic Expert will contact you
Departures from late October to late March
Our partner company, Antarctica Travels, passionately help people to reach their ultimate destination.
All enquiries will be answered from our office in Patagonia, Argentina.
Dozens of trips - unique combinations of ship + itinerary
Choice of ships - 67 to 199 passenger capacity
$5,500 to $43,995
6 to 23 days
Please note - we cannot help directly to find employment in Antarctica, please do not use this form to request any other information than for Antarctic tourist trips
---