An archipelago of islands in the Arctic Ocean and inside the Arctic Circle about half way between Norway and the North Pole, the largest island is Spitsbergen. Lots of scenery, wildlife and history.
Svalbard / Spitsbergen Travel Guide, Arctic Circle Destination
High Arctic Cruise with Cool Antarctica and Antarctica Travels, wildlife, glaciers, hiking, polar bears!
2023: 57 cruise departures, May-Aug, 8-24 days
Information: Arctic travel basics | more travel details | request contact | clothing | boots
Regions: Canada | Greenland | Iceland | Svalbard and Spitsbergen | Antarctica
---
The largest island that contains four settlements is called Spitsbergen, from Dutch meaning "pointed mountains", until 1925 the whole island group was called Spitsbergen, the name changed when Norway took over governance. Svalbard means "cold coasts".
Svalbard, circled, part of Norway (red), it is in the High Arctic, though the west coast in particular is kept ice free in the summer by the last remnants of the Gulf Stream.
Arrival at Svalbard is usually to Longyearbyen airport on Spitsbergen, the largest island, from Oslo or Helsinki
---
---
Svalbard is an Arctic land and sea scape that is the way you imagined the Far North would be like. Wherever you are on the archipelago is going to be an impressive wilderness experience. Whether you are looking through the panoramic window on the viewing deck of your ship, from a small boat at sea-level or standing on the tundra drinking in the dramatic snow-girdled mountains, vast glaciers and icebergs of one of Europe's last great wilderness areas.
Svalbard is a destination in itself or can be used as a start or end point for a wider Arctic visit. It is the land of the midnight sun (there are 4 months of constant daylight in the summer), the land of the polar bear, the Aurora Borealis, endless green tundra, walruses, reindeer, thousands and thousands of birds and a variety of historic sites dating back to the early 1600's.

Walruses off Svalbard
There is one main town of Longyearbyen with a number of places to stay, cafes and restaurants, the Russian mining settlement at Barentsburg also has a hotel and places to eat, Ny Alesund is a research "town" with museum exhibits and gift shop but no other tourist facilities, Pyramiden is an abandoned Russian mining settlement. The main attraction of Svalbard is its largely pristine wilderness, wide open spaces and wildlife with no indication of human interference, the Norwegian government does a very good job in protecting this and also ensuring a positive visitor experience.
In the summer months, Svalbard becomes the land of polar bears, they are concentrated onto the land by contracting sea ice and numbers build up to around 3,500 (against a human population of about 2,650) making it one of the best places to see them in the whole Arctic. The bears are part of a population that inhabits the region east of Svalbard to Franz Josef Land, Novaya Zemlya and the Northern Barents region of Russia.
Bears in summer are often hungry as they can't hunt for seals once the sea-ice has gone, so they can be dangerous on land and can be encountered almost anywhere on the islands. A cruise is the best and safest way to see polar bears on Svalbard, they are often seen along the shore line in the summer.
Svalbard can be reached year round by flights from Oslo via Tromso in Norway, in the summer months there are flights direct from Oslo. Visas are not needed for the nationals of the EU/EEA and many other countries to enter Norway as a visitor for up to 90 days, use this to check.
---
Places to visit in Svalbard
Monacobreen glacier
A picturesque glacier that can be quite active with lots of icebergs in front, if you're lucky you'll see ice falling off the front while you are there.

Part of the Monacobreen Glacier
---
Ny Alesund
Another Svalbard oddity, this research town began as a mining camp in 1917, it was where Amundsen and Nobile left from to reach the North Pole by airship in 1926, the airship mooring mast they used is still there. Mining ended in 1962 and research began in 1967, after 1992 non-Norwegian institutions were invited to build permanent stations there. There are currently 15 permanent stations with a total of 30-35 people overwintering and around 120 in the summer months. Each country's research station is separate and generally self contained, though there is a common area where they all eat together.
You can wander freely around the town (though not enter buildings) there is a museum and gift shop.

The Post Office at Ny Alesund
---
Smeerenburg
A historic site on Amsterdam Island, a small island in the extreme north west of Svalbard founded by Dutch whalers who first came here in 1614 and stayed until 1655. There are the remains of a number of blubber ovens from this time which were used to render down the fat from whales before storage in barrels for transport back to the Netherlands, "Smeerenburg" in Dutch means literally "blubber town". There is a monument to the people who lost their lives here in the 1600's erected in 1906 when a Dutch ship the Friesland gathered exposed bones pushed to the surface by centuries of frost heave and derelict grave markers etc. together.

Remains of blubber ovens at Smeerenburg, a bleak and isolated place
---
Alkefjellet
A series of cliffs rising up sheer from the sea to over 100m like some kind of medieval fortress, the home of tens of thousands of Brunnich's guillemots, Kittiwakes and Glaucous gulls that nest on the cliffs. Being able to approach them from the sea means you get up close and will often be rewarded by the birds flying and landing close to your boat.

The sea cliffs of Alkefjellet
---
Barentsburg
A Russian mining town about 55km (34 miles) from Longyearbyen. There are no roads in or out, boats when ice-free or snowmobiles in winter are used to reach Barentsburg. It has a population of 455 (in 2020) half of what there used to be at its peak but more than the minimum of a few years ago. It is an unusual place to visit, part ghost town, part live town. There are Soviet era reminders around, some big old buildings seem to have been abandoned intact and some are noticeably sagging or subsiding into the ground. Other nearby buildings are modern and clearly used. An interesting place to visit, there is a Pomor Museum too.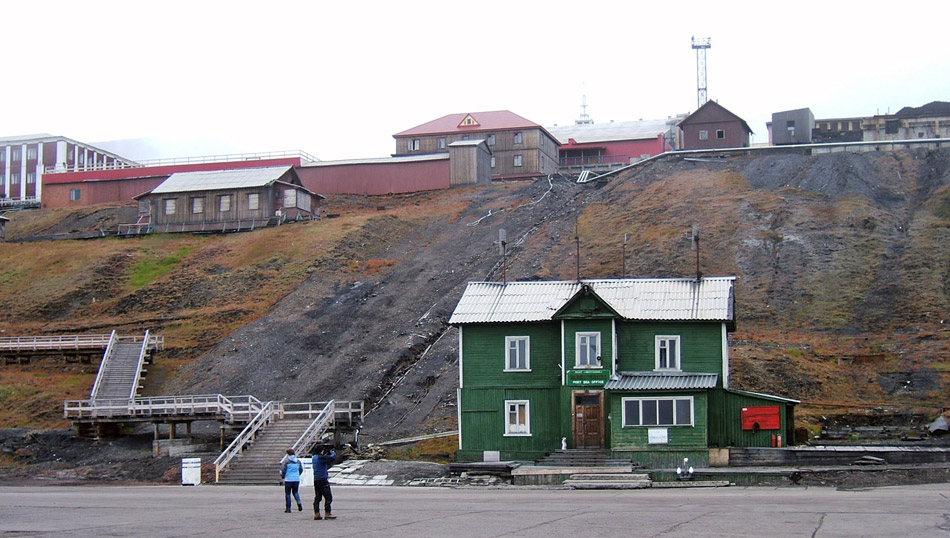 Barentsburg from the dock
---
Barentsoya
An island on the east coast of Svalbard. There is an extensive area at Sundnesset covered with whale "sub-fossils" these are whale bones that were deposited here on the sea-bed from 50,000 to a few thousand years ago, the sea-bed then tilted and rose exposing the bones on the land. They are sub fossils as they are still made of bone rather than being mineralized as true fossils.

Whale sub-fossils at Barentsoya
---
Bellsund
An inlet or sound on the west coast of Spitsbergen to the south, the next inlet down from the one that has Longyearbyen and Barentsburg. There is a history of whaling here from the 1600's, though the most obvious remains are of rowing boats and piles of bones from beluga whales that date from the 1930's when there was a fishery in the summer months.

Bellsund, beluga whaling boats dating from the 1930's
---
Camp Mansfield
An mining camp abandoned in the early years of the 20th century. The machinery and huts are there as they were left over a hundred years ago, disintegrating very slowly in the cold Arctic climate which preserves the relics well

Camp Mansfield looks like the people have just gone to do something and will be back soon
---
Hornsund
At the south end of Hornsund fjord is a large open bay called Gashamna which was the site of summer-only whale processing in the 1600's to 1700's. There are the remains of the blubber ovens here and in particular of some of the larger bones from the Bowhead and Right whales that were killed and brought ashore to be dealt with. The nutrients from the bones have leaked out and support small but verdant communities of plants (mainly mosses) which still form isolated ecosystems recycling nutrients 350 years later. A foot or so beyond the bones and the ground is bare and sterile.
Longyearbyen
This is the administrative centre of Svalbard and almost certainly where you will arrive whether by sea or air. It was founded as a coal mining town and mining is still one of the main economic activities, the large wooden frames of aerial tramways can be seen in and around town that used to carry coal from the mines to the port to be loaded on ships. If you have any time here at the start or end of your trip, make sure you go to the museum, it gives a lot of information about the history, geology and wildlife of Svalbard that you will see when you travel around and help you understand what you see better.
---
Sample cruise routes around or including Svalbard:
Actual routes available and durations vary somewhat from season to season, while the west coast is reliably ice-free in the summer months, the northern and eastern coasts may be partially impassible due to sea-ice, the route taken at the time will depend on this.

North Spitsbergen
Trips of 8 days explore the north and western coasts of Spitsbergen, fjords and glaciers. This side is reliably ice free in the summer months.
2023 departures:
1 June / 8 June / 15 June
16 June / 22 June / 29 June
8 or 9 days
---
Svalbard circumnavigation and Kvitoya
Longer trips of 12 - 14 days can circumnavigate Svalbard including some of the islands to the east. The itinerary is more dependent on the every variable presence of sea-ice.
2023 departures:
contact our travel partners who will help you find the best cruise for your requirements
Last Minute Offers - Summer 2023 - Arctic Cruises
Iceland
Northern Lights
From $8,501
was $13,495
Early September
14 days / 13 nights
Northwest Passage
From $10,527
was $17,995
30th July to 15th Aug
17 days / 16 nights
Svalbard
Explored
From $6,634
was $12,367
6th to 13th June
8 days / 7 nights
Svalbard and Norway
From $5,649
was $10,649
6th to 19th August
14 days / 13 nights
Svalbard / Spitsbergen - Sample Arctic Cruises - 2023

Trip
Departures 2023
Highlights
Ships and Passenger Capacity
Prices USD*
Days
Departure port
Introduction to Spitsbergen
Historic sites, sea-ice, glaciers, wild flowers, lush tundra, walrus, polar bears, reindeer, huge sea bird colonies
$7,990 -
$12,351
10
North Spitsbergen
$4,000 -
$6.050
8
Spitsbergen Explorer
$8,991 - $16,111
12

Greenland - Sample Arctic Cruises - 2023

Greenland, Disko Bay
Spectacular scenery of west Greenland, Inuit culture, historic sites. Fjords, mountains and ice, seabirds, look out for humpback and minke whales.
$4,590 -
$6,590
8
In the Wake of Eric the Red - Iceland to Greenland
The course of Norse settlers, Disko Bay, glaciers, icebergs, Inuit culture, Ilulissat Icefjord UNESCO site, Nuuk.
$5,790 - $9,490
11

Canada - Sample Arctic Cruises - 2023

Northwest Passage, Canada and Greenland
Historic Canadian and Greenlandic sites, abundant wildlife, rich Inuit culture and dramatic icy landscapes. Polar bears, whales and walrus, tundra hikes.
$14,279 -
$21,095
16 or 17
Complete Northwest Passage, Greenland, Canada and Alaska
West Greenland, Baffin Island, NW passage to Alaska. Ilulissat Icefjord, stunning geology and fjords, Beechey Island, Franklin's expedition, musk ox, polar bears, beluga , walrus and narwhal.
$35,195 - $39,395
29
Trip
Departure Dates
Highlights
Pax
Prices USD*
Days
Departure port

Iceland - Sample Arctic Cruises - 2023

Iceland in Depth
Snaefellsnes Peninsula National Park bird cliff, geologically active region, cross the Arctic Circle, Heimaey.
$6,176 - $7,308
9
In the wake of Celts and Vikings.
Ireland to Iceland via Scotland, Shetland and Faroe. Giant's Causeway, Skara Brae, watch for spouting and breaching whales.
$8, 101 - $9,678
13
Jewels of the Arctic.
Iceland, Greenland and Spitsbergen.
Wildlife, musk ox, arctic hare and whales, Scoresby Sund the world's largest national park and fjord system, Glaciers, mountains and polar bears.
$10,816 -
$17,495
14 or 15
Notes
*
Prices
are based per person, the lowest price is usually for triple occupancy in a basic cabin, the highest for double occupancy in the best available suite.
Options
may be at additional cost and are usually booked when the cruise is booked - it may be too late once the cruise has started.
---
Contact me about my trip to the Arctic!
Please complete the form
and an Arctic Travel Expert will contact you
Departures from late May to September
Our partner company, Antarctica Travels, passionately help people to reach their ultimate destination.
All enquiries will be answered from our office in Patagonia, Argentina.
Dozens of trips
Unique combinations of ship + itinerary
Variety of ships - 108 to 199 passenger capacity
$4,000 to $72,495
7 to 29 days
Please note - we cannot help directly to find employment, please do not use this form to request any other information than for tourist trips
---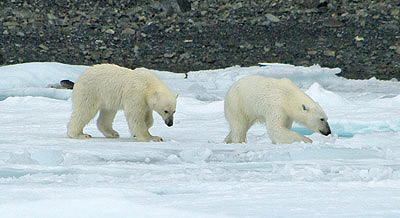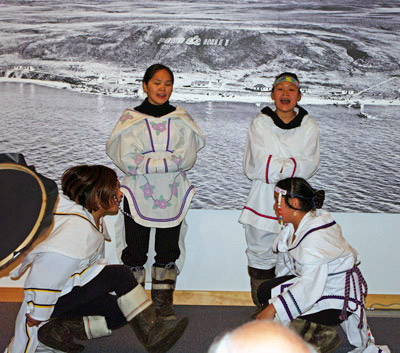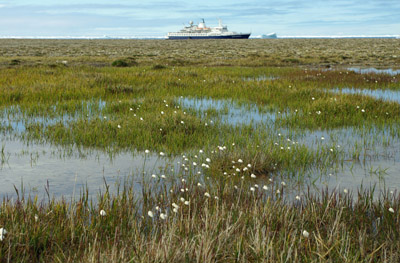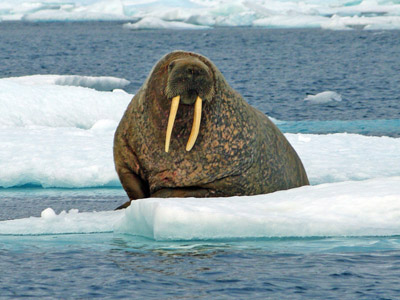 ---
Picture credits:
Map of the Arctic, Svalbard, Norway - TUBS - Creative Commons Attribution-Share Alike 3.0 Unported license | Map of Svalbard - Panden - Creative Commons Attribution-Share Alike 3.0 Unported license | Walrus in slider - Iuriii Volkov - Creative Commons Attribution-Share Alike 4.0 International license