A peninsula of land stretching out from the Antarctic continent towards South America, regarded by many visitors as being one of the most beautiful places on earth. It is included in many trips to Antarctica and is the easiest part of the mainland to reach.
The Antarctic Peninsula
Adventure Cruises with Cool Antarctica and Antarctica Travels
Information: Request Contact | Antarctic travel | more details | fly to Antarctica | FAQ's | clothing | boots
Regions: Antarctic Peninsula | South Georgia | South Shetland Islands | Falkland Islands | Arctic
---
The trip to the Peninsula by ship is the shortest distance between Antarctica and a departure port, (usually Ushuaia in Argentina) so it takes less time to get there and back than any other place on the continent.
In recent years there have been an ever increasing number of Fly-Cruise options available where the two days sail is cut to a two hours flight after which tourists can join their cruise ship that awaits them already in Antarctica. There is a good variety of scenery and wildlife to be seen within a relatively small area, a trip to the peninsula is also the most convenient way to visit Antarctica. Add to this the assortment of Islands to visit on the way there and back, and the fact that less time taken and distance travelled which means it's more affordable and it's no wonder that the Antarctic Peninsula is far and away the most popular destination for visitors to the southern continent.
Jagged mountain peaks clad in glaciers flowing sometimes down to the sea and sometimes spilling into mid air from an altitude of hundreds of feet or more. Huge open skies, enormous icebergs, enigmatic clouds, sudden weather changes and constant surprises from the hugely abundant wildlife you see will keep you in a constant state of awe.
---
---
The whole peninsula is a scenic wonderland, here are a few of the highlights:
Neumayer Channel and Port Lockroy
Port Lockroy is a beautiful natural harbour on Goudier Island on the Palmer archipelago, reached by passing through the towering grandiose cliffs of the Neumayer Channel.
Like many sites currently occupied in Antarctica, it was used by the whaling industry after its discovery in 1903.
A British base was established in 1944, British base "A", still standing, and it is now designated a "historic site" under the Antarctic Treaty. Since 1996, the base has been opened during the summer months by British Antarctic Survey under the guidance of the UK Antarctic Heritage Trust (UKAHT). It is possible to look around the renovated buildings and museum and get a flavour of what life used to be like in Antarctica on a base in the 1950's.
There is a gift shop and Post Office where cards and letters can be franked before being placed on the next available ship for transport to their destination via Britain. Port Lockroy is currently the most visited site in Antarctica with about 6,000 tourists each summer.
An environmental monitoring programme was established when the base began being manned in 1996 to to investigate potential visitor disturbance to the rookery of gentoo penguins nearby. It appears that so far, the large numbers of visitors have had no discernable impact on penguin breeding success, which is more closely linked to local environmental conditions, such as snow cover or the availability of krill.
There are also relics from the whaling days at Port Lockroy such as a massive fin whale skeleton. The fin whale is the second largest whale (after the blue whale). Each year the skeleton is reassembled after the weather blows it apart all winter. This particular whale has even been shown to have had arthritis because some of its bones show deterioration in the same way that arthritic human bones do. Port Lockroy briefing film
---
The Lemaire Channel
Possibly the most famous and visually beautiful place along the peninsula.
Enormous sheer cliffs drop straight into the sea. A narrow channel flanked by the Antarctic Peninsula on one side and Booth Island on the other. The mundane nickname of 'Kodak Gap' hints at the nature of the location (it brings out the cameras in force) without doing it justice.
The channel is actually a fully navigable passage between Booth Island and the Peninsula, but this is only apparent once you're well into it. Ice can sometimes block the path through causing ships to retreat and sail around Booth Island. At the southern end of the Lemaire Channel lie an archipelago of picturesque ice-covered islands. One or more of these is often the site of another landing from tourist ships.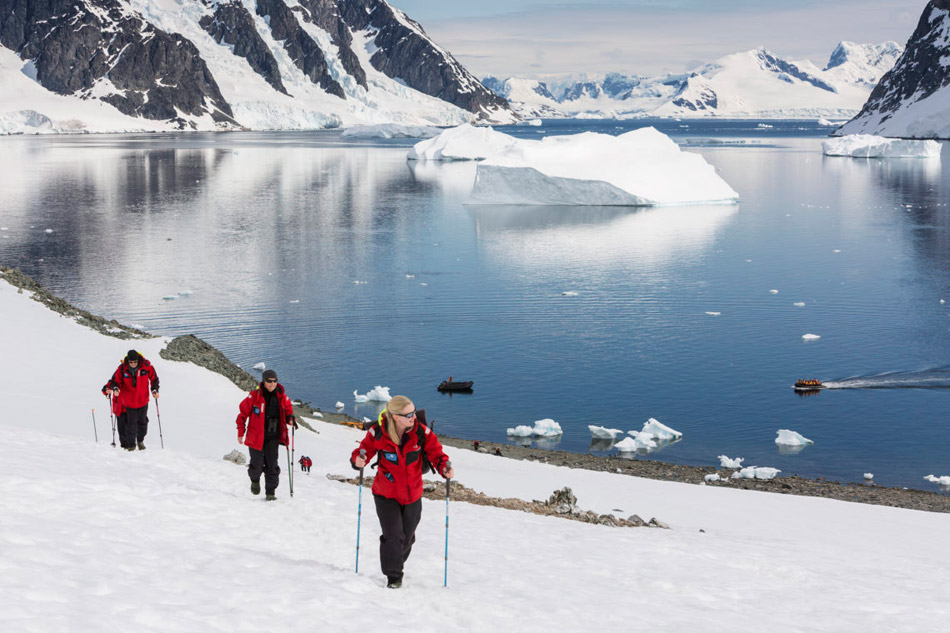 ---
Hope Bay
Hope Bay lies in the Antarctic Sound, itself sometimes known as "Iceberg Alley" providing excellent opportunities to see the fascinating shapes and myriad blues of some extraordinary icebergs.
There lie here the remains of a stone expedition hut from the Swedish Antarctic Expedition that wintered in 1903 and the more up to date facilities of the Argentinean Esperanza base. It was at this base that the first child born in Antarctica was delivered, it also boasts its own mayor, post office and school.
---
Paradise Harbor (also known as Paradise Bay)
Paradise Harbor is another of Antarctica's most visited areas, zodiac-cruising on the ubiquitous small inflatable craft (zodiacs) that ferry everyone around in Antarctica is very popular. There are many icebergs that calve off the glacier at the harbor's head, these provide an fascinating infinite variety of shapes and shades of blue.
Ice floes also provide a floating resting spot for various seals and penguins that you may be able to view at close quarters if they aren't scared off by the boat coming up close. If you're lucky, you may see some whales swimming around too. Landings are not always made, but the glaciers and mountains reflect beautifully in the water and the serenity of the area is a highlight for many visitors - not for nothing did it earn its name.
Home to terns, petrels, cormorants, seals, penguins, and whales.
---
Visiting Antarctic bases or stations
At some point on your Antarctic trip you may well visit a research base or station. These are manned (and womanned) typically by staff from one particular country as they are run on a national basis. Some bases are more accommodating than others depending on the level of tourist traffic that comes their way, how long the people have been on the base and how keen they are for distractions, some base personnel are also more amenable to visits than others.
This is often an excellent opportunity to see an aspect of Antarctica not often seen at close quarters (Antarctic personnel are sometimes the most timid and bizarre of the endemic wildlife of the region). There are usually two categories of people on a base, those who arrived the same summer for whom you may be an annoyance or at best nothing much unusual. Then there are those who have just completed a whole winter (or more) for whom the arrival of a ship full of new faces is a rare, exciting and exotic luxury of the highest order (I know this, I was one of those people!).
If you can befriend these winterers, they may take you places the average tourist doesn't go, they will also know that they are not exactly supposed to do this, but may also not care very much that they're not. Don't push it though, they are a delicate species and getting on the wrong side will mean an opportunity missed. Please respect the base, it is their home even if it doesn't look very private or much like your home.
You may get an extra picture-show (tourist ships would supply lunch and entertainment for the base personnel while I gave a slide-show in return - a traditional role passed on through the generations of winterers) guided tours of the local environs and the opportunity to buy or trade t-shirts, sweat-shirts etc.
---
Why visit the Antarctic Peninsula?
The Antarctic Peninsula is mainland Antarctica, so when you visit here and set foot upon the ground, you have truly been to Antarctica. It also offers the possibility to cross the Antarctic Circle. Some (relatively few) ships will sail down past the line of 66° 33' ( 66.562° ) degrees of latitude so that passengers can say they have done it.
The Antarctic Peninsula is truly a serenely beautiful place that makes you feel like you are (quite rightly) in the cage of your ship an intruder into another world. It is here that your dreams of visiting Antarctica will become reality in a way that you can't really appreciate if you have never been there.
The Peninsula along with the attendant islands are the best places to view wildlife in Antarctica.
Verdict
You will find here all of the reasons that you wanted to travel to Antarctica,
Antarctic Peninsula - Sample Cruises - 2023 - 2024
Trip
Highlights
Prices USD*
8-22 days

Classic Antarctic Peninsula Expedition
South Shetland Islands, Antarctic Peninsula, Penguin Rookeries, Lemaire Channel.
$4,860 -
$43,995
13 days

Antarctica Peninsula Basecamp

Antarctic Peninsula trip with several inclusive activities on offer such as hiking, snowshoeing, kayaking, mountaineering, and camping out under the Southern Polar skies.
$9,100 -
$11,750
10-16 days

Crossing the Circle

Sail down the Antarctic Peninsula and cross the Antarctic Circle, South Shetland Islands, Wildlife, Scenery.
$7,700 - $25,995
South Georgia / Falkland Islands / Antarctica - Sample Cruises - 2023 / 2024
Trip
Highlights
Prices USD*
17 - 23 days

Antarctica, South Georgia, and Falkland Islands

Trips to some of the most unique and abundant wildlife on earth, penguins, whales, seabirds and seals as well as magnificent scenery, ice and seascapes.
$11,556 - $48,191
15 or 16 days

Antarctica and South Georgia

$10,500 - $29,196
Notes
*
Prices
are based per person, the lowest price is usually for triple occupancy in a basic cabin, the highest for double occupancy in the best available suite.
Options
may be at additional cost and are usually booked when the cruise is booked - it may be too late once the cruise has started.
---
Contact me about my trip to Antarctica!
Please complete the form
and an Antarctic Expert will contact you
Departures from late October to late March
Our partner company, Antarctica Travels, passionately help people to reach their ultimate destination.
All enquiries will be answered from our office in Patagonia, Argentina.
Dozens of trips - unique combinations of ship + itinerary
Choice of ships - 67 to 199 passenger capacity
$5,500 to $43,995
6 to 23 days
Please note - we cannot help directly to find employment in Antarctica, please do not use this form to request any other information than for Antarctic tourist trips
---
Picture credits:
Top banner, entrance to Lemaire Channle - CHK46 - Lemaire Channel - published under Creative Commons Attribution-Share Alike 4.0 International license / last picture, bottom right - CHK46 - published under Creative Commons Attribution-Share Alike 4.0 International license. / Top slider: Zee Evans, NSF / Lemaire channel - LBM1948, used under CC BY SA 4.0 licence.