---
Boots are essential in cold weather as they cover the ankles so reducing heat loss at a thinly insulated region. Thick insulated soles are as important as insulated uppers as a lot of heat can be lost through the only part of the body in contact with the frigid ground.
Working, hunting, ice fishing and other cold weather activities require boots that are firm and tough, have a good sole for walking on uneven surfaces and are possibly waterproof too. Extreme cold weather footwear with a soft outer shell are very effective at keeping the wearer warm but not so practical in a working environment.
Winter hunting boots have higher levels of insulation because periods of inactivity.
---
Work Boots
---
---
Fully Waterproof Work Boots
---
Winter Hunting Boots
---
Accessories
---
Socks: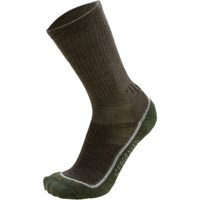 Wool provides the best insulation, make sure they are predominantly wool, 70%+,
a smaller amount of synthetic material such as nylon or polyester helps durability and some stretchy material like elastane gives a snug fit and prevents them from falling down. Don't be tempted to wear too many pairs of socks and make your boots tight, if you squash out most of the air, you will have lost the main insulator and they won't be so warm. Start with a thin inner pair of liner socks, then a thick wool pair inside insulated footwear with an extra thermal insole if the boot sole needs it.
Thermal socks: Men and Women's
---