Antarctica Cruise
Antarctic Peninsula with Circle Crossing
Antarctic Circle, pristine scenery, sites of scientific and historic interest, experienced guides, optional kayaking, and camping on some voyages
11-14 Days | Departures: from Dec '21 to Mar '22 | From $10,495
Information: Antarctic travel basics | more travel details | fly to Antarctica | FAQ's | Request Contact | clothing | boots
Regions: Antarctic Peninsula | South Georgia | South Shetland Islands | Falkland Islands
---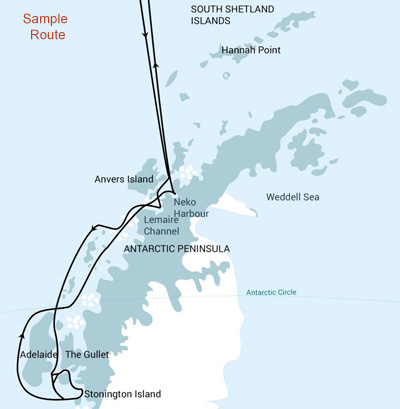 Trip Highlights:
There are a number of cruises that sail down the western side of the Antarctic Peninsula to cross the Antarctic Circle as apart of the trip. This is a voyage to the Deep South beyond where the majority of ships venture
Daylight grows longer and the air gets colder as you head south across the Drake Passage accompanied by soaring albatross. Your first exploration of the White Continent is in the South Shetland Islands, historically important and rich with iconic Antarctic wildlife. Continue to Gerlache Strait where immense glaciers, towering mountains, and blue icebergs form a picture-perfect setting for amazing marine mammal and penguin encounters. Then head even further south into rarely visited territory, crossing the Antarctic Circle and exploring wherever the wind and ice will allow.
Rates: from $10,495 triple, twin from $12,956
All rates are per person, based on double occupancy.
---
Fill in the contact form at the side or bottom of this page and we can talk you through the options of duration, ship, departure date, rate etc. to find you the best cruise for your requirements.
---
---
Sample Itinerary
Days 1 -2: Embarkation Day, sail to the Southern Ocean
Depending on your preferred choices, the port of call for embarkation may vary between Ushuaia, Punta Arenas, Puerto Madryn or Port Stanley. We strongly encourage you to arrive 24 hours before departure. Ask us for our Free Pre-departure Welcome Packages!
This stretch of the South Atlantic is rich in its bio-diversity due to the Antarctic Convergence, a natural boundary where cold polar water flowing northward and warmer equatorial water moving southward mix. When they meet, nutrients are pushed to the surface, often attracting a multitude of seabirds and whales including the wandering albatross. Join the ship's Captain on the bridge and learn about the operations of your modern ship. Our onboard experts educate us with a series of presentations about the environment, the wildlife and history and the locations we hope to visit in the coming days. If we enjoy good sailing conditions crossing to Antarctica, we may include a visit to the very historic location of Elephant Island - a place central to the Shackleton story.
Day 3 - 4: King George Island, South Shetland Islands
This morning we awaken to the snowy landscape of King George Island, the largest in the South Shetlands group. There are two landing sites here - a visit depends on weather conditions. In the afternoon we continue our journey south, navigating into the broad expanse of the Bransfield Strait. This is an important migration corridor for wildlife, and we keep a lookout for whales.
Large icebergs will be present from this point onwards and make for striking photographs. By morning, the towering mountain peaks of the Antarctic continent loom into view. We aim to make landfall around Wilhelmina Bay. This is a truly remarkable location, where we often encounter large pods of humpback whales as we cruise in the Zodiacs.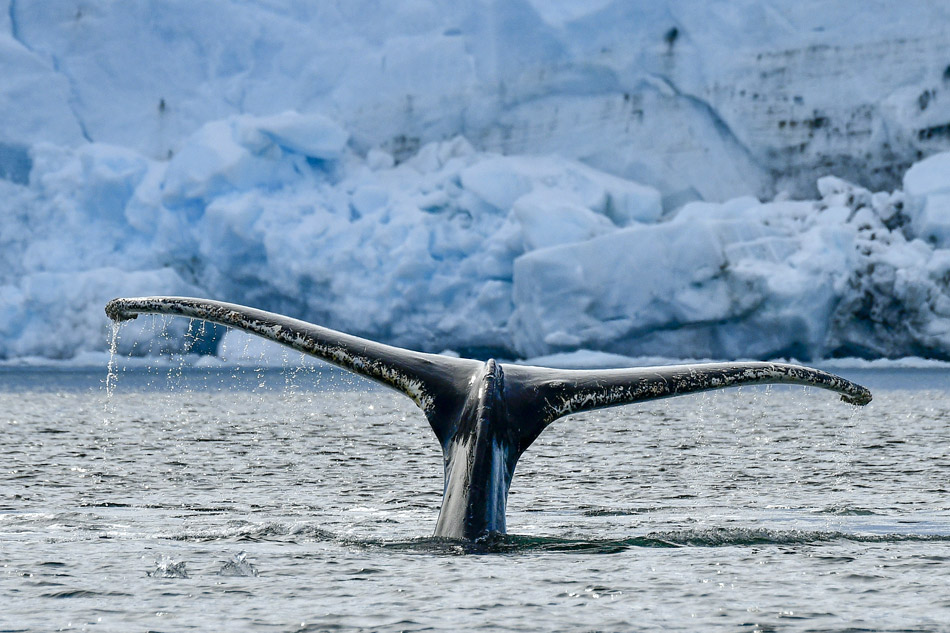 ---
Days 5 - 7: Antarctica Peninsula and Antarctic Circle
We encourage you to spend time on the outer decks soaking up the scenery as we navigate south. We pass through the ice strewn waters making our way towards out ultimate objective, the Antarctic Circle. Given favorable ice conditions, our first goal will be to sail south of the Antarctic Circle and into Crystal Sound.
The Antarctic Peninsula region contains some of the world's most impressive scenery and some of Antarctica's best wildlife viewing opportunities. Protected bays and narrow channels are surrounded by towering mountain peaks covered in permanent snow and immense glaciers. Icebergs of every size and description complete an image of incomparable beauty. Waters rich with krill are home to a variety of whale and seal species. The whole area is alive with penguins foraging at sea and forming large nesting colonies at special places on land.
A favored landing site here is Detaille Island, home to an abandoned British science hut from the 1950's. This region marks our turnaround point and we return in a northerly direction exploring the dramatic coastline of the Antarctic Peninsula. We hope to visit a working scientific base to learn something of the important climate-related research happening here, and if the conditions allow, we will give you the opportunity to camp overnight onshore, a truly memorable experience.
Petermann Island is home to an Adelie penguin rookery. The smallest of the Antarctic penguins, Adelies nest here and share the location with Gentoo penguins and Imperial cormorants. Pleneau Island offers more opportunities for shore landings. Massive icebergs run aground in the shallows and constant wind and wave action sculpt these gargantuan chunks of ice into fantastical shapes. For many, a Zodiac cruise here may well be a highlight of the voyage.

---
Days 8 - 9: Antarctic Peninsula and Deception Island
We aim to transit the Lemaire Channel on our way north towards Paradise Harbour. This may be the first opportunity to step foot on the continent of Antarctica itself. Nearby Neko Harbour offers another continental landing. Expect to be in full sensory overload by this time of the voyage. By morning we arrive in the South Shetland Islands.
The adventure is not over and if the weather conditions allow, we sail the ship into the flooded volcanic caldera at Deception Island. There are several other landing sites in the vicinity including Half Moon Island, or the broad pebbly beach at Yankee Harbour. This is another great spot for a hike or a Zodiac cruise. It's a fitting place to reflect on a wonderful expedition.
Your days in Antarctica are filled with memorable excursions, sumptuous meals, presentations, and enough incredible scenery and wildlife to fill your camera and delight your senses.
Day 10: Disembarkation Day
Morning disembarkation lets you catch a flight back to civilization after midday or stay South and enjoy Tierra del Fuego or Patagonia for more sights and adventures. Chat to us about any extension options.
---
Antarctic Peninsula - Sample Cruises - 2020 / 2021
Trip
Highlights
Prices USD*
Days
Adventures in Antarctica
South Shetlands, Antarctic Peninsula, Penguin Rookeries, Optional kayaking
$8,995 -
$15,735
12
Antarctic Peninsula with Circle Crossing
Classic Antarctica, pristine scenery, classic sites of scientific and historic interest, experienced naturalist guides. Optional kayaking, camping, cross-country skiing and mountaineering
$11,995 -
$26,195
15
Classic Antarctica Air-Cruise
Fly over the Drake Passage in both directions, Antarctic Peninsula, South Shetland Islands, Wildlife, Scenery, Ice Optional kayaking and snowshoeing
$11,495 - $21,495
8
South Georgia / Falkland Islands / Antarctica - Sample Cruises - 2020 / 2021
Trip
Highlights
Prices USD*
Days
Antarctica, South Georgia and the Falkland Islands
Vast Colonies of King Penguins, Breathtaking Scenery, Historic sites, optional kayaking
$25,940 -
$45,990
24
Antarctica and South Georgia and the Falklands
Two great destinations, anticipate penguins, whales, seabirds and seals as well as scenic highlights
$14,070 - $26,480
20
Notes
*
Prices
are based per person, the lowest price is usually for triple occupancy in a basic cabin, the highest for double occupancy in the best available suite.
Options
may be at additional cost and are usually booked when the cruise is booked - it may be too late once the cruise has started.
---
Contact me about a trip to the Antarctic!
Our partner company, Ice Tracks
UK based and ATOL protected, will help you find the perfect trip to Antarctica, all enquiries will be answered from our office in Warwickshire, England.
Please complete the form
and an Antarctic Expert will contact you
Please note - we cannot help directly to find employment in Antarctica, please do not use this form to request any other information than for Antarctic tourist trips
Departures from late October to early March
Dozens of trips - unique combinations of ship + itinerary
Choice of ships - 108 to 139 passenger capacity
$8,050 to $40,000
10 to 33 days