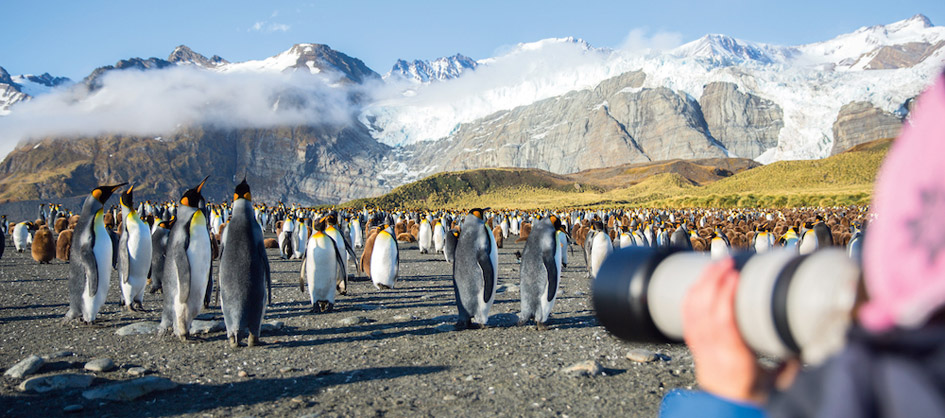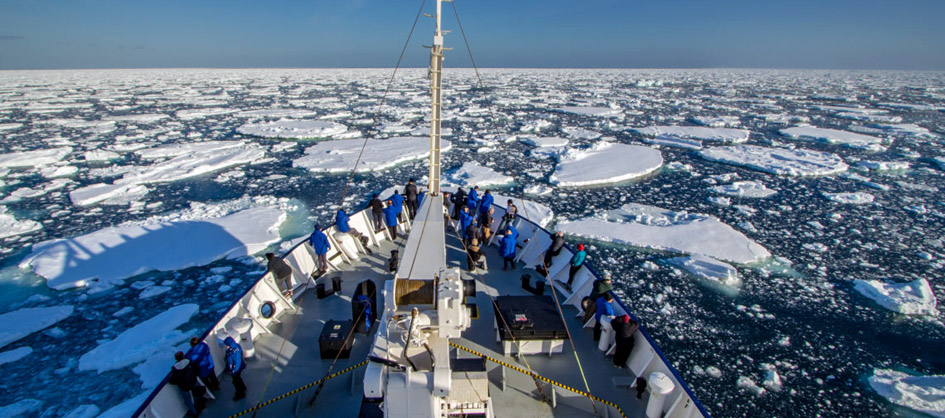 Antarctic and Arctic Travel
Polar Tourism
Cruise Antarctica, Adventure Travel With Cool Antarctica and Ice Tracks
The Arctic and Antarctic seem at first to be very similar places albeit the original polar opposites. While there are some fundamental similarities of climate, scenery, abundant wildlife and almost endless wilderness with very few people there are also some very significant differences too. A trip to either polar region can start off as a once in a lifetime experience, though you run a risk:
Once wedded to Nature there is no divorce - separate her you may and hide yourself amongst the flesh-pots of London,
but the wild will keep calling and calling forever in your ears. You cannot escape the "little voices".
Frank Wild - Antarctic Explorer from the "Heroic Age"
A first trip to either polar region will be unlike most other trips you have ever taken, you can look forwards to long days, up to 24 hours daylight, wilderness, wide open skies and a feeling of freedom you may have never experienced. Whether on foot or on board a ship you will look out onto a timeless landscape that is the same as it was 100, 1,000 or 100,000 thousand years ago almost untouched by the hand of man.
---
---
The Arctic and Antarctic as Travel Destinations
The graphs indicate the months during which travel is possible in the polar regions, and the relative amount of visits that take place in those months. Cruises are limited by seasonal sea-ice, all polar travel is limited by winter darkness, temperature and weather.

Arctic
Season
Ship-based cruising late April to September
Land based trips March-November
Travel is possible outside these months though daylight is short or absent and temperatures are very low.

Access
Many points where flights can be taken into the Arctic
Major hubs are Reykjavik, Iceland, Oslo, Norway, Copenhagen, Denmark, Ottawa and Edmonton, Canada, Nome, Juneau, Sitka and Ketchikan, Alaska, Petropavlovsk and Anadyr, Russia.

Weather and daylight
Temperatures more variable by destination than the Antarctic, typically expect 20F to 50F / -6C to +10C for most areas, month and location make this quite variable.
Typically Arctic trips take place closer to the pole than Antarctic trips, the Arctic Circle is easier to reach and seeing the midnight sun is certainly possible in midsummer. Many High Arctic areas have 3-4 months of continuous daylight, on a trip in high summer, you may be in constant daylight.
It will be windy, dress accordingly.

Methods of Transport
If you are cruising in the Arctic, you will almost certainly fly to join your ship in the Arctic and fly home again, rather than travel there or back by ship. You are less likely to meet rough seas in the Arctic than the Antarctic, fjords, channels and a lack of long open sea sailing mean that sea passages are usually smoother.

Charismatic Megafauna
Polar Bears
Musk Ox
Reindeer / caribou
Whales
Seals


Polar Bears - you need to go to the Arctic to see polar bears, you won't see them anywhere else.
As the Arctic has been home to humans for thousands of years and as there is a continuing culture of hunting, the wildlife is often quite wary of people. It tends to be more spread out than in the Antarctic and less approachable. There is also the fact that polar bears could see you as dinner or at least a light snack, so keeping something of a distance is not necessarily a bad thing.

Culture
The Arctic has a permanent population of about 4 million, there are a whole host of native peoples who between them are circumpolar. All of these native peoples have a long and rich history of living on and with the land, whether Sami reindeer herders to those groups who build igloos as a traditional hunting shelter and many groups between. This human population and history is arguably the biggest difference between the poles.
Antarctic
Season
Ship-based cruising October to March
No tourist access outside of these months due to sea-ice closing off all shipping and flights, daylight is short or absent and temperatures very low.

Access
Two main access points
Tip of South America, ships leave from Ushuaia, Argentina or Punta Arenas, Chile, flights from Punta Arenas, Chile.
Australia and New Zealand, ports most commonly used are, Invercargill / Port of Bluff and Lyttleton / Christchurch, New Zealand and Hobart, Australia. Often cruises leave from one port and return to another. No flights.

Weather and daylight
December to February 20F to 50F / -6C to +10C.
Most Antarctic trips do not cross the Antarctic Circle, so don't necessarily expect the midnight sun, though 20+ hours of daylight are likely.
It will be windy, dress accordingly.

Methods of Transport
To reach the Antarctic Peninsula you have to cross the Drake Passage, this is a 2 hour flight or a 2 day sail. Flying is very reliable but aircraft could be grounded due to weather conditions. The Drake Passage can be very rough, though conditions can vary widely. In the Eastern Antarctic, you will have an open sea crossing of 6 to 7 days from New Zealand or Australia, you are more likely to encounter rough seas there.

Charismatic Megafauna
Penguins
Albatrosses
Whales
Seals


Penguins - you need to go to Antarctica to see penguins, some species also live other places like parts of Australia, South Africa and the Galapagos, but for variety of species and authentic icy backdrop, there is no match.
Antarctic wildlife is more plentiful than Arctic and generally shows little or no fear of humans, neither will any of it try to eat you. You will be able to see the wildlife at closer quarters in the Antarctic.

Culture
There are not and have never been any native Antarcticans, no one even saw Antarctica until 1820 and the first year-round habitation was in 1898. There are no cities, towns or villages, the only human presence is on nationally run scientific stations with a total, continent wide summer population of up to around 5,000 and winter of 1,000. A cruise to Antarctica may well visit one of these stations which certainly delivers a dose of a kind of culture, though not as it is understood across much of the rest of the world.
What kind of experience?
Most trips trips to the polar regions are as part of a relatively small group of like minded individuals who are seeking an experience that is overwhelmingly an outdoors one. A cruise here allows you to have the best of both worlds, a world class within-nature experience and the creature comforts of a hotel on the move from place to place every day. If the traditional idea of cruises doesn't appeal to you, these are as far from that as you can get.
If you do like the idea of a traditional cruise on a very large ship however, the wilderness experience is still available for you to some degree as there are larger cruise ships that sail in the waters around Alaska and some that spend a part of their voyage in Antarctica. Landings from ships carrying over 500 passengers are not allowed in Antarctica.
Independent Travel - this is possible in the Arctic but not in Antarctica where you must go as part of a package. Neither are budget destinations, though it is possible to arrange transport to an Arctic destination and camp wild or semi-wild, you may need to take appropriate precautions about polar bears depending on where you are. Svalbard and Canada have the greatest chance of contact with bears while camping while most of Greenland is pretty safe in the summer. Cheaper last-minute trips on cruises to Antarctica can be had at Punta Arenas or Ushuaia though are hit and miss as to availability, last minute flights to reach the cruise ports are of course much more expensive.
---

King penguins in Gold Harbour South Georgia - picture courtesy Ella Derbyshire
---
Health Requirements - No specific requirements though you will be away from civilization for several days and getting in an out of small boats that bounce across the sea isn't for the infirm. Cruises usually insist on emergency rescue cover which can be readily arranged and is not as expensive as it sounds.
At both poles, weather and ice often set the schedule for journeys, particularly if cruising. Any itinerary is best seen as more of a wish-list.
More details about visiting the Arctic | More details about visiting the Antarctic

contact our travel partners who will help you find the best cruise for your requirements
Antarctic Peninsula - Sample Cruises - 2021 - 2022
Trip
Highlights
Prices USD*
Days
Antarctic Peninsula Expedition
South Shetlands, Antarctic Peninsula, Penguin Rookeries, Lemaire Channel.
$8,050 -
$28,795
10
Antarctica Basecamp
Antarctic Peninsula Basecamp cruise offers hiking, snowshoeing, kayaking, mountaineering, and camping out under the Southern Polar skies free of charge.
$8,050 -
$12,950
12
Antarctic Circle Quest
Sail down the Antarctic Peninsula and cross the Antarctic Circle, South Shetland Islands, Wildlife, Scenery.
$8,995 - $45,995
10-14
Antarctica Ross Sea Region - Sample Cruises - 2021 / 2022
Trip
Highlights
Prices USD*
Days
Ross Sea and Historic Huts
Explore the Ross Sea, Historic Huts, Ross Ice Shelf, McMurdo base, Auckland Islands, Macquarie and Campbell Islands.
$23,000 -
$32,000
30
Ross Sea region and the Peninsula with helicopters
Semi-circumnavigation of Antarctica from the Peninsula to the Ross Sea, Ross Island, Scott and Shackleton's huts, Mt. Erebus and Terror, Dry Valleys, huge penguin colonies, sub-Antarctic wildlife rich islands.
$27,400 - $39,500
33
South Georgia / Falkland Islands / Antarctica - Sample Cruises - 2021 / 2022
Trip
Highlights
Prices USD*
Days
Shackleton's Final Quest
Vast Colonies of King Penguins, Breathtaking Scenery, Historic sites, 100 years after the death of Shackleton at South Georgia signaling the close of the Heroic Age of Antarctic exploration. Optional 5 day pre voyage historical extension to Montevideo.
$17,995 -
$27,295
20
Epic Antarctica, South Shetlands, Peninsula, South Georgia and the Falkland Islands
All the major Antarctic highlights, anticipate penguins, whales, seabirds and seals as well as magnificent scenery.
$18,545 - $129,592
23
Antarctica, South Shetlands, South Georgia and the Falkland Islands
All the major Antarctic highlights, anticipate penguins, whales, seabirds and seals as well as magnificent scenery.
$12,600 - $31,495
19
South Georgia in depth with the Falkland Islands
A spring trip to South Georgia and Falklands when breeding and inwards migration are at a height, South Georgia hosts the most wildlife per square meter in the world.
$15,446 - $27,596
17
Arctic - Svalbard / Spitsbergen - Sample Cruises - 2021

Trip
Highlights
Prices USD*
Days
Around Spitsbergen, Circumnavigation
Circumnavigation of Spitsbergen, polar bears, glaciers, sea-ice, sea-bird colonies and other wildlife, hiking, child-friendly.
$5,150 -
$9,500
10
Spitsbergen in Depth
Historic sites, sea-ice, glaciers, wild flowers, lush tundra, walrus, polar bears, reindeer, huge sea bird colonies, optional kayaking.
$9,995 -
$20.995
13
Four Arctic Islands: Spitsbergen, Jan Mayen, Greenland and Iceland
High Arctic Svalbard, volcanic Jan Mayen, nature reserve, Greenland's fjords, Reykjavik, polar bears, walrus, sea-bird colonies, wild-flower tundra, hiking, optional kayaking.
$12,995 - $27,995
16

Arctic - Greenland and Canada - Sample Cruises - 2021

Northwest Passage and Greenland
Historic Canadian and Greenlandic sites, abundant wildlife, rich Inuit culture and dramatic icy landscapes. Polar bears, whales and walrus, hike across the tundra, optional kayaking.
$14,495 -
$40,495
17
East Greenland from Iceland
Spectacular scenery of East Greenland, Inuit culture, museums, historic sites. Fjords, mountains and ice, Seabirds, look out for humpback and minke whales. Optional kayaking on some voyages. Tie-in with a few days in Iceland before or after the cruise.
$4,500 -
$10,100
8
Northeast Greenland
The world's largest fjord system, spectacular scenery, giant icebergs and glaciers, musk ox, arctic hares, sea-birds, Inuit culture, historic sites.
$8,290 - $10,090
8

Arctic - Land Based - Sample Trips - 2021

Trip
Highlights
Prices USD*
Days
Polar Bear Fly-in Safari
Churchill, Canada in the fall is where polar bears congregate to wait for Hudson Bay to freeze over, see them from the Polar Bear Cabins complex.
TBA
8
Notes
*
Prices
are based per person, the lowest price is usually for triple occupancy in a basic cabin, the highest for double occupancy in the best available suite.
Options
may be at additional cost and are usually booked when the cruise is booked - it may be too late once the cruise has started.
---
Contact me about my trip to Antarctica!
Our partner company, Ice Tracks, UK based and ATOL protected, will help you find the perfect trip to Antarctica, all enquiries will be answered from our office in Warwickshire, England.
Please complete the form
and an Antarctic Expert will contact you
Please note - we cannot help directly to find employment in Antarctica, please do not use this form to request information other than for Antarctic tourist trips
Departures from late October to early March
Dozens of trips - unique combinations of ship + itinerary
Choice of ships - 108 to 139 passenger capacity
$8,050 to $40,000
10 to 33 days
---
Picture credits:
Map of the Arctic - maps used courtesy of Uwe Dedering under the Creative Commons Attribution-Share Alike 3.0 Unported license.