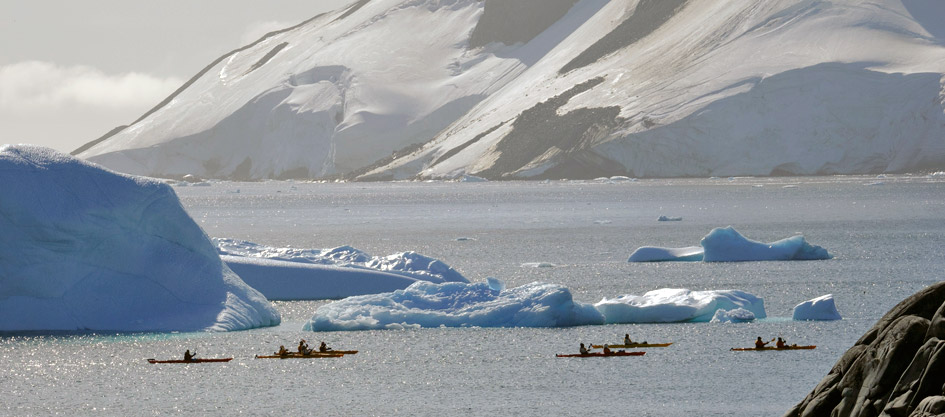 Solo Antarctic Travellers
Frequently Asked Questions
Antarctica Cruise and Adventure Travel With Cool Antarctica and Ice Tracks
Information: Antarctic travel basics | more travel details | fly to Antarctica | FAQ's | Request Contact | clothing | boots
Regions: Antarctic Peninsula | South Georgia | South Shetland Islands | Falkland Islands
---
Cabins on Antarctic cruise ships are usually doubles with a smaller number of triples and quads, how are solo travellers accommodated?
There are two options:
1 - Pay a supplement to stay alone in a single cabin, the cost of this varies but becomes a greater proportion of the full occupancy as the standard of the cabin goes up. Expect to pay 1.5-2x the single rate to occupy a double cabin alone.

2 - Share a cabin with another same gender solo traveller, in these cases there is obviously no supplement due and you will most likely make a new friend in the process.
Q: Do all ships accept bookings from solo travellers for shared cabins?
A: With only a few exceptions, almost all ships cruising to the polar regions allow solo travellers to book shared cabins with other solo travellers of the same gender. If you're willing to share, then you can travel in a twin, triple, or quad cabin at rates that are significantly lower than paying a single supplement.
---
Q: Are there any particular ships that are more suitable?
A: The "best" ship really depends upon your preferences. There is more chance of finding someone to share with on one of the larger ships - more passengers means more people who are also travelling alone. A couple of ships have especially good single-cabin options for guests who prefer private accommodation.
---
Q: If I book a shared cabin as a solo traveller, am I guaranteed to keep that? i.e. if no other solo books to share it with, is the ship going to try and "bump" me off in some way to get a pair of travellers into the now single occupancy, single fare, double cabin?
A: Once you're confirmed in a shared cabin, you're guaranteed that cabin (and fare) even if the ship doesn't end up matching you with a roommate.
---
Q: Are there restrictions to the category of cabin bookable by solo travellers?
A: Any cabin may be booked by a solo traveller, the single supplement and option for sharing varies by cabin category and shipping company. With a few exceptions, generally the lowest 2-4 categories are available for shares. Premium cabins and suites often carry higher single supplements and usually cannot be booked as a share.
---
Q: Is dining "open" in that all tables are available to all travellers?
A: Yes, and that is part of the beauty of expedition travel! Dining is casual, and is an excellent way to meet other fascinating, likeminded travellers.
---
Q: Is there a way that the solo travellers on a ship can find each other quickly once on board?
A: If you book as a share, one of the first people you meet will be your roommate - who is also travelling solo. While there aren't any formal mechanisms onboard for solo travellers to meet up, small expedition ships are known for their casual atmosphere and camaraderie. You will likely meet other solo travellers as well as friends travelling together right away, as your small group of explorers will be gathering daily for briefings, Zodiac cruises, shore visits, and socializing in the lounge.
---
Q: How likely am I to be with other solo travellers or will it be mainly couples?
A: You'll find there is a fantastic mix of travellers who are drawn to small ship travel to the polar regions. That said, larger ships that offer designated solo cabins as well as ships with generous share policies are more likely to attract more solo travellers.
---
Trips from Ushuaia to the Antarctic Peninsula are the most usual cruises.
If you have more time, you can visit sub-Antarctic islands and the Falklands too.
Some trips offer a flight for part of the journey to meet to the ship from South America or return after the cruise, either both or one way with a ship journey for the other.
Need a Little Guidance? contact our travel partners who will help you find the best cruise for your requirements
Antarctic Peninsula - Sample Cruises - 2021 - 2022
Trip
Highlights
Prices USD*
Days
Antarctic Peninsula Expedition
South Shetlands, Antarctic Peninsula, Penguin Rookeries, Lemaire Channel.
$8,050 -
$28,795
10
Antarctica Basecamp
Antarctic Peninsula Basecamp cruise offers hiking, snowshoeing, kayaking, mountaineering, and camping out under the Southern Polar skies free of charge.
$8,050 -
$12,950
12
Antarctic Circle Quest
Sail down the Antarctic Peninsula and cross the Antarctic Circle, South Shetland Islands, Wildlife, Scenery.
$8,995 - $45,995
10-14
Antarctica Ross Sea Region - Sample Cruises - 2021 / 2022
Trip
Highlights
Prices USD*
Days
Ross Sea and Historic Huts
Explore the Ross Sea, Historic Huts, Ross Ice Shelf, McMurdo base, Auckland Islands, Macquarie and Campbell Islands.
$23,000 -
$32,000
30
Ross Sea region and the Peninsula with helicopters
Semi-circumnavigation of Antarctica from the Peninsula to the Ross Sea, Ross Island, Scott and Shackleton's huts, Mt. Erebus and Terror, Dry Valleys, huge penguin colonies, sub-Antarctic wildlife rich islands.
$27,400 - $39,500
33
South Georgia / Falkland Islands / Antarctica - Sample Cruises - 2021 / 2022
Trip
Highlights
Prices USD*
Days
Shackleton's Final Quest
Vast Colonies of King Penguins, Breathtaking Scenery, Historic sites, 100 years after the death of Shackleton at South Georgia signaling the close of the Heroic Age of Antarctic exploration. Optional 5 day pre voyage historical extension to Montevideo.
$17,995 -
$27,295
20
Epic Antarctica, South Shetlands, Peninsula, South Georgia and the Falkland Islands
All the major Antarctic highlights, anticipate penguins, whales, seabirds and seals as well as magnificent scenery.
$18,545 - $129,592
23
Antarctica, South Shetlands, South Georgia and the Falkland Islands
All the major Antarctic highlights, anticipate penguins, whales, seabirds and seals as well as magnificent scenery.
$12,600 - $31,495
19
South Georgia in depth with the Falkland Islands
A spring trip to South Georgia and Falklands when breeding and inwards migration are at a height, South Georgia hosts the most wildlife per square meter in the world.
$15,446 - $27,596
17
Notes
*
Prices
are based per person, the lowest price is usually for triple occupancy in a basic cabin, the highest for double occupancy in the best available suite.
Options
may be at additional cost and are usually booked when the cruise is booked - it may be too late once the cruise has started.
---
Contact me about a trip to the Antarctic!
Our partner company, Ice Tracks
UK based and ATOL protected, will help you find the perfect trip to Antarctica, all enquiries will be answered from our office in Warwickshire, England.
Please complete the form
and an Antarctic Expert will contact you
Please note - we cannot help directly to find employment in Antarctica, please do not use this form to request any other information than for Antarctic tourist trips
Departures from late October to early March
Dozens of trips - unique combinations of ship + itinerary
Choice of ships - 108 to 139 passenger capacity
$8,050 to $40,000
10 to 33 days