The North Pole by Ship
Arctic Cruise
Break through the sea-ice to reach the North Pole on a nuclear powered ice breaker, the largest and most powerful in the world
13 Days | Departures: 17/06/21, 27/06/21 | From: $31,995
Information: Arctic travel basics | more travel details | request contact | clothing | boots
Regions: Canada | Greenland | Iceland | Svalbard
---
Trip Highlights:
Stand at the top of the world after breaking ice to get there. The North Pole is a point in the middle of the Artic Ocean where the sea is 4,261m deep (13,980ft). You can stand there however as it is covered by (slowly moving) sea-ice one you have powered to it through many miles of ice on board a nuclear powered ice-breaker.
Embark the ship in Murmansk, Northern Russia and head straight to the pole where you can get off the ship onto the ice, have a glass of champagne and BBQ in celebration. One of the least accessible bucket list destinations on the planet. Rarely visited Franz Josef Land is on the itinerary on the way back, helicopter flights give you an aerial view of the ship doing what it does best - breaking ice.

Rates: $31,995 - $48,995
Ship - 50 Years of Victory - Icebreaker
Passengers: 128
---
Itinerary
Day 0: Helsinki, Finland
Just six degrees south of the Arctic Circle is a sophisticated city with nightlife, green spaces and a breathtaking harbor. Stay at a centrally-located hotel.
Day 1: Embarkation Day Murmansk, Russia
From Helsinki, a charter flight will take you to Murmansk, Russia to embark on your voyage to the North Pole. Enjoy time to get acquainted with fellow passengers and the expedition ship - the world's largest and most powerful icebreaker!
---
---
Days 2 - 5: Arctic Ocean - Northbound
Being on board the icebreaker Victory and feeling it crushing and powering its way through the Arctic pack ice is an experience you'll never forget. A helicopter flight makes the experience even more memorable with a thrilling aerial view of the Victory and expansive Arctic Ocean. The crossing from Murmansk to the North Pole can take us anywhere from four to six days, depending on the ice conditions. This means you'll have plenty of time to get to know your shipmates and be treated to presentations and discussions with your Expedition Team while looking out for birdlife. There are also many wonderful amenities on board, such as the ship's heated saltwater plunge pool or basketball court.
Day 6: 90° North
The anticipation reaches a climax as you arrive at the North Pole. Many travelers find themselves overcome with emotion, while others are in a festive and celebratory mood. Take photos, call your family, wave a flag - just be sure you enjoy your moment at the top of the world. Later, everyone will celebrate with a toast and a barbecue on the ice. If the opportunity allows, you have the option of taking a polar plunge into the icy waters around the North Pole. We'll also attempt to launch passengers high above the Pole in our hot air balloon to commemorate this great moment (this is very weather dependent).
---
---
Day 7: Arctic Ocean - Southbound
Head southbound toward Franz Josef Land. Everything from here on out is a bonus. As you head further south, you may get lucky and spot polar bears hunting for seals.
Days 8 - 9: Franz Josef Land and the Arctic Ocean
This group of 191 islands forms the most northerly archipelago in Eurasia, and lies entirely within the Arctic Circle and so remote that Franz Josef Land was discovered after Antarctica. Explore Cape Flora, and discover historic remains from three ill-fated Arctic expeditions. When conditions permit, Zodiac trips beneath towering cliffs will explore remote seabird colonies. The 50 Years of Victory helicopter will provide aerial sightseeing and our Zodiacs will transfer you to seldom-visited landing sites.
---
---
Day 10 - 11: Southbound at Sea
Crossing the Arctic Ocean back to Murmansk. Take time to relax and enjoy the ship's amenities or watch the ocean and sky for wildlife from the observation lounge or outside decks.
Day 12: Disembarkation Murmansk, Russia
Returning to Russia's most northerly city, bid farewell to the expedition crew and ship. Transfer to the airport for a charter flight to Helsinki, Finland to enjoy one final night in this remarkable city.
Day 13: Helsinki, Finland
After breakfast, your journey has officially come to its conclusion. Consider extending your stay to further explore Helsinki and the surrounding area before your return home.
---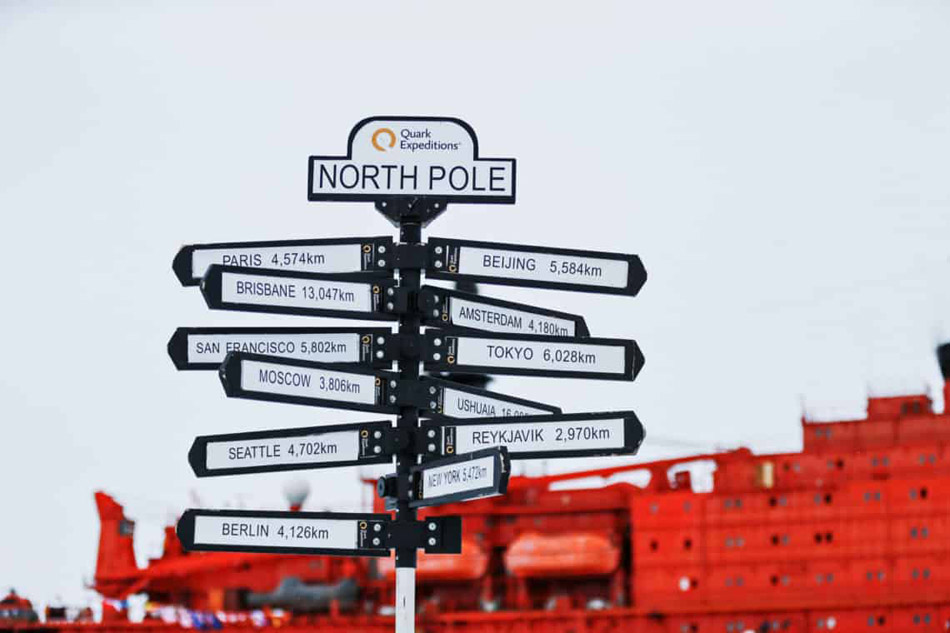 ---
Included:
Leadership throughout the voyage by our experienced Expedition Team.


All Zodiac transfers and cruising per the daily program.


All shore landings per the daily program.


Shipboard accommodation with daily housekeeping.


All meals, snacks, soft drinks and juices on board throughout your voyage (Please inform us of any dietary requirements as far in advance as possible. Unfortunately, the ships' galleys cannot prepare kosher meals.).


Beer and wine during dinner; and coffee, tea and cocoa available around the clock.


Formal and informal presentations by our Expedition Team and guest speakers as scheduled.


A photographic journal documenting the expedition.


A pair of waterproof expedition boots on loan for landings and Zodiac cruising excursions.


A parka to keep.


Hair dryer and bathrobes in every cabin.


All miscellaneous service taxes and port charges throughout the program.


All luggage handling aboard the ship.


Emergency Evacuation insurance for all passengers to a maximum benefit of USD $500,000 per person
Russian invitation letter for visa application provided after final payment
Not Included:
Mandatory transfer package.


International airfare.


Arrival and departure transfers in Helsinki.


Passport and visa expenses.


Government arrival and departure taxes not mentioned above.


Meals ashore unless otherwise specified.


Baggage, cancellation, interruption and medical travel insurance—strongly recommended.


Excess-baggage fees on international flights.


Mandatory waterproof pants for Zodiac cruising, or any other gear not mentioned.


Laundry, bar and other personal charges unless specified.


Phone and Internet charges.


Voluntary gratuity at the end of the voyage for shipboard staff and crew.


Hot air ballooning at the North Pole
---
Arctic - Svalbard / Spitsbergen - Sample Cruises - 2021

Trip
Highlights
Prices USD*
Days
Around Spitsbergen, Circumnavigation
Circumnavigation of Spitsbergen, polar bears, glaciers, sea-ice, sea-bird colonies and other wildlife, hiking, child-friendly.
$5,150 -
$9,500
10
Spitsbergen in Depth
Historic sites, sea-ice, glaciers, wild flowers, lush tundra, walrus, polar bears, reindeer, huge sea bird colonies, optional kayaking.
$9,995 -
$20.995
13
Four Arctic Islands: Spitsbergen, Jan Mayen, Greenland and Iceland
High Arctic Svalbard, volcanic Jan Mayen, nature reserve, Greenland's fjords, Reykjavik, polar bears, walrus, sea-bird colonies, wild-flower tundra, hiking, optional kayaking.
$12,995 - $27,995
16

Arctic - Greenland and Canada - Sample Cruises - 2021

Northwest Passage and Greenland
Historic Canadian and Greenlandic sites, abundant wildlife, rich Inuit culture and dramatic icy landscapes. Polar bears, whales and walrus, hike across the tundra, optional kayaking.
$14,495 -
$40,495
17
East Greenland from Iceland
Spectacular scenery of East Greenland, Inuit culture, museums, historic sites. Fjords, mountains and ice, Seabirds, look out for humpback and minke whales. Optional kayaking on some voyages. Tie-in with a few days in Iceland before or after the cruise.
$4,500 -
$10,100
8
Northeast Greenland
The world's largest fjord system, spectacular scenery, giant icebergs and glaciers, musk ox, arctic hares, sea-birds, Inuit culture, historic sites.
$8,290 - $10,090
8

Arctic - Land Based - Sample Trips - 2021

Trip
Highlights
Prices USD*
Days
Polar Bear Fly-in Safari
Churchill, Canada in the fall is where polar bears congregate to wait for Hudson Bay to freeze over, see them from the Polar Bear Cabins complex.
TBA
8
Notes
*
Prices
are based per person, the lowest price is usually for triple occupancy in a basic cabin, the highest for double occupancy in the best available suite.
Options
may be at additional cost and are usually booked when the cruise is booked - it may be too late once the cruise has started.
---
Contact me about a trip to the Arctic!
Our partner company, Ice Tracks, UK based and ATOL protected, will help you find the perfect trip to Antarctica, all enquiries will be answered from our office in Warwickshire, England.
Please complete the form
and an Antarctic Expert will contact you
The Arctic travel season runs from May to September
October and November for Polar Bear Safaris
Please note - we cannot help directly to find employment in Antarctica, please do not use this form to request information other than for Antarctic tourist trips
---